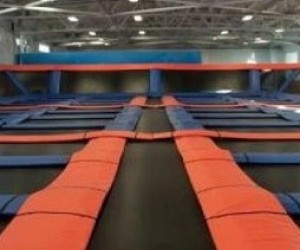 Toddler Time at Skyzone Boston
I recently went on a little (mis)adventure with my 23-month old, Paigely, to check out "Toddler Time" at Skyzone Indoor Trampoline Park. Although the address is technically Boston, I drove through several towns I'd never heard of before I ended up finding it in Hyde Park. It took us about 25 minutes in the car, which in actual "Toddler Time", is more like three hours.
Upon arrival, we walked into a large lobby where we were supposed to take off our shoes and sign a waiver. Paigely was ready to go and had zero patience for this (in her defense we had been talking about jumping since 6am). Kids get to jump in socks and adults get these funky shoes that I'm sure will make a big splash on the Boston hipster scene sometime next year. We walked past a sitting area, banged a sharp left and stopped to put our belongings into waiting lockers. I didn't actually get to lock anything up though because my daughter had already spied the gigantic looking trampoline and was bee-lining for it. I hear a "Come ON Mommy!" and saw her on the top step waving me on. Going in, I had thought this would be somewhat intimidating for her (to be honest, it was to me), but I couldn't have been more wrong. We took our first step in holding hands, and watching her face light up was worth the drive alone.
We jumped our hearts out for about 4 minutes when a gentleman in an orange uniform came over and informed me that adults needed to stay on the blue mats that line the trampolines. In other words, stop having so much fun lady. Apparently this was for the safety of the children. Oops. After my daughter realized I was banned from the jumping area, she spent most of her time on the little "runways" that were situated in between the mats. Her little legs barely touched the ground and when she fell it didn't matter, that was part of the fun! I took my camera phone out to capture her picture when I felt a presence behind me again. Same guy. "Let me guess," I said, "no pictures." Exactly. Strike two. So I found a mattress in the far left corner of the space and we played "No More Monkeys Jumping On The Bed" for the next 30 minutes. The sound of sheer glee coming from my baby was music to my ears. I guessed I would just have to remember it in my head since I couldn't capture it on my phone. We then moved on to heaving orange balls at a basketball hoop that sits about 50 feet up. Paigely made me try until I actually made a basket. It took me about 15 times and my arms are still sore.
After I finally convinced her that we were all done and quietly congratulated myself for not getting kicked out, we made our way to the sitting area for snack time. FYI, if you do come here there is no need to bring your own refreshments. They have a stellar snack bar for kids: cut up apples, hummus and pretzels, goldfish, raisins, toddler-sized waters, you name it. It was almost worth the trip just for the food. When we got home, Paigely slept for three straight hours.
All in all SkyZone Boston produced a little embarrassment for me but tons of belly laughs for her. Add to that some great snacks and a well-exercised kid who slept great and I'll call it a win. The best part was hearing Paigely tell her Daddy all about "jumping time" when he got home. Thankfully she left out the part about Mommy getting in trouble.
---
What: Toddler Time at Sky Zone Indoor Trampoline Park
When: Tuesdays & Thursdays, 9:30am-11am (except on holidays)
Where: 91-B Sprague Street, Boston, MA 02136
Who: Toddler jumpers must be 40" or under in height
How much: Toddler 30 minute jump $6, 60 minute jump $8
Contact: 857- 345-9693
Good to know: A Sky Zone Boston liability waiver must be signed by each participant (jumpers under the age of 18 require the signature of their parent or legal guardian).