Three New Places for Boston Families to Make Really Cool Things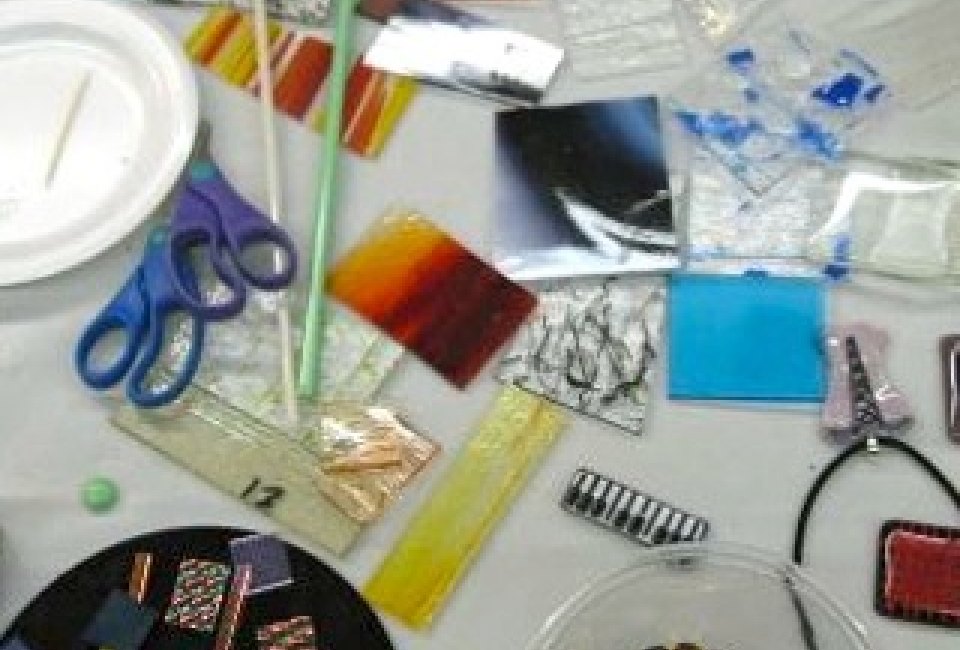 11/5/12
- By
Tara D
Just in time for the upcoming days off from school (Election Day for some, Veteran's Day, the Thanksgiving holiday) we've found a few new places for Boston families to make really cool things with glass, wood, beads, wax, pastry, clay – you name it. This is also a great time to start making truly special, one-of-a-kind gifts for the holidays. These three finds offer fabulous birthday parties as well. So, when you have a couple of hours to fill, a need for a really special gift, or a party to plan, check out one of these crafty places.
Indigo Fire
While The Color Loft opened last year, Indigo Fire in Belmont just opened last month! Be among the first to experience this glass and clay art studio. Be aware, though, that the clay works are for ages 5+, and the glass art projects are for ages 8+. Indigo Fire offers a variety of classes for kids and adults in clay – hand building and with the pottery wheel – and glass. My favorite are the Clay Buddies and Glass Buddies classes, where a pair works together with the same materials and creates something amazing as a team. Think about how proud your kid will be when he tells an admirer of his work, "I made that with my Dad". If you can't commit to an 8-week class (the next session will begin in January), try one of the single-day workshops, where kids work on a specific project.
Birthday parties at Indigo Fire are available in two-hour time slots on the weekends. You can choose between hand building with clay for ages 5+ and glass fusing for ages 10+. An instructor will be on hand to guide the art activity. You bring in your own food, beverage and utensils, but they have a kitchenette and refrigerator for you to use.
When the studio isn't being used for classes or parties, you can drop in and make something with glass or clay. They recommend calling ahead to make sure the space is available. Their phone number is 617-489-2730.
Address: 60 Concord Ave., Belmont, MA 02478
Contact: 617-489-2730 or indigofirestudio@gmail.com
Info: http://www.indigofirestudio.com/faq/
Hours: Mondays – closed, Tuesdays 10am-6pm, Wednesdays 10am-6pm, Thursdays 10am-8pm, Fridays 10am-9pm, Saturdays 10am-6pm, Sundays 12pm-6pm
Make Meaning
If you really want to impress someone, and your budget is open-ended, the new Make Meaning location at Legacy Place in Dedham is the place to go. The eye-popping, mouth-dropping space (see celeb Katie Holmes' reaction) offers a smorgasbord of creative activities. Once you've adjusted to the sheer fabulousness of it all, you can choose a project from soap, jewelry, candles, paper, ceramics, glass, and – no kidding – cake decorating. (Although we've heard the cake is less than stellar, the cake decorating component is probably the reason this place is so clean, so we're not complaining!) Be forewarned: You will pay a $12 sitting fee for each project, in addition to the cost of the project itself, if you do not have a membership. A family membership is $149 per year, and includes everyone who wants to make fun stuff with your kids, like grandparents and nannies. With a membership, you pay only the cost of the project itself.
After you've taken your kid to Make Meaning for a drop-in project, chances are you'll want to go back for a parents' night out or book a birthday party. Make Meaning offers mega-celebration experiences for all ages and occasions. Check out their Events page for party packages, details, and ways to get in touch with the event planners.
Address: 228 Legacy Place (intersection of I-95 and Route 1), Dedham, MA 02026
Contact: 339-204-0849 or LPinfo@makemeaning.com
Hours: Sunday 10am – 8pm, Monday – Thursday 10am– 9pm, Friday – Saturday 10am– 10pm
Make a reservation for a drop-in time: http://www.makemeaning.com/reservations
The Color Loft - CLOSED
Sadly, the Color Loft has closed.
The Color Loft in Braintree gives you the tools to turn your creative dreams into something real and tangible. Their smallish space is stocked with beads, mobiles, stretched canvas, wood and paper silhouettes, sewing kits, ceramics, and paper mache supplies for you and your children to work with to make something wonderful. Drop in, plan to get messy, and dress not-to-impress.
If dropping in seems a little too laissez-faire, and your kid does better with structure, you might appreciate the workshops offered by The Color Loft. Recent workshops and classes have included Halloween crafts, Cartooning, and Thanksgiving projects. Click on the Registration button from their home page to find out which workshops they are currently offering. To see the kinds of things created at the open studio and in workshops, take a look at the photos on their Facebook page.
You can also plan your child's birthday party at The Color Loft. Actually, it seems like they do all the planning for you. Birthday party packages include fabulously designed custom invitations, thank you cards, and decorations; an ice cream, cupcake or cookie-decorating buffet; an art activity (that you choose); and party favors. Your party has the run of the place for an hour and a half. For a parent who doesn't like to plan parties, this place sounds like heaven. Sign me up!
As an aside, those adorable Comic Book Kits you've seen at The World's Only Curious George Store in Harvard Square? They came from the highly creative folks at The Color Loft. Check out their Etsy shop.
Address: 381 Washington Street, Braintree, Massachusetts 02184
Contact: 781-356-0161 or info@thecolor-loft.com
Hours: Monday – Saturday 10am-6pm
---
Updated 11/1/2013
Click Here to Sign Up!