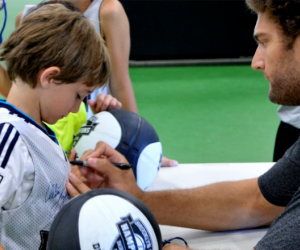 Sports Camps and Clinics for Kids in the Hamptons & North Fork
Fun or fundamentals... why choose when your kid can have both? Parents of athletically inclined children on the East End of Long Island have a number of options for summertime sports. Novices can be introduced to a sport in an inexpensive town clinic, while more experienced athletes can refine their skills under the guidance of a seasoned instructor.
Either way, the East End offers kids' sports programs that range from baseball and basketball, to kayaking and lacrosse. And for more classes and activities, be sure to check out our Hamptons & North Fork Guide.
Town of East Hampton
Classes held at Amagansett Youth Park, Abrahams Path, Amagansett
631-324-2417
East Hampton's recreation department again is offering spring/summer tennis instruction for children in kindergarten through fifth grade. Classes are by grade level (kindergarten-first grade; second-third grade; fourth-fifth grade; grade 6 and above) and begin May 14, concluding June 12.
The series of classes costs $40 per child. Students in grades 4-5 (4 p.m.) and 6-above (5 p.m.) will have regular instruction Thursdays while those in K-first grade (4 p.m.) and grades 2-3 (5 p.m.) will have court time on Fridays. Parents must register their child at the Parks and Recreation office. 159 Pantigo Road, East Hampton, or at Montauk Playhouse, 240 Edgemere St., Montauk.
Town of Riverhead
Classes held at Stotzky Park, Riverhead
631-727-5744
The town's recreation department offers instruction in basketball, football, boys and girls lacrosse and hockey and skating. In conjunction with JumpBunch, a Long Island-based company that introduces youngsters to athletics, it also offers clinics in baseball, soccer and flag football. Most classes are for children 6 or older, but parents can register children as young as 3 for JumpBunch clinics. Almost all classes are held at Stotzky Park near downtown Riverhead. Classes are open to residents of the town and non-residents; fees range in price from $35 for resident basketball (five weeks) to $235 for football (10 weeks) to $325 for hockey (20-plus sessions). Nonresident fees are nominally higher. JumpBunch classes tend to be less costly. Parents must register their child with Riverhead's recreation department prior to enrolling in any town-sponsored clinic; to register, bring current proof of residency such as a driver's license or tax or utility bill to the Stotzky Park Recreation Office, 55 Columbus Avenue in Riverhead. See the town's website for clinic schedules and availability.
Town of Southampton
Classes in various locations in the town
631-728-8585
The town's recreation department is hosting a series of clinics in summer 2015, including beach volleyball, soccer, squash, tennis, kayaking and windsurfing. Most classes are open to boys and girls 7-17 years old who are registered with the recreation department. Parents can register by bringing a tax bill and their child's birth certificate to the Parks and Recreation Department, 6 Newtown Road in Hampton Bays. Classes range in cost from $90 for beach volleyball (Aug. 10-14, Ponquogue Beach, Hampton Bays) to $179 for soccer (July 13-17, Red Creek Park, Hampton Bays); to $450 for squash (sessions are June 29-July 3; July 6-July 10; July 20-July 24; Aug. 3-Aug. 7, Southampton Recreation Center, Majors Path, Southampton). Tennis instruction ($120) in eight hour-long lessons is offered on select days June 30-July 23 at Hampton Beach Park in Westhampton Beach and July 28-Aug. 20 at Red Creek Park in Hampton Bays. Nonresident fees are nominally higher.
Southampton Youth Services
1370A Majors Path, Southampton
Future Stars Sports Camps
631-287-6707
In conjunction with Future Stars Summer Camps, Southampton Youth Services offers instruction in baseball, basketball. lacrosse, soccer and tennis at nearby North Sea Park. Classes are open to boys and girls 6-16 years of age and emphasize skills enhancement and confidence development. All are taught by qualified instructors, including some from top collegiate programs. Rates vary by program and length of commitment, starting at about $500 per week. Some classes begin as early as June 15. Discounts are available on some programs with advance registration.
Dribbl at the Beach
1370A Majors Path, Southampton
646-267-4569
Led by members of the NBA's Brooklyn Nets, classes introducing students from kindergarten through eighth grade to basketball fundamentals are held Aug. 31-Sept. 4. Skills development, sportsmanship and teamwork are emphasized and all campers receive a pair of tickets to a November Nets game at the Barclays Center. Uniforms and other Nets merchandise are also included. Half-day sessions (9 a.m.-noon or 1-4 p.m.) are priced at $425 while full-day sessions (9 a.m.-4 p.m.) cost $700. Just in case you're wondering, Dribbl (minus the e) is an acronym for the Dalton School Recreational instructional Basketball League, where the organization had its start in 1995.
Photo: Dribbl at the Beach