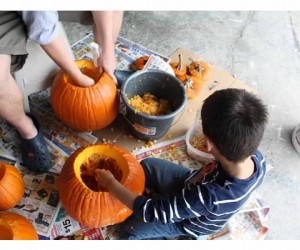 Special Halloween Library Programs in the Lower Hudson Valley for Kids
While there's nothing wrong with your basic pumpkin or witch foam-sticker-and-construction-paper craft, it can be hard to get kids (especially older kids) excited about a project they've already done a million times. We last took a look at libraries in Westchester with cool and special programming, and now we're going to turn our eyes to the rest of the Lower Hudson Valley. Whether it's music or science, art or zombies, the library programs on this list try to mix things up a bit. And as with the Westchester programs, all of the events here are FREE!
For even more holiday celebration ideas, be sure to take a look at our Event Calendar, which is packed with tons more Halloween happenings. And don't forget to sign up for our FREE newsletter and follow us on Facebook!
Halloween Concert – Warwick
Oct. 24, 2015
Perfect for kids who may be just getting into the spirit (no pun intended) of Halloween, this costumed sing-a-long from "Spooky" Sukey Molloy and Friends is for children ages 2 to 5. Programs at the Albert Wisner library tend to fill up very quickly, but a librarian informed us there were still a few spots left. FREE

Day of the Dead – Florida
Oct. 25, 2015
Participate in a traditional Mexican "Day of the Dead" celebration. All ages can make a specialized treat bag and eat some snacks, and Bergen Community College theater professor Mary Clifford will be on hand to help with Halloween makeup. Registration is required. FREE
Find Out About Bats! – Cornwall
Oct. 26, 2015
A member of the Hudson Highlands Nature Museum (a Mommy Poppins favorite) will teach all about these nocturnal animals. This drop-in evening event is for children ages 5 and older. FREE

Poe, Times Two! – Middletown
Oct. 26, 2015
Get spooked in a literary way! Open to the public (but best for kids 12 and older), this event will feature solo performances of two Edgar Allan Poe short stories: "The Cask of Amontillado" and "The Black Cat." FREE
Creatures of the Night – Poughkeepsie
Oct. 28 or Oct. 29, 2015
Held on two different days, this digital drawing program is lets teens create creatures using Photoshop and the library's art tablet. Registration is required. FREE
Haunted Halloween Houses – Brewster
Oct. 29, 2015
OK, never mind that they're going to be overloaded with candy just two days later. Create a haunted Halloween house out of graham crackers and candy, and use it as a display for your trick-or-treaters! Registration is required. FREE
Zombie Doctor Who Lock-In – Suffern
Oct. 30, 2015
Another activity just for teens, this evening lock-in event will feature games (zombie manhunt!), candy and pizza. Participants will be provided with makeup to transform into zombies. Registration is required. FREE
Halloween Pizza Party – Fishkill
Oct. 30, 2015
While there's nothing over the top or especially unique about this Halloween party, we included it on the list because there's no registration required. You're free to come and go as you wish and enjoy pizza, a "Make Your Own Monster" craft and other fun. Don't forget your costume! FREE
Haunted Library – New City
Oct. 31, 2015
Kids bouncing off the walls in anticipation of trick-or-treating? Take them to a "haunting" in the New City Library for fortune telling, craft and cookie decorating, a "Tunnel of Fear," candy and more. Drop-ins welcome. FREE