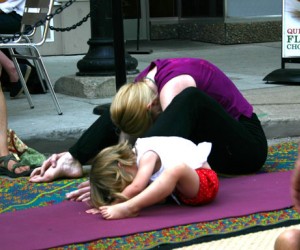 Yoga Classes for Kids in Westchester and Lower Hudson Valley
When searching for activities for our kids, we often gravitate toward the ones that help them expend all of their energy and get the wiggles out. But kids aren't Labradors, and it's not enough to go on the notion that a tired kid is a happy kid. (It's often the opposite!) A successful and age-appropriate yoga program is yet another way to help kids gain confidence, focus and relaxation.
While there are several yoga studios in the area that offer classes for children, we've focused on the ones that are truly family friendly and provide specialized programs just for kids.
Be sure to check out the rest of our classes in our Classes Guide!
Budding Buddhas – Multiple Locations
The primary goal behind Budding Buddhas is to make yoga accessible to everyone, its co-founder Sue Fried told us. Although it does not have its own studio space, it offers classes all around Westchester, and you can find a list of FREE drop-in classes on its website. Classes are more traditional, she noted, with no "animal adventure" games. Instead they teach breath work, focus and standing poses in order to build strength, flexibility and confidence. It also offers as a Yoga & Journaling class for school-aged girls.
Laughing Heart Yoga – Peekskill and Croton-on-Hudson
Laughing Heart Yoga aims to build confidence through yoga, and founder Elisha Simpson holds Family Yoga classes at PranaMoon Yoga at the Hat Factory once a month on Saturday afternoons. Classes will vary but can include circus yoga, partner yoga and discussion. They are geared toward children ages 5 and older. Simpson also brings Laughing Heart to the Organic Teaching Kitchen for a Teen Mediation class on Monday evenings, educating about the practice and how to use it in everyday life.
Child-Cor – Pleasantville
Although not strictly a yoga class, Child-cor bills itself as a wellness center for children that also incorporates dramatic arts to build confidence and promote well-being. Two-hour "Saturday School Stress Buster" classes are held at the Emanuel Evangelical Lutheran Church for school-aged children. The classes (or "journeys," as they're called) use yoga, breathing techniques, improvisation and meditation to teach stress-management tools.
The Children's School of Yoga – Monroe
You'll have to cross the river for this one, but it's one of the few yoga studios dedicated solely for children and families. The Children's School of Yoga—a franchise with multiple locations—has classes for infants to teens. Classes teach basic poses, breathing techniques, mindfulness, chants and yoga games, while the parent/child classes for the littlest yogis also incorporate music and nursery rhymes. They are are held five days a week at the Monroe location, both mornings and evenings, and there is also a Saturday class for school-aged children with special needs—something we know can be difficult to find. Sessions can be six or 12 weeks, and siblings are half price. They also hold evening classes at the Highland Cultural Art Center and Friday classes at the YogAsh Yoga Studio in Monticello. Ask about their trial drop-in rate if you're not ready to immediately commit.
Creative Commons image credit: Autumn