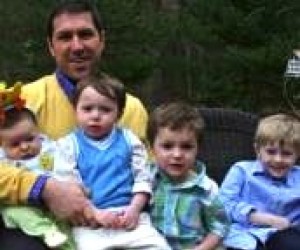 Poppins Parents: Fitness Dad, Ryan T. Debin
The Greater Boston community is rich with parents who make a difference in the lives of local families. We've decided it's high time we started recognizing those parents, people like Ryan T. Debin, new owner of My Gym in Medfield.
We interviewed Ryan because we wanted to know more about him and his exciting new adventure with My Gym. We also had to find out how, as a 13-time Boston Marathoner with four kids, he manages to do it all.
Read on for the first interview in our new series, Poppins Parents, with Ryan T. Debin (RTD), fitness dad extraordinaire.
MP: Very briefly, for those who don't know about My Gym – What is it, who participates in your programs, and what are some of the highlights of what you offer?
RTD: My Gym is a children's fitness center where kids from 6 months to 13 years come to develop physical and cognitive skills in a fun and energetic atmosphere. We offer birthday parties, camps, and weekly classes where little ones learn balance, strength, coordination, flexibility and social skills.
MP: What did you do professionally before you acquired My Gym of Medfield?
RTD: I studied finance in school and my career has always been linked to banking & finance; however, I have always been passionate about running service businesses. Three months after graduating from Boston College, I took over a small real estate service company in Newton. Although real estate is very different than children's fitness, the common link is a business rooted in providing exceptional service.
MP: How did your acquisition of My Gym of Medfield come about, and why did you decide to embark on this new adventure?
RTD: My oldest boy is 6. He started going to My Gym when he was 6 months old. Our family was always drawn to the programs and content of what My Gym offers and we felt like we wanted to be a continued part of bringing this to the community. I have always loved kids and this felt like a great way to have a positive impact on their lives.
MP: How actively involved are you in the day-to-day workings of the gym? Do you lead any classes or special events?
RTD: It's only been a few weeks and there is so much to learn. I plan to focus most of my time promoting the gym and outreach to the community. I will lead some classes, parties and camps, but before I can give myself the green light I will be going to the corporate offices in California to spend 3 weeks learning the programming. Instructors at our facility have 6 and 10 years of experience so I have much to learn, but I am excited!
MP: How has this new endeavor with My Gym changed you and your family?
RTD: It has definitely brought my wife and I closer together. We work on many ideas together and it has been fun. My boys are still a little young to fully understand what is involved, but we talk about the classes and brainstorm ideas as a family. The best benefit of their involvement is that I can get real-time honest feedback from kids of their experiences.
MP: What are your four boys' favorite things to do at My Gym?
RTD: I asked them directly and there was a little debate between the zip line, the trampoline and the ball pit. But, the one thing they all agreed on was that they love Mr. Matt and Ms. Michelle.
MP: You have run thirteen consecutive Boston Marathons. Why did you decide to run the first one, and what has kept you going back every year? With four kids, how do you manage your time to allow for marathon training?
RTD: I ran the first one on a bet (no one thought I could finish). I still can't believe that I did it. I keep going back each year to raise funds and awareness for Horizons for Homeless Children. This is an organization that is so dear to my heart. I had the good fortune to be invited to join the board of directors and I am so excited to be a part of the organization and all that it provides to children that are less fortunate.
How do I manage to find time to train? Well, partly by waking up at 4:15 AM to go to boxing classes in Boston or long runs in the countryside. But, there is absolutely no way that I could do it without the support of my wife, Jennifer. It is clearly getting harder each year, but I am looking for ways to stay active and train with my children.
MP: What makes My Gym different from other active programs for kids?
RTD: Let's face it... there are so many different things pulling for your kids attention. My Gym offers a dynamic program unmatched in the area of Children's fitness. The layout of the gym changes each week. The instructors spend hours preparing for lessons. At the end of each class, we asses the classes to make sure that we are delivering something that really gets kids excited about coming back.
MP: How do you think My Gym enriches the lives of children and families?
RTD: In many ways, we are all reflections of our experiences. My Gym offers kids an outlet for fun and excitement in a structured and safe setting. Many of our classes involve parents and children often bond with their parents from their experiences in class. Programs like our Sibling Class offer a great way for families with multiple children to experience the fun of My Gym as a family.
MP: What is your advice to parents for keeping kids active?
RTD: The easiest way to do this is to find things that your kids love to do. I find that my boys feed off my excitement. So, instead of asking your kids if they want to go to the movies, try asking them if they want to go on an adventure hike through the forest. If you are ever stuck and need help thinking of an idea, just go to Boston.MommyPoppins.com. There is a great list of 100 Things to do in Boston with Kids. My family is well on our way to checking off all the things on that list. Of course, you can always try out a My Gym.
For more information about My Gym of Medfield's programs, or My Gym's other Boston area locations, visit My Gym of Greater Boston.