Poppins Parents: Amber Bobnar, Wonder Mom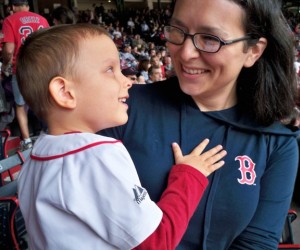 In our Poppins Parents series, we've featured the founder of a local nonprofit organization, a Boston Marathon runner who raises money for homeless children, a passionate advocate for getting kids outdoors, a musician who helps kids sing their way through cancer, and a yogi whose parenting blog provides reassurance that we're all in this together. It's a diverse group of people with something in common: They are all local parents who make a difference in the lives of Boston families.
Our newest Poppins Parent hasn't lived in the Boston area for long, but she's already made quite an impact. She is a writer, an avid proponent for Boston's many talented children's musicians, and the creator of WonderBaby.org, an invaluable resource for parents of children with special needs.
Meet Amber Bobnar; find out what drew her from Hawai'i to Boston, discover what's on her list of Boston's best venues for children's music, and learn which local resources she has found most helpful for raising a child with special needs.
MP: Tell us about your son, Ivan.
Ivan is a complicated little boy and it's always hard for me to answer this question. First, I want to say that he's a joy and the most affectionate person I've ever met. He can hug you so hard it hurts! His smile is infectious and when he's happy everyone knows it. Ivan knows what he likes (he likes live music, swimming and cheese puffs) and even though he can't talk he's pretty good at communicating his feelings.
But I also feel that it's important to explain Ivan's medical conditions. Ivan is totally blind, has a seizure disorder and global developmental and intellectual delays. He is non-verbal, non-ambulatory and has extremely low muscle tone (hypotonia). Ivan is diagnosed with Joubert Syndrome, Landau-Kleffner Syndrome, Leber's Congenital Amaurosis, Osteoporosis and Oropharyngeal Dysphagia. In order to really know him, you have to know his diagnoses, but I want to emphasize that Ivan is not his diagnosis. Ivan is a great kid who is genuinely fun to be around. He's sweet and silly. That's who Ivan is.
MP: Why did you start WonderBaby.org?
When Ivan was born in 2005 we were living in a very rural part of Hawai'i and weren't able to access basic Early Intervention services. My only lifeline to other parents and resources was the internet, and at that time there just wasn't a lot available online about raising a blind baby. These days you can find Thomas Marshall Does it All or FamilyConnect, but 8 years ago those sites didn't exist.
So instead I gathered what I could from the internet and library books and decided to put it all in one place on my own website: WonderBaby.org.
MP: How did the partnership with Perkins School for the Blind come about?
We moved to Watertown, Massachusetts in 2007. After fighting for services for 2 years in Hawai'i we finally gave up. We researched states, Early Intervention programs and schools for the blind and decided that Massachusetts and Perkins were the best fit for us.
Ivan was suddenly receiving regular visits from a physical therapist, occupational therapist, speech pathologist and (best of all!) a teacher of the visually impaired! I continued to work on WonderBaby.org in my "spare time" and the site was doing well. In 2011, after Ivan had entered preschool and I had more time available, Perkins President Steven Rothstein approached me and asked if I wanted to bring WonderBaby.org over to Perkins. I jumped at the opportunity! I'm now able to keep doing what I love (work on my website, provide resources for parents and moderate support groups and conversations), but now I have real developers at my disposal to help build in the interactive features I always dreamed of… and I get a paycheck!
MP: What's the best thing about working on WonderBaby.org?
The best perk is that I get to work from home and work around Ivan's schedule. My most important job is mom to Ivan, and, like I said, he's a complicated boy with a lot of doctor's appointments and therapy visits. I love that I am able to work when it is convenient for me and for Ivan (which means that I do put in a lot of after-Ivan-goes-to-bed hours).
And secondly, I feel like I can really make a difference. My goal is to create a safe and positive environment for parents of children with multiple disabilities. I write about how to engage your child, find ways to encourage developmental play or teach activities of daily living. I facilitate conversations amongst parents and assist families in finding the resources they need. It's good work and if I can help one mom feel a little less stress, then I've done my job.
MP: You also had a children's music blog, Boston Children's Music. Why are you so passionate about children's music in Boston?
It's not me with the passion, it's Ivan! Ivan loves music, but especially live music. Live music has so much more dimension and emotion than recorded music and when you realize that Ivan interacts with the world primarily through sound and touch, it makes sense that he would want to hear only the best!
MP: Which local resources have been most helpful to you as a parent of a child with disabilities?
We moved here for Perkins School for the Blind and Boston Children's Hospital (both of which have been excellent to us). We've also been very pleased with the Mass Commission for the Blind and the Massachusetts Association of Parents of the Visually Impaired (MAPVI) (I should mention I am now president of MAPVI). Franciscan Hospital for Children has amazing out patient services in Brighton, we love swimming at the Greene Pool at the Fernald Center in Waltham and we've participated in therapeutic horseback riding at Love Lane in Lincoln.
MP: What are your family's favorite things to do in Boston?
We're still very much music fans and our favorite weekend outings involve concerts, big and small. We love the winter because that's when the Regent, Coolidge, Passim, TCAN and Amazing Things come out with their family programs. We love the summer because that's when cities plan for free outdoor family concerts (Ben Rudnick and Friends at the Lexington Visitor's Center is a classic we never miss)!
MP: Which item on our list of 100 Things to Do in Boston would you most like to do with Ivan?
This is a great list and I'm proud that we've already done quite a few of them! I've always wanted to check out Community Boating Inc and sail on the Charles River. I know they have an accessible program for people with all abilities and that it's only $1! We'll have to put that on our to-do list for next summer!
---