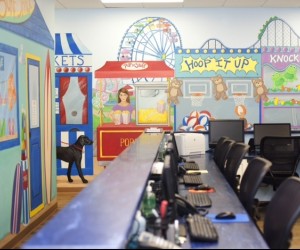 PM Pediatrics Offers a Trusted Alternative to Emergency Rooms
All parents dread their little ones getting sick, but, hey, it happens. And when it happens late at night, over the weekend, or on a holiday when your child's pediatrician isn't around, it can be a real nightmare. After all, who wants to have to deal with the chaos of the local ER, where you can be waiting for hours with tons of other people? Luckily, PM Pediatrics is open 365 days a year until midnight. There's no appointment needed, and the typical wait time is 15 minutes or less. Even better: It caters solely to children and young adults, so the staff is well-equipped for treating a variety of childhood illnesses, as well as handling scared, moody, and tantrum-throwing kids (who can blame them?).
Each of the four PM Pediatrics on Long Island is decorated in a different colorful and fun theme, such as a seaside (Syosset), jungle (North Babylon), enchanted castle (Selden), and Wild West (the brand-new Carle Place). Every site is designed to make your visit as pleasant and stress-free as possible--for parent and child. The reception staff is friendly and accommodating, helping with any paperwork (most insurance plans are accepted) and walking parents through the process.
PM Pediatrics is led by board-certified pediatric emergency physicians and pediatricians. Once a child moves into the exam room, he's treated by a pediatric emergency specialist, who provides care and treatment for a broad range of illnesses and injuries including asthma, fever and other infections, dehydration, sprains and fractures, wounds requiring stitches, and much more. Every location is equipped with a digital X-ray and lab, so all of your child's urgent care needs can be handled on-site.
And you'll also have peace of mind in knowing that while your child isn't being treated by his regular doctor, the pediatrician is still kept in the loop. In fact, copies of all medical records and discharge papers are sent directly to the pediatrician's office the evening of the visit.
PM Pediatrics hours are Monday-Saturday, noon to midnight; Sundays and select holiday, 10am to midnight. The locations are:
596 Jericho Turnpike, Syosset, NY 11791, 516-677-KIDS (5437)
1130 Deer Park Avenue, North Babylon, NY 11703, 631-667-4PMP (4767)
Selden Plaza Shopping Center, 239 Middle Country Road, Selden, NY 11784, 631-696-KIDS (5437)
181 Old Country Road, Carle Place, NY 11514, 516-248-KIDS (5437)
This post is sponsored by PM Pediatrics.