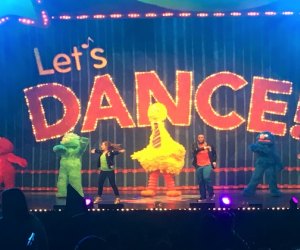 Move Your "Feets" With Sesame Street Live! Let's Dance
Flashing lights, energizing music, giggles galore, and beloved characters that defy generational boundaries – this pretty much sums up the Sesame Street Live! Let's Dance show, a high-energy experience that has children and adults alike dancing in their seats. If you missed yesterday's performances at Oakdale Theater in Wallingford, today offers one more opportunity at 4:30 p.m. to "feel the beat and move your feets." Ticket prices begin at $18 and the show will delight any Sesame Street fan, but especially those ages 2-5.
To say that my 3-year-old enjoyed the performance is a complete understatement. She could barely sit still in her seat and that was perfectly acceptable; in fact, the audience was encouraged to get up and dance as adorable monsters descended into the aisles, showing off their best moves. When Elmo urged children to "get down and waddle around," most happily obliged.
It was quite awesome to see little faces light up as they came up close to Abby Cadabby, Telly Monster, and the Cookie Monster. This unique interactive experience featuring familiar tunes like "The Itsy Bitsy Spider" and "Wheels on the Bus" was a real treat that left my daughter squealing after each song: "Again, mommy! I want it again!" The musical variety was wonderful, including the Cookie Monster rapping, characters hopping like a rabbit or swaying to more old-fashioned tunes, as well as Latin beats guiding their Cha Cha and Samba steps.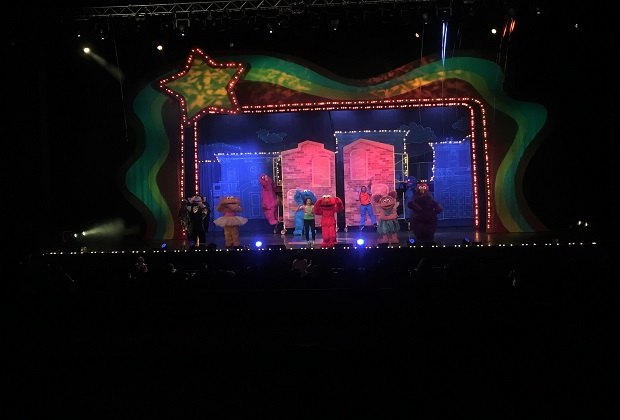 Of course, what has made Sesame Street a family favorite for almost 50 years is not just the entertainment, but its fantastic educational value. Let's Dance continues this tradition by featuring letters, colors, and numbers, but also important lifelong lessons in determination, friendship, a positive attitude, and the power of imagination. Audience members will leave with wonderful memories and some very sound advice: "Just because you can't dance the way you wish you could, you should still dance."
If you were unable to attend the Oakdale performances, Let's Dance returns to Connecticut on April 5 at the Palace Theater in Stamford. Or, if you do not mind a mini road trip, you can catch the dancing monsters from March 18-20 at Hanover Theater for the Performing Arts in Worcester, MA, or from April 1-3 at the Providence Performing Arts Center in Providence, RI.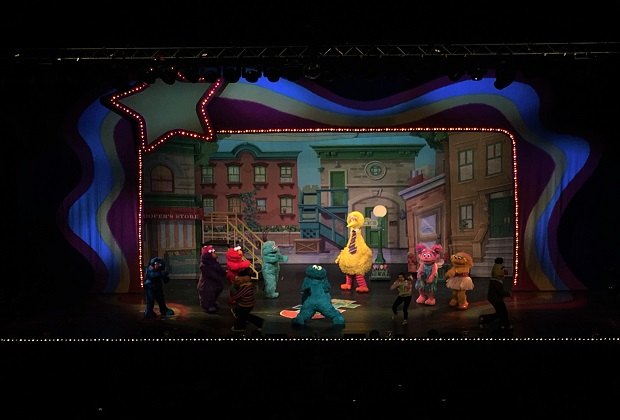 My family owes a special thank you to Toyota for making this experience possible and spoiling us with VIP treatment and a RAV4 Hybrid to drive for the weekend; however, though we greatly appreciate the generous gesture, it has not influenced my opinion of the show, Oakdale Theater, or the car manufacturer (my family owns Toyota vehicles). Here comes the full disclosure:
Sesame Street has been part of my family for more than a decade, and though today my eldest daughter rolls her eyes at "babyish entertainment," I will always remember fondly how she used to drag around and cuddle a stuffed Elmo more than twice her size. Today, a dancing Elmo toy keeps her younger sister company.
My family has enjoyed other performances at Oakdale Theater and we keep returning to this venue because it is a great facility. Easily accessible from Route 15, it features convenient parking, clean and well equipped bathrooms, and comfortable seating; also important is a sound system that is clear and loud, but not to the point of causing auditory discomfort. Concessions are not cheap, but they are tasty, and prices are compatible with those at other venues (we splurged on $5 cotton candy and $5 snow cones).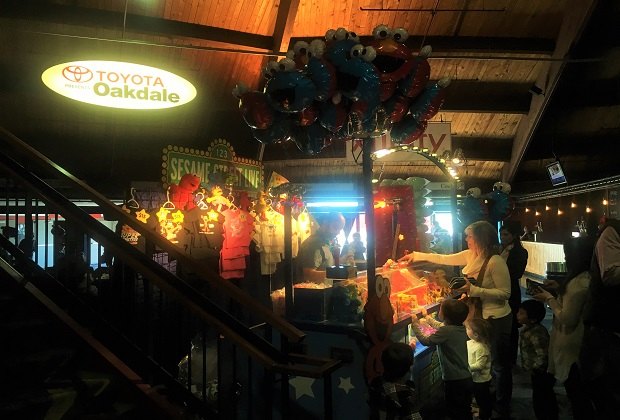 The RAV4 offers a sporty, smooth, and comfortable ride, equipped with all the modern technology (GPS, back-up camera, airbags, blind spot detection on side view mirrors, and plenty of storage). It is also quite nice to see the mileage increasing on the odometer while the gas tank remains full.
Enjoy the ride, and definitely let the music "move your feets."