Minecraft Mania in Boston: Clubs and Classes for Kids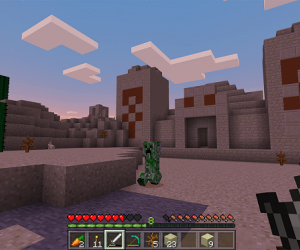 Although the challenges and escapades of Minecraft take place in a digital realm, in the real world, the game presents a nice opportunity for like-minded fans to form friendships. Local Minecraft clubs and classes serve as a good starting spot for young and teen-age fans to meet up.
Minecraft receives accolades for youth-based STEM (Science, Technology, Engineering and Math) learning because the online game promotes creativity as players construct block-like structures or interact with online gatherings. The following classes and clubs in the Boston area let kids swing their virtual pickaxes with peers:
Einstein's Workshop
Six-week sessions
Location: 25 Adams St. Burlington, MA 01803
Ages: Grades 1-3, 3-5, and 6-8
Times vary
Cost: $$$
Einstein's Workshop's Minecraft Club promotes friendships among players and segregates participants based on the grade they're in. For parents worried about online interactions as part of Minecraft playing, these classes are hosted on private servers, and players can try the game's Creative Mode or Survival Mode. For more about Einstein's Workshop, read our review.
---
Empow Studios
Weekly classes on Saturdays
Location: 1776 Massachusetts Ave., Lexington, MA, 02420
Ages: Grades 2-8
Cost: $$
Empow Studio takes a STEM-based approach to the game, as its Minecraft Club uses the game as a diving board into further exploration with computer coding, automation techniques, and scripting language.
---
Newton Free Library
Club meetings on alternating Thursdays
Location: 330 Homer St, Newton, MA 02459
Ages: Grades 3-5, 6-12
Cost: Free
Newton's library hosts two Minecraft Clubs, one for older kids in grades 6 and up, and another hosted by the Children's Room for children in grades 3 through 5. There are different challenges presented at each meeting, and games are hosted on the library's server.
---
Sharon Public Library
Wednesdays
Location: 11 North Main Street, Sharon, MA 02067
Ages: Grades 3-5
Cost: Free
The Children's Room at Sharon Public Library hosts this weekly club, and the location suggests a younger crowd is the target audience. Rotating activities include Minecraft competitions, cooperative projects, and free times. Note that kids or their parents must have a PC Edition Minecraft account to participate.
---
Morse Institute Library
Alternating Thursdays
Location: 14 East Central Street, Natick, MA, 01760
Ages: 11-18
Cost: Free
These popular Minecraft gatherings are hosted on the Natick library's server and cater to older players, who can expect a mix of Creative Mode and Survival Mode activities. Parents should note that some Minecraft-style fighting can occur during the games. Watch for further 2016 listings for the Minecraft meets at the library.
---
Lakeville Library
Monthly
Location: 4 Precinct Street , Lakeville, MA 02347
Ages: Grades 3-5
Cost: Free
Lakeville Library's monthly Minecraft get-together caters to younger kids in its Children's Room. Youths who want to learn how to play are also welcome, although all participants need to bring their own charged laptop or tablet with Minecraft downloaded on it.
---
Hamilton-Wenham Public Library
Thursdays
Location: 14 Union Street, South Hamilton, MA 01982
Ages: All ages welcome
Cost: Free
In a nice twist, Hamilton-Wenham's library hosts a weekly Minecraft and Assorted Games for Everyone (or MAGE) club that is run by teen players – however, kids of all ages and abilities can participate. Players must bring their own laptops and have an active Minecraft account.
---