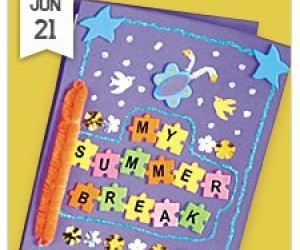 Long Island Kids' Activities June 21 & 22: Heckscher Festival, Dolphin Dance Party, Frozen Meet & Greet and More
For some, this weekend is the beginning of summer break, yet others will have a wait a few more days. Either way it's the weekend and we have a growing list of things to do, see, pet, ride, etc.
Shake a tail feather at the Dolphin Dance Party at the Whaling Museum or embark on a guided nature walk at Sagamore Hill for a fun game of I Spy. Or enjoy outdoor sports and activities at the Heckscher Festival.
Don't see your event listed here? Add it to our events calendar. And if you don't receive this post in your inbox, subscribe to our newsletter.
All Weekend
Heckscher Festival - East Islip. A fun and educational day is in store for kids of all ages at Heckscher State Park. This event will feature outdoor sporting activities like biking and kayaking, in addition to our usual earth friendly exhibitors and vendors. Call 631-581-2100 for more information. Cost: free admission (parking is $8).
Sts. Philip & James Family Festival - St. James. Weekend carnival with games, rides, prizes and food. Cost: free admission, P.O.P. bracelets and ride tickets available.
Retrorocket Races - Port Jefferson. Build an air-powered rocket to race with a friend at The Maritime Explorium. Cost: $5.
Alexander and the Terrible, Horrible, No Good, Very Bad Day - Northport. Alexander is having a really, really bad day. He wakes up with gum in his hair, his best friend abandons him on the playground and his mom forgets to pack dessert in his lunch box. Might as well pack up and move to Australia! This musical is sure to tickle your funny bone as it helps kids understand that some days are like that. Cost: $15/ticket.
Messy Afternoons - Garden City. A hands-on, multi-sensory experience at the Long Island Children's Museum. Cost: Free with museum admission.
Saturday, June 21
Dolphin Dance Party - Cold Spring Harbor. Celebrate whales at the Whaling Museum with dancing, DJ Mike on the Mic, face painting, and dolphin craft stations. Free ice pops! Dress up as your favorite sea creature for door prizes. Cost: free with paid admission.
Kids Create - Bridgehampton. Children attending this Children's Museum of the East End workshop can opt to take advantage of the sewing table (complete with a variety of sewing tools and fabrics for original creations), explore the science of hydraulics, or engineer their own race car to take for a test spin on different tracks. Cost: Free for members, $10 for non-members.
Craft: My Summer Break Journal - New Hyde Park. Kids can create a journal at the Lakeshore Learning Store between 11am and 3pm. Cost: free.
Homemade Crab Cakes - Bridgehampton. Kids will cook up crab cakes at the Children's Museum of the East End with Chef Liz.
Comedy Magic Circus Show - Glen Head. With Sammie & Tudie, "power couple of the clowning world," is a thrill ride of fun perfect for all ages. Participate and laugh at this show full of slapstick comedy, playful magic and silly circus tricks. Cost: free.
A Day with Degas at The Dolphin Bookshop - Port Washington. Kids can create their own artwork. Cost: $15.
Drawing Classes for Big Kids - Oyster Bay. At Not Just Art, this class helps kids ages 10-14 continue their art skills. Cost: $38.
Train a Seal, Kiss a Sea Lion at the Long Island Aquarium - Riverhead. Bring the kids to the Long Island Aquarium in Riverhead on Saturday for a fun-filled day of behind-the-scenes action. During the event, which runs from 10:15am to 2:15pm, kids will be able to get up close and personal with some of the creatures that call the aquarium home. Cost: $155 per person.
Science Saturday at the Long Island Science Center - Riverhead. Kids can learn and play at the Long Island Science Center with over 30 hands-on exhibits. The center is open from 11am to 4pm. Cost: $5 per person.
Sunday, June 22
Meet Frozen's Anna - Bellmore. At Le Play Cafe, join Princess Anna for an ice cream party, pictures and more. Cost: $20/child, $10/siblings.
Children's Engineering Workshop - Oyster Bay. At the Planting Fields Arboretum children will get to build a miniature geodesic dome. Cost: free admission, $8 parking fee.
Guided Nature Walk - Oyster Bay. Join the park's volunteer naturalist on an exploration of Sagamore Hill's fields and woodland trails. In addition, a children's activity will be available from 1pm-4pm. Cost: free.
Fiesta of the Arts - East Hampton. A celebration of Latin heritage for the entire family. Cost: free.
Mommy/Daddy Me Anti-Gravity Yoga - Bellmore. Have your little one explore the Anti-Gravity hammocks while building basic motor skills. All kids AGY classes are structured to introduce basic life skills and build confidence in a light-hearted way while having fun. Cost: $20.
Party in the Garden at the Nassau County Museum of Art - Roslyn. Nature walk I Spy, flower pot decorating and more. Cost: Museum admission plus $8 parking fee.
Lego Club - Bridgehampton. Play with Legos in the entryway of the Children's Museum of the East End. Cost: free with paid admission.