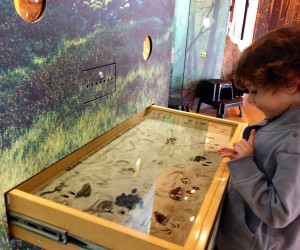 Long Island Kids' Activities July 26 & 27: Barn Dance, Rainbows, Children's Day & More
OUR LATEST VIDEOS
Eco Junior Program - Hubbard County Park, Riverhead. Participants will join Cornell's Peconic Dunes 4-H Camp environmental science educators to explore local ecosystems. An adult must accompany children under 6 years of age. Cost: Free.
The Wizard of Oz - Garden City. Plaza Theatrical Productions is putting on this live performance at the Long Island Children's Museum. Shows at 11:30am and 2pm on both Saturday and Sunday. Cost: $12/ticket.
Country Fest Long Island - Riverhead. This family-friendly, two-day event will feature 12 live country music, local vendors, a carnival, monster trucks, crafts, beer and BBQ, kids events, line dancing lessons and more. Cost: $10 (kids under 10 are free). (Sunday, too!)
Free Craft for Kids at Lakeshore Learning Store: Make & Shake Noisemaker - Lakeshore Learning Store, New Hyde Park, 11am-3pm. Kids visiting the store can create a fun craft on Saturdays. Cost: Free.
Peter Pan: The Musical - Smithtown. This live musical theater performance is running through mid-August. Cost: $15-$30/ticket.
Explore Nanotechnology: The Science of the Very Small - Port Jefferson. Measure the power of the sun with your own UV bead bracelet. Cost: $5/per person. (Sunday, too!)
Rainbows & Bubbles at South Fork Natural History Museum & Nature Center - Bridgehampton. Experiment with soap bubbles, water, and even milk to make all the beautiful colors of a rainbow...and even some giant bubbles. Cost: $5/per person.
Alexander and the Terrible, No Good, Very Bad Day - Northport. Alexander is having a really, really bad day. He wakes up with gum in his hair, his best friend abandons him on the playground and his mom forgets to pack dessert in his lunch box. Might as well pack up and move to Australia! Cost: $15/ticket.
Sleeping Beauty - Port Jefferson. Live theater performance of the Disney classic, Sleeping Beauty. Cost: $10.
Barn Dance - Riverhead. Kick up your heels at a good old fashioned barn dance at Hallockville Museum & Farm. Cost: $20/adults. $5/kids ages 5-12.
Saturday Nights on the Beach - Neptune Beach, Long Beach, 6:30pm. Kid-friendly movies and concerts. Cost: Free.
Train a Seal, Kiss a Sea Lion at the Long Island Aquarium - Riverhead. Bring the kids to the Long Island Aquarium in Riverhead on Saturday for a fun-filled day of behind-the-scenes action. During the event, which runs from 10:15am to 2:15pm, kids will be able to get up close and personal with some of the creatures that call the aquarium home. Cost: $155 per person.
Science Saturday at the Long Island Science Center - Riverhead. Kids can learn and play at the Long Island Science Center with over 30 hands-on exhibits. The center is open from 11am to 4pm. Cost: $5 per person.
Sunday, July 27
Children's Day - East Meadow. Rides and games. Plaza Theatrical Productions will be putting on a production of Beauty & The Beast at the Lakeside Theater. Cost: Free. Garden Sprouts! Kids Garden with a Jewish Twist - Aquebogue. Garden Sprouts is a sensory-rich experience on the farm that will help families create connections between nature and Jewish Life. Values such as appreciation of beauty, stewardship and care, cooperation and teamwork, and the blessings of food, family and celebration are woven into each class. Cost: $8/at the door.
Secret Life in a Pond at South Fork Natural History Museum & Nature Center - Bridgehampton. In this hands-on program, children will discover the tiny "secrets" that inhabit the pond, the food for frogs, turtles, and salamanders. Cost: $5 per person.
Home Front Family Fun Day - Stony Brook. A free day of crafts, activities and educational programs are being offered at the Long Island Musuem from 1-4pm. Cost: free.
LEGO Club at CMEE - Bridgehampton. Children's Museum of the East End, Bridgehampton, 10am. Children can construct works of art using the thousands of Legos at the Museum. Cost: Free with admission.
Messy Afternoons at LICM - Garden City. Long Island Children's Museum, Garden City, 3:30pm-5pm. Work on a fun project at LICM. Cost: Free with admission.
Mommy/Daddy Me Anti-Gravity Yoga - Bellmore. Have your little one explore the Anti-Gravity hammocks while building basic motor skills. All kids AGY classes are structured to introduce basic life skills and build confidence in a light-hearted way while having fun. Cost: $20.
Family Sundays at the Nassau County Museum of Art - Roslyn. Each Sunday, Nassau County Museum of Art offers a 1pm docent-led family walk-through of the exhibition and supervised art activities for the whole family beginning at 1:30pm. Special family-friendly gallery guides of the main exhibition are available in the galleries.
Main photo: South Fork Natural History Museum & Nature Center