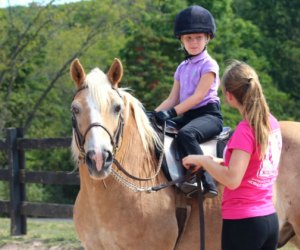 Horse and Riding Summer Camps for New Jersey Kids
if the sound of neighing is music to your child's ears, then these are the camps for you! Lots of New Jersey barns teach riding skills, along with horse grooming, tacking up, and equipment care. Many of the horse camps also offer traditional summer camp activities, such as swimming and arts and crafts, along with mini July sessions (for children who are just getting in the saddle for the first time, and not quite ready for a full week of equestrian adventuring) and both half and full-day itineraries. To find more New Jersey summer camps, be sure to check out our Camp Guide and Full Directory of Listings.
Dapple Hill Farm – Whitehouse Station
DHF's Pony Camp is a top-rated introductory camp for children and young teens. Campers will enjoy riding five days a week while learning about horses and horse care. Dapple Hill offers traditional camp activities like swimming, along with its exclusive camper/pony bobbing-for-apples race, scavenger hunts, and more. Each session concludes with the DHF famous costume class horse show—"The Wedding"— wherein two of the most eligible ponies get hitched, fully dressed as bride and groom. How's that for bridle?!
Essex Equestrian Center – West Orange
This summer camp welcomes riders of all abilities, ages 6 and up. It offers half and full-day options for beginners and full-day sessions for advanced riders. In addition to riding, campers will learn all about caring for horses, including grooming, bathing, cleaning tack, and much more.
Forest Edge Farms – Little Egg Harbor
Easily the most customizable horse riding camp of all, FEF offers a variety of half- and full-day sessions that can be booked daily or weekly. Great for families with little ones who are just putting their feet in the stirrups. Along with riding lessons, kids will bring home a basic understanding of tacking, grooming, and horse care, and make friends and tons of memories in the process!
Hasty Acres – Kingston
This camp is the rein-ing champion of horse and rider teamwork training! Catering to beginners and advanced riders alike, the programs offer hands (err, hoofs) on experience with grooming and horse handling, in addition to daily riding lessons. Their staff are huge proponents of careful, supportive guidance—so they match each camper with a horse of their riding ability and a complementary instructor. Each day, campers have their confidence and self esteem built through real progress, reinforcement, and attention. And via tons of 'on-the-ground' aspects of handling and caring, they walk away with an astounding appreciation and love for the animal.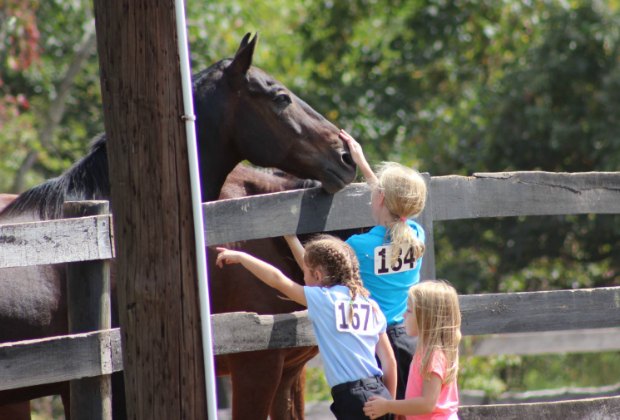 Gain confidence around these majestic animals with summer riding lessons.
Kafka Farms – Watchung
The summer programs offered at this family-run farm offer young colts and fillies (from 4.5 –14 years old) an active, healthy, and safe place to develop their horsemanship skills and build confidence. Campers learn in a safe, relaxed, and fun atmosphere through demonstrations, in-barn activities, and riding lessons—and everything is approached, first and foremost, with safety and horse respect in mind. Not only do campers learn essentials about horse behavior, they also get schooled on grooming, tacking, horse anatomy, color/breed and marking identification. Prior to the big 'mane' event—a final capstone horse show for parents—kids also whip their skills into shape with creative craft projects and activities that take advantage of Kafka's grounds and all of the friendly animals.
Kierson Horse Farm – Flemington
Kierson offers many different horse camps for a variety of skill levels. Riders ages 3–13 (with no previous horse experience necessary) will learn grooming, tacking, and horse care. Each camper will participate in one group riding lesson per day as well as arts and crafts and in-barn activity time. For more advanced riders, the 'Step Up Camp' offers more challenging daily curriculum, with two group riding lessons and more in-depth discourse on proper horsemanship, horse care and first aid. There are also a couple of programs open to even more accelerated future jockeys, focused on ringmanship and fostering a more competitive edge.

Palermo Show Stables – Bedminster
This summer day camp is open to riders of all levels: offering half-day youth camps for tiny tots ages 3-6 and full-day sessions for beginners and advanced riders, ages 6-17. Children can attend more than one camp, as topics change every week to keep things fresh and educational. There are a number of discounts available during Early Bird registration, and parents are encouraged to email the camp organizers for more information and topic perusal.
River Edge Farm – Bedminster
River Edge offers camp for girls ages 5–16, from beginning to advanced riders. Campers will develop their riding skills through lessons and will participate in activities such as grooming, tacking, feeding, learning the proper care of tack, and general barn management. Campers also learn about horse anatomy, nutrition, horse breeds, parts of the saddle and bridle, and equestrian sports.
Seaton Hackney Stables – Morristown
Seaton Hackney is the only public riding facility owned by the County of Morris, offering children aged 5-17 a plethora of ways to jump in the ring, whether they have only some experience, ride occasionally, or envision a future full of trot-taken trophies. Campers have ample opportunities to get back on the horse (riding 2-3 times daily), all the while learning basic safety, equine grooming, and barn management skills. And even if their eyes aren't on competition ribbons, children will receive daily lesson badges for completing programs including cart driving, equine breeds and health, and other exciting horsemanship topics.
Originally published January 2013; updated for 2018.
All photos provided courtesy Kierson Horse Farm.