Online Santa Visits: Zoom with Santa Claus and Virtual Santa Photos for Kids this Christmas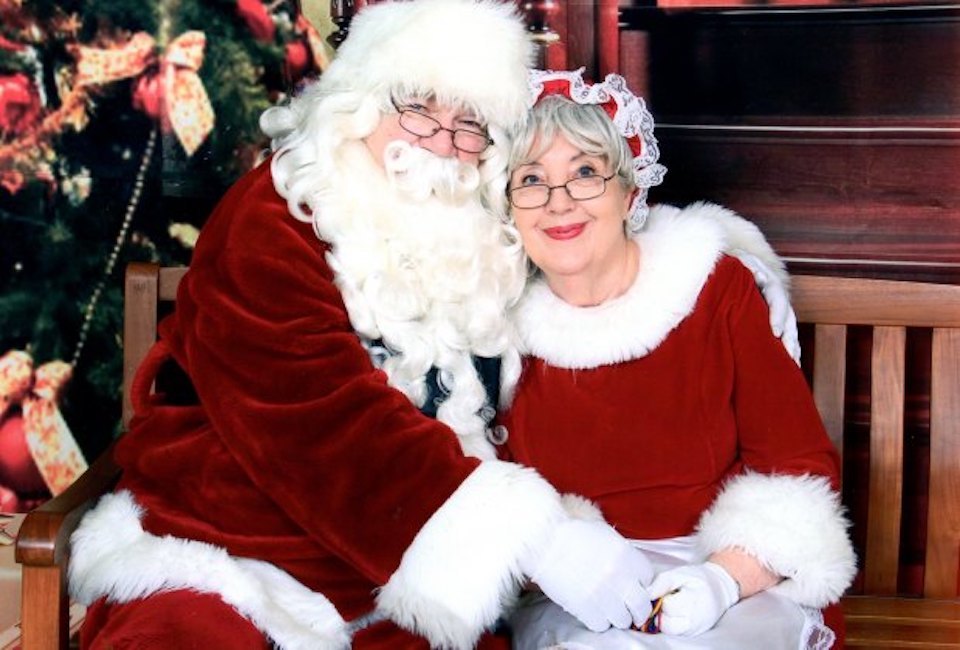 12/6/22
- By
Jessica Laird
Over the last few years, even Santa Claus has had to learn how to Zoom. This season, families looking for a virtual meet and greet with Father Christmas can choose between a number of 2022 Santa photos and visits that use technological magic to create a remote way for kids to connect with Old Kris Kringle.
From perfectly customized video greetings to live cameos by Mrs. Claus and the elves, there are so many ways to hang with Saint Nick and his crew from the comfort of your own home. Silver linings: no long lines, no crowds, and the ability to really personalize the visit to make your 2022 Santa Claus meet-and-greet extra special.
Read on for some of our favorite virtual Santa visits, coming to you from a few of our partners who sure know how to spread the holiday cheer when we need it most.
When to Book: No reservations needed
What to Expect: This popular app—with more than 200 million video views in 120 countries—lets you customize a free recorded video from Santa Claus with your kids' photos, names, ages, Christmas wishes, and more, by simply filling out a quick form. Parents can also select from a number of premium packages starting at $5.99, which include even more personalization and allow for add-ons like a live call from Saint Nick. For an experience that lasts all season long, the $16.99 Yearly Magic Pass gives access to unlimited calls and videos from the North Pole gang.

Added bonus: With the Magic Pass, you can access the Reaction Recorder, which records and saves a keepsake video of your child's reaction to their personalized Santa message. And, new in 2022, the Pass also earns kids a printable Interactive Gift Tag that can be scanned to reveal a personalized video of Santa delivering a gift to their home on Christmas Eve.
When to Book: At least a day in advance
What to Expect: These convincing Clauses are logged in and ready for a memorable Zoom with your kids this Christmas! With options starting at $49, you can schedule a 10-minute video call with Mr. Claus, Mrs. Claus, or the jolly duo, with time for up to four children to participate. For maximum magic, parents can help customize their kids' experience by answering a questionnaire covering everything from Christmas wish lists to names of pets to what their Elf on the Shelf has been up to this holiday season. Choose to add a free video recording to your visit as a special keepsake.
When to Book: At least 3 days in advance (4 recommended)
What to Expect: How about a live tour of the North Pole with Kris Kringle himself as your guide? With virtual video visits starting at $125, you'll have a chance to meet the reindeer, check in on the elves, and put in some real face time with Santa—telling stories, sharing wish lists, and even finding out who's been naughty or nice! Parents have an opportunity to complete a detailed form to help customize the 30-minute visit. Not only do families have the option to download a recording of the experience, but for families that book at least 4 days in advance, each kid receives a special "nice list" certificate in the mail.
For a premium, parents can also opt for a live virtual visit with Santa on Christmas Eve, or a totally customized 40-minute live Zoom or pre-recorded meeting for an upcoming holiday party or special event.
When to Book: Anytime
What to Expect: This Santa wants you to skip headache of the mall, put on some comfy pajamas, grab a cup of hot cocoa, and get ready for your video chat! Broadcasting live from his home in the North Pole, a call to the House of Kringle means you'll find the big guy sitting in front of his fireplace or toiling away in his workshop. With help from details you provide, he'll be ready to tell stories, sing songs, answer questions, or even review your kids wish lists. Pricing starts at $49.99 and depends on the length of the call and whether you book during peek or non-peek hours. HD cameras, rings light, and detailed sets—instead of artificial backdrops—help make this meeting with Santa one for the books.
Recorded video messages are also available and make a perfect gift for Christmas-loving kids. Old Saint Nick can record any wish you'd like or customize something using the details you provide. Your video can be delivered as a private YouTube link or a downloadable MP4.
All photos and videos are courtesy of the listed organizations.