SPONSORED
Online Santa Visits: Zoom with Santa Claus and Virtual Santa Photos for Kids this Christmas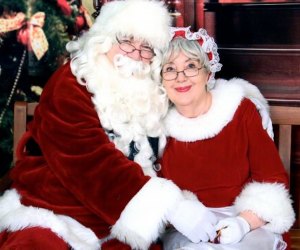 Over the last few years, even Santa Claus has had to learn how to Zoom. Families looking for a socially distanced way to meet Father Christmas this season can choose between a number of 2021 Santa photos and visits that use technological magic to create a remote way for kids to connect with Old Kris Kringle.
From perfectly customized video greetings to live cameos by Mrs. Claus and the elves, there are so many ways to hang with Saint Nick and his crew from the comfort and safety of your own home. Silver linings: no long lines, and the ability to really personalize the visit to make your 2021 Santa Claus meet-and-greet extra special.
Read on for some of our favorite virtual Santa visits, coming to you from a few of our partners who sure know how to spread the holiday cheer when we need it most.
Oh, and speaking of spreading cheer, Mommy Poppins is lending Santa a helping hand this holiday season! We've joined USPS Operation Santa to help answer some of the letters that Old Saint Nick just can't get to. Find out how you can get involved.
Dates: Year-round with extra content through Dec, 31, 2021
When to Book: No reservations needed
This popular app—with more than 250 million video views in 120 countries—lets you customize a free recorded video from Santa Claus with your kids' photos, names, ages, Christmas wishes, and more, by simply filling out a quick form. Parents can also select from a number of premium packages starting at $4.99, which include even more personalization and allow for add-ons like a live call from Saint Nick. For an experience that lasts all season long, the $14.99 Yearly Magic Pass gives access to unlimited calls and videos from the North Pole gang.
Added bonus: Both the app and website allow you to save all of your videos and calls, so you can hold on to them as special Christmas keepsakes for years to come.
Dates: Through Dec. 25, 2021
When to Book: At least 6 hours in advance
These convincing Clauses are logged in and ready for a memorable Zoom with your kids this Christmas! With options starting at $79, you can schedule a 10-minute video call with Mr. Claus, Mrs. Claus, or the jolly duo, with time for up to four children to participate. For maximum magic, parents can help customize their kids' experience by answering a questionnaire covering everything from Christmas wish lists to names of pets to what their Elf on the Shelf has been up to this holiday season. For an additional fee, you can purchase a video recording of your visit as a special keepsake.
Dates: Nov. 26-Dec. 24, 2021
When to Book: 3 days in advance
How about a live tour of the North Pole with Kris Kringle himself as your guide? With virtual video visits starting at $125, you'll have a chance to meet the reindeer, check in on the elves, and put in some real face time with Santa—telling stories, sharing wish lists, and even finding out who's been naughty or nice! Parents have an opportunity to complete a detailed form to help customize the 30-minute tour. Not only do families have the option to download a recording of the visit, but each and every kid receives a special "nice list" certificate with a wax seal.
Use coupon code MP2021 for a 15% discount when you book your tour!
Dates: Through Dec. 26, 2021
When to Book: Some same day availability, but best to book in advance
In addition to a virtual meet-and-greet with Mr. or Mrs. Claus, families get time with Santa's elves and reindeer and an interactive "How to Draw Santa" lesson when purchasing a package starting at $24.95. Choose from a diverse cast of characters that meet your ethnic, faith, and language (including ASL) preferences, plus sensitive performers who are trained for special needs audiences. The experience lasts 10-15 minutes, and a video recording and a digital photograph are included free with each visit. Story time can be added for an additional fee as well.
All photos and videos are courtesy of the listed organizations.