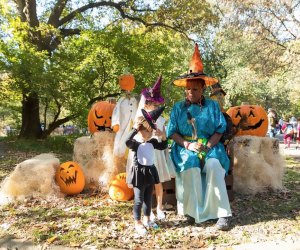 Haunted Houses and Not-Too-Spooky Halloween Walks for NYC Kids
Looking for a not-too-scary Halloween fright for the kids? A tricked-out haunted house or slightly spooky Halloween trail just might be the right kind of boo for you.
Haunted houses long have been a popular suburban Halloween staple—Long Island and Westchester have dozens. And while NYC has several spooky haunted houses of its own, including Blood Manor, most are definitely grown-ups only. There are, however, a handful of haunted houses in New York City that offer gentler Halloween chills for families.
You're sure to find spooky, family-friendly attractions at pretty much every Halloween festival and fall fair. But we're skipping those to tell you about the best of the city's more elaborate and kid-friendly haunted houses and other Halloween attractions for kids this year. Read on for the scoop—and heed the age warnings. While grade-school kids can attend most of these, not all are suitable for preschoolers.
Sign up for our FREE newsletters to get posts like this delivered to your inbox.
Spooktacular Night Walks — Bronx Park, the Bronx
Select weekend evenings through October 26
All ages
Stick around the Bronx Zoo after the gates close for this special seasonal event. Guests meet creepy, crawly critters while noshing on a pizza dinner, then set out on a night walk to see what happens among the wild things when the sun goes down. Much milder thrills await during the daytime hours, when the Boo at the Zoo attractions let you walk the extinct animal graveyard with little ones, plus participate in costume parades, snag treats, and more.
Spooky Pumpkin Garden — Bronx Park, the Bronx
Daily through Thursday, October 31
All ages
Wander the Everett Children's Adventure Garden to take in its eye-popping transformation as it's filled with spooky scarecrows, professionally carved pumpkins, and seasonal entertainment. Kids can pot a creepy plant, and get close to live, creepy creatures like insects, bats, and reptiles.
Watson Adventures Ghosts of Greenwich Village Scavenger Hunt — Greenwich Villages
Saturday, October 19 and Saturday, October 26
Ages 7 and older
See this classic New York neighborhood through an entirely new lens. Creepy clues lead you to the haunted houses once occupied by Edgar Allan Poe and Mark Twain plus help you find some spooky landmarks. All children must be accompanied by an adult.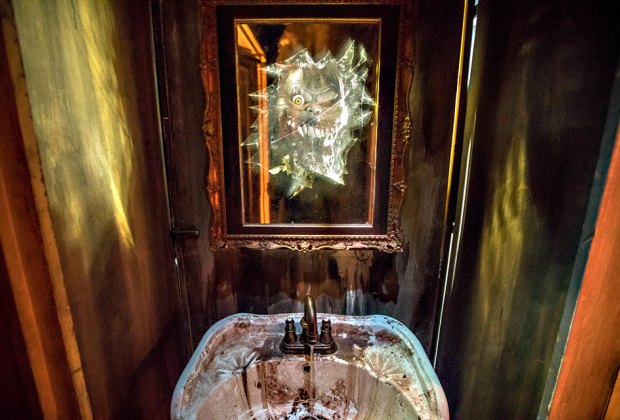 Prepare to be scared at New York City College of Technology's (City Tech) annual high-tech haunted hotel, The Gravesend Inn. Photo courtesy of City Tech College
Gravesend Inn Haunted Hotel — Downtown Brooklyn
Friday, October 25–Thursday, October 31
Ages 8 and older
The students and faculty of Theatreworks, City Tech College's department of entertainment technology, built this spooky haunted "hotel" at the Voorhees Theatre that takes its inspiration from the animatronic houses you see at amusement parks.
Halloween Murder Mystery — Upper East Side
Saturday, October 19; Friday, October 25–Saturday, October 26
Ages 10 and older
Head to the Mount Vernon Hotel Museum and Garden for this Clue-like game. Loosely based on a historical newspaper account, guests hunt the manor for clues to solve a spooky murder mystery. Advance registration required.
WBO Haunted House — Williamsbridge, the Bronx
Friday, October 25
Ages 12 and older
Head to the Williamsbridge Oval Recreation Center for some mild thrills as ghosts, zombies, and spooky creatures attempt to scare you. FREE
RELATED: Best Free Halloween Events in NYC for Kids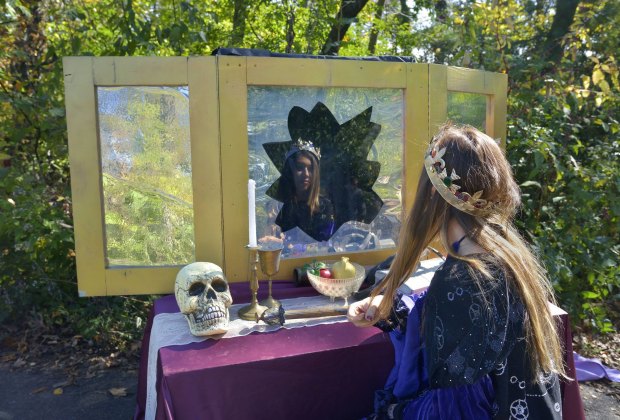 Meet the ghouls and goblins of Prospect Park at its annual haunted walk. Photo courtesy of the Prospect Park Alliance
Halloween Haunted Walk — Prospect Park, Brooklyn
Saturday, October 26
Ages 7–12
Head to Lookout Hill in Prospect Park for this outdoor haunted hike, where you'll be visited by zombies, wolfmen, headless horsemen, good and bad witches, and other creepy characters. Afterward, hit the Nethermead for an all-ages Halloween-themed carnival with games and treats. FREE
RELATED: October GoList: Best Events for NYC Kids All Month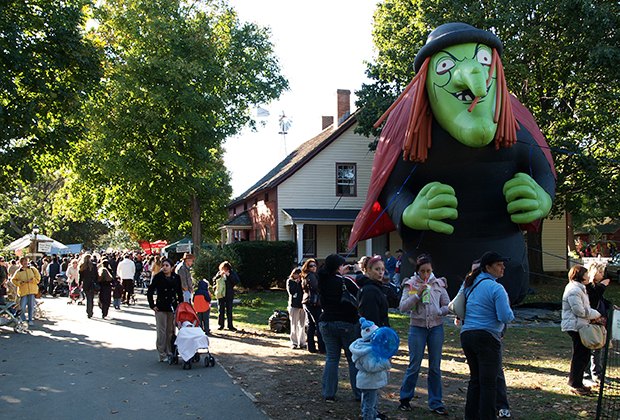 The Halloween haunted house at the Queens County Farm Museum is a spooky but gentle intro for kids. Photo courtesy of the Queens County Farm Museum
Halloween Haunted House — Floral Park, Queens
Saturday, October 26
Ages 6–12
You never know what you'll find—or what will find you—in the Queens County Farm Museum's not-too-scary haunted house. The house will be completely dark inside and filled with winding paths and sudden surprises, but is generally considered a good "intro" haunted house for school-age children. Afterward, go for a hayride, down some cider, buy your pumpkins and apples, and navigate the Amazing Maize Maze for an extra fee.
Spooky City Halloween Party — East Harlem
Thursday, October 31
All ages
Come clad in costumes to traverse the (not-too) spooky halls of the Museum of the City of New York. You'll hear mildly scary tales along the way, but any fears are soothed by the treats that are doled out.
This post was originally published in October 2010 and is updated annually. Unless otherwise noted, all photos courtesy of the venues.