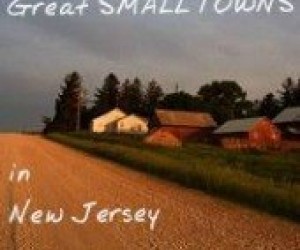 Great Small Towns in New Jersey: Atlantic Highlands
Atlantic Highlands, often referred to as the "Jewel of the Bayshore", is one of New Jersey's most unique small towns. This charming Victorian town on the Jersey Shore overlooks the New York Bay, Manhattan and the Atlantic Ocean. The town's hills include the highest point on the East Coast south of Maine. In addition to its great location and rich history, Atlantic Highlands is home to delightful restaurants, theaters and one-of-a-kind shops. Read on to learn why you should take a day trip to this adorable slice of Victorian America. For even more day trip destinations in Monmouth County, check out our Small Town Posts on Matawan and Aberdeen, Red Bank and Ocean Grove.
Things To Do
Check out the beautiful views of the Atlantic atop the Twin Lights Lighthouses. Situated 200 feet above sea level, atop the Navesink Highlands, the Twin Lights has stood as a sentinel over the coastal waters of New Jersey since 1828. Lighthouse visitors face a relatively easy, 64 step climb to the top of the lighthouse (great for small legs). Climbers are rewarded with spectacular views of the Atlantic, Navesink and New York City skyline. A small museum is also open to the public. Admission is free.
Learn about the town's rich history by taking a walking tour. Take a step back in time while strolling through the "old town" section of Atlantic Highlands and see houses that date back to the 1800's and grand summer cottages with many porches, turrets and towers. Two churches along the way are worth a stop, representing both Gothic and Romanesque architecture. Make sure to stop in the Strauss Mansion. Open Sundays from 1 pm to 4 pm, it is the only Queen Anne Victorian Mansion open to the public in Monmouth County.
Take a ride on the Seastreak Ferry for a fun day trip. In addition to daily trips into Manhattan, Seastreak offers fall foliage cruises as well as trips to Yankee Stadium, West Point football games and Martha's Vineyard.
Take in a live theater production at the First Avenue Playhouse. Located in downtown Atlantic Highlands, the First Avenue Playhouse is one of the oldest continuously running community theaters in Monmouth County. The Playhouse is a dessert theater that provides a variety of live theater choices, including comedies, musicals and original productions by local playwrights. The theater's holiday production will be the comedy, Hostages for the Holidays. Check out their website for a full schedule.
Enjoy nature and stunning views by taking a hike on one of Atlantic Highlands' nature trails. The Hartshorne Woods Trail is a loop trail that traverses through Navesink and the Highlands. It is open year round and is a great place for hiking, biking and running. The Henry Hudson Trail, a 10 foot wide, 24 mile trail that covers much of Monmouth County also runs through the Highlands. Formerly a railroad right of way, this tree-lined trail has views of wetlands, streams and fields. It's a great place to get in some family biking.
Places to Eat
Start your day at Zoe's Vintage Kitchen. This adorable eatery has been recognized by NJ Monthly Magazine as a great breakfast spot. The fun 1960's decor and friendly service make this little gem a great pick for breakfast and brunch. Menu choices include omelets, French toast and fresh squeezed orange juice. For a casual, family-friendly lunch or dinner stop in On the Deck Restaurant. Overlooking the water, On the Deck has a menu that includes steaks, seafood, sandwiches and pasta. They also offer a great kids menu. Satisfy your sweet tooth with dessert from The Flaky Tart. This special bakery, owned and operated by award winning baker Marie Jackson, offers pastries, desserts and specialty cakes. Nancie's Ice Cream and Cafe' offers delicious frozen treats. Be sure to try the brownie sundae or the extra thick milkshake.
Shopping
Parents will love the Cloud Kissed Kids Store, a magical place that specializes in children's decor and gift items. Stop in and explore their unique organic and free trade items for babies, toddlers and older children. The Painted Frame sells local art and eco friendly products. Their inventory includes original artwork, antiques, hand printed t-shirts, decorative accessories and art supplies. For vintage clothing and antiques, visit the popular Vintage Variety Shop. The shop's knowledgeable staff will help you navigate the thousands of pieces of vintage clothing, accessories, decor and toys.
Annual Events
Atlantic Highlands annual town-wide events include an Annual Car Show, Farmer's Market, Arts & Crafts Festival, FilmOneFest, a Halloween Parade, Easter Egg Hunt and Summer Concert Series.
Nearby Atlantic Highlands
Sandy Hook, part of the Gateway National Recreation Area is adjacent to Atlantic Highlands. This seven-mile stretch of spectacular ocean and bay beaches is perfect for fishing, swimming or relaxing on the sand. A pristine holly forest and more than 300 species of birds makes Sandy Hook a perfect destination for nature lovers.