Great Sewing Classes and Camps in Central New Jersey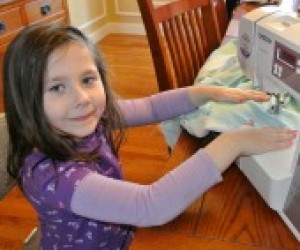 Do you have a crafty kid in your home? It might be time to introduce them to the wonderful world of sewing. By learning to use a sewing machine, children can begin to design their own clothes, stuffed animals and accessories. In addition, sewing helps kids develop problem solving skills, strong motor skills and attention to detail. Central NJ is home to some wonderful sewing schools that offer after school classes and summer camps. For more summer camp ideas for creative kids, check out our post on Central New Jersey Summer Art Camps.
Karen's School of Fashion (Morganville, NJ)
This great school offers fun and innovative classes designed to spark creativity at any age. Classes consist of fashion sketching, draping, sewing, shoe/accessory design and little kids design. All classes are divided into age appropriate groups. The school also offers a summer Fashion Camp for ages 8 and up. The camp is a five day, full day program that allows students to transform an idea into a real project. Half day jewelry and bag making camps are also offered. Check the website or call Karen at 917-696-2814 for additional information.
Around the Corner Art Center (Freehold, NJ)
The Around the Corner Arts Center offers a variety of classes year round, including "Design, Sew & Create" , a sewing class for kids ages 9 and older. In this class, students are exposed to sewing machines, construction detail, patterns, fabric, safety and more. They will create fun designs like pillows or tote bags on their own, and learn in the process. Classes run in eight week sessions. The school also runs a weekly summer camp. Art and sewing camps are offered from the end of June through August. Check out their website for registration information.
Cattells Sew & Vac (Medford, NJ)
The instructors at Cattel's Sew and Vac know that sewing is a lifelong skill that teaches kids to think outside the box and be innovative. Their sewing classes teach the basics of sewing, allowing kids to explore their creative side. Children ages 8 to 10 can enroll in classes that consist of levels from beginner to advanced. Classes include "Beginner's Pajama Party","Sewing for the Seasons" and "Project Runway Beginner Designing". A summer camp is availabe from June through August. Campers can sign up for one day or more. Each camp day runs from 10:30 to 3:30. Classes are kept small and fill up fast. For details and the summer camp project calendar check out their website.
It's Sew Crafty (Atlantic Highlands, NJ)
With locations in both Atlantic Highlands and Maplewood, Sew Crafty offers sewing classes for ages 6 to 16. Classes run in four week sessions. Classes offered include "Sew Funky" (ages 6 to 8), "Sew Simple" (ages 9 to 11) and "Sew Much Fun" (ages 12 to 16). All classes teach and develop students sewing skills and culminate in a completed project. An open class is also available during which students can simply learn to use a sewing machine or work on some of their current projects. Camp Crafty is Sew Crafty's fun summer camp for students age 8 to 16. Weekly sessions are available starting July 7. Each week focuses on a different theme such as accessories, costumes and animals. For more information call 862-205-1603 between 11 a.m. and 8 p.m. Monday though Friday.
Sew What? Sewing (Scotch Plains, NJ)
Sew What? Sewing is a fashion design program for children ages 9 and up. Sew What? Sewing classes inspire students to unleash their inner designer, creating their very own masterpiece from initial inspiration to finished project. Two different programs are offered: beginner/advanced sewing/pattern making and fashion illustration. Both programs run for six weeks. A summer camp is also offered from July 7 to July 10. This weekly four day camp offers either a morning or afternoon session. Summer program students will focus on reading a pattern and bringing their creation to a final state. Visit their website for details and registration information.
Jo-Ann Fabrics and Crafts
With stores throughout New Jersey, including locations in Shrewsbury and Toms River, Jo-Ann Fabrics and Crafts offers sewing and knitting classes for ages 5 and up. "Kids Studio" classes run from one to two sessions and focus on specific projects including pillow cases, stuffed animals and clothes. Summer Camp classes are also offered. Classes vary by location, so check the website or call your local store for details.
Fabricland (North Plainfield, NJ)
At their 2000 foot school, Fabricland holds sewing classes for kids and adults ages 10 and up. The school offers a variety of sewing classes for all skill levels. Projects include apparel, home decor and quilting. The school also offers girl scout and brownie programs. A summer camp is offered during July and August. Check out their website or call 908-755-4700 for details.