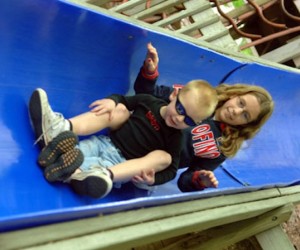 Great Playgrounds in Stamford
Stamford is a big place with lots to see and even more to do. With over 125,000 residents, this Fairfield County city is the third largest in Connecticut and the seventh largest in New England. From the woods and rolling hills of North Stamford to the beaches and marinas in the South End, Stamford is urban, suburban and even a little rural depending on where you go. In a city of this size, you can bet that it's full of kids.
My kids love to get out there and play. They always like to check out different parks to see if they can find an old friend or make a bunch of new ones. This is a list of our favorite playgrounds in the city, but by no means a list of every single playground. For instance, Stamford's elementary school playgrounds are open to the public after school and on weekends, which make for a convenient, neighborhood option. When you're ready to look for things to do beyond the playground, check out 40 Things to Do in Stamford With or Without Kids. If you have a skater in the family check out these Skateparks in Fairfield County. No matter what, I hope you'll get out there and explore some of these places.
Good thing there are so many great parks and playgrounds for all these kids to choose from. I've rounded up some of the best playgrounds in Stamford, with descriptions of what you'll find when you get there. Check it out!
Scalzi Park - Scalzi Park has become our go-to playground whenever we head out to play. This park has recently undergone a major, multi-million dollar renovation. There's a beautiful, nicely shaded new playground with separate sections and swings for little and big kids and a padded surface underneath for safety. There's also a brand new splash pad, new benches and landscaping, a half mile bike loop, a jogging path, a great lawn, baseball fields, tennis courts, bocce ball courts, volleyball nets, basketball courts, and even a skatepark. We come to this park prepared for anything with bathing suits, roller blades, scooters, basketballs... you name it. My kids can (and do) stay here for hours. This is such a popular park that the playground can get a little crowded on the weekends, but it's still fine.
Scalzi Park,100 Bridge Street, Stamford CT, 06905
Twin Meadows Boundless Playground - This wonderful playground for children of all abilities can be found behind Stillmeadow Elementary School. We love this playground almost as much as Scalzi park, with their expansive, sensory based play structure, swings for kids of all sizes, and a treehouse which is up a long ramp. Because this is a wheelchair accessible playground, the surface at Stillmeadow dries out very quickly after a rain (no mud!). There is even a second, smaller playground for toddlers located along the south side of the school building in the lower parking lot. Stillmeadow once housed a preschool, so this playspace was located directly outside of their classrooms. Remember, like all elementary school playgrounds, you can only go here on school days after 4:00pm and anytime on weekends and holidays.
Twin Meadows Boundless Playground, Stillmeadow School, 800 Stillwater Road, Stamford CT, 06902
Jesse Lewis Playground at West Beach - This very special playground was built by local volunteers together with the Sandy Ground Project and Where Angels Play Foundation to celebrate the life of Sandy Hook student, Jesse Lewis. It's in a lovely spot on the sand, right by the water. West Beach has always been one of my favorite spots in town since it's low-key, it's a nice beach for little ones to explore and it's usually not very crowded. You can park right next to the beach, so you don't have to walk far which is great if you've brought along all of your beach stuff. You'll need a sticker or day pass to park at this beach from May 1st through September 30th, although you can find (limited) free parking on side streets. Just be sure to read the signs.
West Beach, 818 Shippan Ave, Stamford CT 06902
Cove Island Park - The playground at Cove Island is just part of this expansive shoreline park, which also includes a one mile loop, a great lawn (perfect for kite flying), a salt marsh and of course a long, sandy beach. The play structures are on top of a padded surface and across from a long row of swings. The playground is right next to SoundWaters, the coastal education center where you can stop in anytime to learn about the Long Island Sound and check out the aquarium tanks containing local freshwater and saltwater creatures. Like West Beach, you'll need a sticker or day pass to park here from May 1st through September 30th.
Cove Island Park, 1281 Cove Road, Stamford CT, 06902
Mill River Playground - Mill River Park is a large space in the heart of downtown which has been undergoing a major renovation for the past few years. Already, it's shaping up to be a beautiful place where park planners have reintroduced native plant species by planting over 400 trees and thousands of shrubs. This has created a habitat for native birds and wildlife along the river, which winds through the center of the park. Future plans for the park include a carousel and an outdoor skating rink. About a block away from the main park, you'll find the Mill River Playground. The playground has a nice, sturdy play structure which runs parallel to West Main Street. The downside of this playground is that it is separate from the main park, so you can't easily run over to the playground without having to go for a bit of a walk. But they've been showing animated movies at the playground every other Saturday this past summer, and at the main section of Mill River Park, you'll find yoga in the park, food trucks and even more outdoor movies so it's worth the trek between the two. One note of caution: once you're at the playground, you might find it's very easy for your kids to run in and out of the playground and onto the adjacent sidewalk.
Mill River Playground, corner of Tresser Blvd and West Main St, Stamford CT, 06901
Chestnut Hill Park - For years, I would take my kids here anytime we went to the park. It's in a lovely wooded section of North Stamford, with a smaller, fenced-in toddler playground and a larger, more challenging big kid playground. You'll also find some newer equipment including a modern rope climbing structure and a large, spinning circle as well as swings for babies and big kids and a small, covered pavilion. While there's usually a decent after-school, before-dinner crowd of kids, you might find other times of day are very quiet. On weekends, the crowds never get very big, even when there's a little league game on the adjacent field. Having spent countless hours here, I can say with some authority that this is definitely a good, but not great, playground. What would make it great (again) is if the equipment got some much needed updating and TLC. The wooden pieces are starting to show some wear and tear and there are a few play features that stopped working years ago. However, it's still a good place to play in a beautiful, serene setting, located just off Long Ridge Road.
Chestnut Hill Park, 354 Chestnut Hill Rd, Stamford CT, 06903
Nature's Playground - Who doesn't love the Stamford Museum and Nature Center, with it's farm animals, free-roaming guinea hens, Edie the Otter and lots of terrific activities like Market Madness Sundays. Next time you're there, take a walk up the hill to this gem of a playground, tucked back into the woods. There's a huge wooden ship, a treehouse with a lookout, a hawk's nest, an enormous wooden spider and long, fast slides coming out of maze-like climbing structures. I find that this playground was best enjoyed by my kids when they were a little bit older and more sure of their balance and climbing ability (it's a little hard to scale some of the equipment quickly when you need to go in for a toddler-rescue). Also, if you head to the playground soon after it rains, the ground can get a little muddy and the wooden structures slippery. Admission to all that the Nature Center has to offer, including the playground, is $10 for adults, $5 for children and free for kids under 3. Admission is also free if you show your bus pass or transfer, since the bus to and from downtown Stamford has a stop right at the Museum.
Nature's Playground, Stamford Museum and Nature Center, 39 Scofield Town Road, Stamford CT, 06903
Commons Park - This modern, newly built playground is in the Harbor Point development right next to a large fountain and sweeping, manicured lawn. Recently, my kids and I enjoyed watching an outdoor movie in the park, and the kids played in the playground right up until the movie started. The play structures are modern and interesting for the kids to explore and the park has smooth paths for scooters and bikes. In general, it's been exciting to watch all the developments take place around Harbor Point, especially with all the great restaurants opening. In fact, this playground is right next to Henri's at Harbor Point, an outdoor food kiosk offering burgers, hot dogs, fries, smoothies, wrap sandwiches and soft serve ice cream.
Park Place Playground, Commons Park, 200 Commons Park South, Stamford CT, 06902
Kosciuszko Park - This park is located behind the Harbor Point development on a 7 acre peninsula, right on Stamford Harbor. There's a recently renovated play structure and pavilion as well as a wide walkway around the perimeter of the park and narrow trails that extend down to the water. There's no beach, but there's a large lawn and the waterfront setting is really pretty and peaceful. You'll find plenty of permit-free parking here, which is a plus since most of Stamford's waterfront parks require a permit to park from May to September. Be sure to pick up a sandwich and other picnic goodies from the fantastic selection at Whip, which is right on the way to the park. You wont regret it.
Kosciuszko Park, 200 Elmcroft Rd, Stamford, CT 06902
Photo courtesy of Stamford Museum.
Originally published 8/28/14.