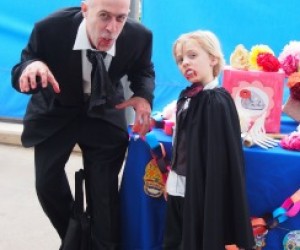 Fun & Free Things to Do with LA Kids this (Almost Halloween) Weekend: Pumpkins, Fall, More Pumpkins Oct 25 - 26
This is the weekend of Halloween in all but the name. True, Halloween is next Friday, which really makes it part of next weekend if you want to get all official about it, but its Halloween part is only at the beginning. The pre-weekend day, really, and 10/31 is going to be all about the trick-or-treating anyway. Then come Saturday and Sunday, and at that point you might as well launch your pumpkins into the sky, because it'll be November and Dia de Los Muertos and Halloween will be little more than a sweet, cavity-inducing memory.

See, all the real Halloween action is this weekend. The festivals. The pumpkin patches. The chills and the thrills. Halloween at the aquarium, the zoo, the garden, the museum, another aquarium, another zoo, a scary train ride. Halloween with fairies, books, puppets, another garden, comic book Halloween, surfing Halloween, science Halloween. Dancing Halloween, racing Halloween, eco Halloween, Haute Dog Halloween, another aquarium. Chances are you're going to be so busy Halloweening in this "not Halloween" weekend that come next weekend you'll be all "Halloween? That was so last weekend."

Well, that is until next week when we tell you all the spookilicious fright-tivities that lay in wait for you. But in the mean time:

Keep reading for our most Halloweeny picks for this weekend...
ALL WEEKEND

Underwood Family Farms' 17th Annual Fall Harvest Festival - Moorpark
What better time to visit Underwood Family Farms than (almost) Halloween weekend? Kids can discover pumpkins in a multitude of varieties while enjoying the festival's tractor-drawn wagon ride, corn maze & labyrinth, combine slide, animal show, and more.

Scarium of the Pacific - Long Beach
The Aquarium of the Pacific's annual Halloween festivities include the annual children's costume contest, the creepy coloring contest, face painting, magic shows, underwater pumpkin carving, spooky storytelling, kooky crafts, and eerie animals in the Great Hall.

Nightmare Before Christmas (PG) - Hollywood
Count on Jack Skellington to remind us of the spooky truth: Christmas is just around the corner!

Turbo Fast Weekend - Santa Ana
Discovery Science Center celebrates the animated series Turbo FAST. Kids can learn from a real animator, preview new episodes, and participate in Turbo FAST activities.

Fiesta de Muertos - Downtown
Olvera Street hosts its annual celebration of the festive Mexican holiday when families remember their ancestors and the continuity of life.

Frightfully Fun Fishy Fest - Santa Monica
Santa Monica Pier Aquarium's annual Halloween/Dia de los Muertos weekend features glow-in-the-dark deep-sea laboratory, a marine animal graveyard, and colorful Dia de los Muertos crafts and masks.
glow-in-the-dark deep-sea laboratory, tip toe (if you dare!) through the marine animal graveyard and create colorful Dia de los Muertos crafts and masks. - See more at: http://www.healthebay.org/event/frightfully-%E2%80%9Cfintastic%E2%80%9D-fishy-fest-day-two-0#sthash.oNsBkxHE.dpuf
Walker and Bowes Glass Pumpkin Patch - Palos Verdes Peninsula
Beautiful glass pumpkins are on display throughout South Coast Botanic Garden at this child-friendly event.

Boo at the LA Zoo - Griffith Park
It's not just the kiddos who are trick-or-treating; zoo creatures stomp and chomp their way through their pumpkin treats at the Los Angeles Zoo. Other fun includes pumpkin carving, a pumpkin patch, and creepy creature close encounters.

Last Weekends of the Month at the Skirball - West LA
The last weekend activity at the Skirball this month should be a "Big Draw": visitors can contribute to the collaborative drawing project "Exquisite Garden" by adding their own root, flower, stem, or fruit to the larger ongoing piece.

Don't forget these ongoing Halloween favorites:

Absolutely Halloween @ Santa Monica Playhouse
Camp Spooky @ Knott's Berry Farm
RISE of the Jack O'Lanterns @ Descanso Gardens
Boney Island @ Boney Island
Pumpkinliner @Fillmore & Western Railway
Zombie Land In Search of PumpkinHead @ Fillmore & Western Railway
Halloween Ghost Train @ Los Angeles Live Steamers Railroad Museum
Bob Baker's Halloween Hoop-Dee-Do @ The Bob Baker Marionette Theater


SATURDAY OCTOBER 25

Halloween ComicFest - Multiple Locations
Participating comic shops give out free Halloween comics and offer in store events.

Spooky Creatures in the Garden - Arcadia
What spooky creatures lurk at the Los Angeles County Arboretum & Botanic Garden? Wear your costume to find out!

Haunted Heats Halloween Surf Contest - Santa Monica
Costumed surfers take to the waves in Santa Monica, for a Halloween tradition that's like totally Californian, dude.

Manxmouse: The Mouse Who Knew No Fear - Santa Monica
This Dutch theater production uses found objects, puppetry, and music to tell Paul Gallico's tale of what happens when we face our fears.

Halloween Zoo-tacular - Irvine
The Orange County Zoo's Halloween festivities include trick-or-treating, spooky crafts, a scavenger hunt, and face painting.

Halloween Pumpkin Decorating - Pasadena
Little spooksters can get ready for Halloween decorating pumpkins with washable markers and glue sticks in the One Colorado courtyard.

AMC Theatres Sensory Friendly Films - Multiple Locations
Families affected by autism can watch Book of Life (PG) in a sensory-friendly screening at participating AMC Theatres.

TSFY: The Organ: Stops, Keys, Pedals and Pipes - Downtown
The uber-popular Toyota Symphony for Youth celebrates the 10th birthday of the Walt Disney Concert Hall's majestic organ, nicknamed the French fries.

Eek at the Greek - Griffith Park
The Greek Theatre's annual Halloween show features spooky-ooky favorites performed by the Symphony In The Glen Orchestra. This year Bruce Boxleitner narrates a chilling rendition of Edgar Allan Poe's "The Tell-tale Heart."

Lincoln Village Festival - Pasadena
Highlights of this community festival include a Halloween costume contest, basketball and soccer contests, photo booth, an extreme video game truck, and an American Ninja Warrior style obstacle course.

Spooky Science Nights - Downey
Columbia Memorial Space Center's annual event is set to be scarier and more slimy than ever, with a robotics lab, a dark maze, a super slime station, creepy science experiments, a costume parade, and (weather permitting) star gazing.

Saturday Morning Concerts - Santa Monica
Mista Cookie Jar performs at Books and Cookies.

Ilene Cohen and her Puppet Friends - West LA
Ilene Cohen and her puppet friends share Halloween-themed stories at Children's Book World.

A Faery Hunt's Fairy Halloween Party - Encino
Families looking for a gentler alternative to the usual Halloween activities can celebrate Halloween with the Faery Folk at Los Encinos State Historic Park.

16th Annual Latino Heritage Parade and Jamaica - Pasadena
The theme of this year's annual parade and fair is "Nuetras Mismas Raices/Our Common Roots," celebrating the diversity of cultures within the Latino Community.

Saturday Science: Mars Exploration and Floating M's - Downey
Kids can visit Columbia Memorial Space Center to learn whether Mars can sustain life and discover the secret of Floating Ms.

Alpine Halloween Festival - Downtown
The downtown park recreation center hosts a pumpkin carving contest, costume contest, moonbounces, game booths, and face-painting at its Halloween festival.

Sea Scare - San Pedro
Cabrillo Marine Aquarium's Halloween celebration promises thrills and gills! Activities include a haunted maze, encounters with a Cannibal (not too close, one hopes!), trick or treating, fortune telling, and a Sea Scare Party Zone with a DJ and dancing.

Halloween Fun - Calabasas
At the Leonis Adobe Museum, kids can explore Batville, meet Regina the Witch, and enjoy face painting, music, crafts, and other Halloween fun.

Baby Loves Disco LA - Hollywood
Boo, baby, boo! This all ages dance party has a Halloween theme: come in costume!

Author Event: BJ Novak - Pasadena
Award-winning comedian and author BJ Novak is forced to say the words Blork, Glibbity Globbity, and Boo Boo Butt out loud as he reads from his new book, The Book with No Pictures.

Winnetka Halloween Carnival - Winnetka
Halloween activities at this free community carnival include contests and games, some early trick-or-treating, a moonbounce, a pumpkin patch, and arts and crafts.

Reign of Terror Haunted House - Kids' Tour - Thousand Oaks
The Reign of Terror Haunted House's special Lights On Tours for spook-loving tykes has no scary actors or dark corners.

FIGat7th Kids Club - Downtown
Kids can use felt, fabric, jewels, buttons and beads to make Halloween felt puppets.

Puppet Town - Hollywood
Stephnie Weir hosts this month's edition of the sketch comedy show for kids… with puppets!

Northridge Halloween Carnival - Northridge
Northridge Recreation Center hosts holiday activities that include a costume contest, game booths, crafts, snacks, trick-or-treating and a haunted house.

Fiesta of Fright - Palisades
Costumes are encouraged at this annual community fest in Rustic Canyon Park. The fun includes a haunted house and holiday bazaar; kids can bring pumpkins to carve.

Adventures in Dreamdale - Halloween Jack-O-Lantern Ball/ Parents Night Out - Santa Monica
Parents get a night out while kids are invited to party with Cinderella and Prince Charming at a kids-only Jack-O-Lantern Ball.

Dia de los Muertos Novenario - Downtown
Candlelight Novenario processions are held nightly on Olvera Street. Free pan de muerto and champurrado follow!

SUNDAY OCTOBER 26

SKECHERS Pier to Pier Friendship Walk - Manhattan Beach
Families walk from the Manhattan Beach Pier to the Hermosa Beach Pier (and back again) to raise money for South Bay schools and special needs kids.

Pumpkin Race Festival - Manhattan Beach Pier
On your mark, get set, gourd! It's the 24th annual Pumpkin Races!

Boo-ks and Cookies - Santa Monica
Grab a book and a cookie for the annual Halloween bash, with spooky(ish) story time & sing along, creepy crafts with UrbanSitter, costume parade with The Real Princesses, Trick-or-Treating, and Photo Booth.

Enchanted Green Hallow's Eve - Culver City
STAR Eco Station's Enrichment Center and wildlife rescue center transform into a magical place of trickery, with face painting, animals encounters, Eco storytelling, and costume contests.

The Grove's Halloween Fall Festival - Fairfax
The Halloween fun at the Grove includes a Halloween craft, pumpkin decorating, and trick-or-treating. Want more good times at the Grove? Check out the Modern Family nightly Fall for All, a free, immersive Halloween experience complete with an interactive corn maze and pumpkin patch.

Raffi - Malibu
Grab your Baby Beluga and head to the Smothers Theatre at Pepperdine University to hear children's music superstar Raffi.

Trick or Treat Festival and Halloween Hearse Show - Costa Mesa
The 17th annual Trick or Treat Festival and Halloween Hearse Show at the Orange County Market Place features free daytime trick-or-treating for kids in costume, a gigantic pumpkin carving exhibition, a hearse show, macabre balloon animals, stilt calacas, and a freak show. Not your typical day at the market!

Trick or Treat at the Museum - Downtown
What cooler place to trick or treat than the Natural History Museum? (I bet the dinosaur has the best candy!)

Family Flicks: Hold that Ghost - Westwood
Hammer Museum screens this 1941 Abbot and Costello classic, about two bumbling gas station attendants who accidentally inherit a gangster's creaky old estate, which may or may not be haunted.

Aesop's Fables - Topanga
Creative Playground helps kids find the morals of Aesop's tales at Theatricum Botanicum.

Family Art Workshop - Hollywood
Still need a costume? The free art workshop at Barnsdall Park is an African inspired mask.

Santa Monica Pier Halloween Costume Parade - Santa Monica
Costumed kids can parade (and trick or treat!) on Santa Monica Pier.

Grier Musser Museum Haunted House Tour - Westlake
Grier Musser gussies up for Halloween with spooky tours of the Victorian mansion.

The Odyssey Play for Kids - Downtown
Central Library offers an interpretation of Homer's epic play, performed in rhyming verse and suitable for all ages.

Fall Festival - Glendale
The Annual Fall Festival at The Americana at Brand offers live music, crafts, pumpkin carving demos, face painting, candy sampling, cupcake decorating, pumpkin decorating, raffles, and costumes.

Aladdin - Hollywood
The Nine O'Clock Players present a musical production of Aladdin.

Haute Dog Howl'oween Parade - Long Beach
Costumed canines parade through Marina Vista Park.

Halloween and Mourning Tour - Downtown
Visitors can learn all about death and mourning etiquette in the Victorian era and about the origins of Halloween at Heritage Square Museum's tenth annual Halloween and Mourning Tour. (Though it is offered on Saturday too, only the Sunday tour is family-oriented.)

Haunted History - Encino
This annual family-friendly Halloween event includes pumpkin decorating/carving (bring your own pumpkin), trick-or-treating, haunted tours, a twilight Blacksmith demonstration, screening of spooky cartoons / shorts, and a costume contest.

And, as always, there are many more activities listed on our daily events calendar. We really recommend subscribing to our newsletter to stay on top of all the fun - especially at this time of year. Whatever you choose to do this weekend, we hope you have a spectacular time!