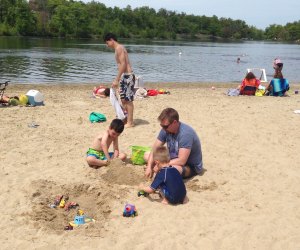 More Father's Day Fun: Ways To Celebrate Dad in Lower Hudson Valley
As Father's Day approaches, our attention turns to the guy who helps make it all happen. We recently shared our top ways to celebrate Father's Day in Westchester. Now we're heading across the river to highlight more ideas for honoring dads.
We've compiled a range of activities to help you plan a great day, no matter what the man's into—from sports to outdoor fun, and everything in between. If you're coming from Westchester, these events are worth the drive! Looking for more activities? Consult our Event Calendar.
Bear Mountain State Park – Bear Mountain
Sure, you've been on a merry-go-round before, but have you ever taken a spin atop a bobcat? The indoor merry-go-round at Bear Mountain State Park features animals that are native to the area, including bears, turkeys, raccoons, rabbits and even skunks. While you're at the park, hike some of the many trails or visit the zoo.

New Windsor Cantonment State Historic Site Children's Day – New Windsor
History buffs can watch reenactments at this former military enclave, where staff will demonstrate 18th century skills such as musket drills. Kids will also have the chance to play games, watch a magic show and pet animals from the Two by Two Petting Zoo at this educational site.

Motorcyclepedia – Newburgh
Motorheads can gawk at the more than 450 motorcycles and memorabilia at this museum, which is home to all manner of bikes and choppers.
Greek Festival - Poughkeepsie
Don't miss out on the last day of this annual festival, which features food, live music and performances, as well as a bounce house, games and rides. Free admission; activities carry a fee.
Feathered Friends – New Windsor
Staff from the Hudson Highlands Nature Museum will be at the legendary Storm King Art Center sculpture garden, home to 500 acres and more than 100 breathtaking works of art. Bring a lunch so you can stay and play on the grounds when you're done learning about local birds.
Third Sunday – Bannerman Castle
Take a tour of Bannerman Castle and watch a musical performance. Boats depart from either Newburgh or Beacon.
Mid-Hudson Children's Museum - Poughkeepsie
Fathers and grandfathers can play to their hearts content for free on Father's Day.
Be sure to check out our June GoList for more events happening all month long in Westchester and the Hudson Valley.
Photo taken by the author.
Originally published in 2015 and updated for 2016.