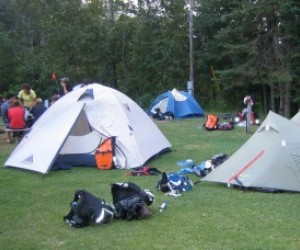 Family-Friendly Tent Camping Near Boston
Mommy Poppins Boston and the Appalachian Mountain Club's Kids Outdoors Boston are excited to bring you a new series of guest blog posts on getting outdoors as a family. Kids Outdoors is a free online community for families filled with ideas on close-to-home outdoor activities in the Boston area and expert advice on how to get started. Each month "Outdoors with Kids Boston" author and local mom, Kim Foley MacKinnon, will have new tips and picks for you – enjoy!
Camping out is one of summer's greatest pleasures. Finding a campsite, setting up the tent, roasting marshmallows, snuggling down in sleeping bags—it's all a wonderful family adventure. But when you're a parent with young kids who haven't camped before or you've only got the weekend, you may want to stick close to home.
It's always a good idea to test out camping with your children beforehand to get them familiar with the set-up; it's also a chance to double check that you have everything you need for your outing. Kristen Laine from AMC Outdoors recommends a trial run in your own backyard first to get kids comfortable with the experience. Here are some of my family's favorite campsites that are easily accessible from Boston and also offer lots of kid-friendly attractions. Happy camping!
Blue Hills Ponkapoag
The Appalachian Mountain Club (AMC) has cabins and tent sites on one side of Ponkapoag Pond, located at the 7,000-acre Blue Hills Reservation in Milton. Hiking to the pond is an adventure that kids adore. One trail that leads directly to the pond is entirely on a "floating boardwalk," which is actually a series of planks over a bog leading to the pond. Children find the boards, which tilt this way and that, hilarious.
---
Harold Parker State Forest
This state forest in North Andover comprises more than 3,000 acres and has every outdoor activity you can imagine. Visitors come to hike, mountain bike, fish, horseback ride, camp, and picnic. The Lorraine Park Campground has 89 campsites with picnic tables and grills and a perk just for campers: permission to swim at Frye Pond. Nonmotorized boating is allowed on all of the ponds, so bring kayaks if you have them.
---
Scusset Beach State Reservation
Camping at Scusset Beach on Cape Cod is enormously popular and it can be difficult to score one of the five tents sites (reservations are accepted six months out), but it's not impossible.
The rest of the 98 sites here are reserved for RVs. For a family vacation on a Cape Cod beach, it's a great deal. There's the beautiful sandy beach and a long stone jetty that extends from the end of the service road into Cape Cod Bay that's fun to climb.
---
Tully Lake
Camp at the excellent campground in Royalston run by The Trustees of Reservations at Tully Lake. The tent-only campground is on the shores of the 200-acre lake and doesn't have drive-up sites—you have to carry your gear in, which makes it very peaceful. Numerous islands and inlets on the lake are a blast to explore and you can rent kayaks and canoes at the campground.
---
Ipswich River Wildlife Sanctuary
Not many people know that Mass Audubon members can spend the night at this sanctuary's cabin or camp on Perkins Island. It's a really special camping adventure at a unique property. Highlights include rock tunnels, part of an arboretum built in the 1900s, plus a pond, and boardwalk trails.
A little farther afield in New Hampshire's Lakes Region, a two-hour drive from Boston, AMC is offering "Introduction to Family Camping" weekend programs this summer. Camping gear and meals are included, so these are ideal for families trying out camping for the first time.
The National Wildlife Federation's Great American Backyard Campout on June 22 is another fun camping opportunity for your family to check out.
---
Kim Foley MacKinnon is a Boston-based editor, journalist, travel writer—and mom. She writes the Kids Outdoors Boston blog for the Appalachian Mountain Club and contributes to the Boston Globe, AAA Horizons, Boston Parents Paper, and many other publications.