Dinosaur Birthday Party Places for Long Island Kids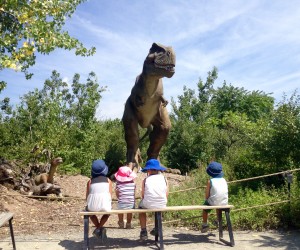 If you have a paleontologist-to-be in your family, help transport them to the Jurassic era with these dinosaur-themed birthday parties on Long Island. From unearthing dino bones to making your own fossils, these party places offer engaging and educational experiences. They'll be roaring with laughter and fun--and you'll be pleased they're learning something in the process. And for even more ideas, check out our Long Island Birthday Party Guide.
Long Island Science Center
11 W Main St., Riverhead
631-208-8000
Children will learn about the fascinating world of Paleontology and examine fossil replicas. Jump into some foot prints and make a T-Rex fossil to take home.
Center for Science Teaching & Learning
1450 Tanglewood Road, Rockville Centre
516-764-0045
Touch fossilized dinosaur bones in the party room. Make your own fossil craft to take home or participate in a Dino Dig to excavate dinosaur bones. Live animals and hands-on science experiments round out this party experience.
Science Museum of Long Island
1526 N. Plandome Road, Plandome
516-627-9400
Test your dino IQ, see real dinosaur fossils and create your own fossil to take home! Or unearth some prehistoric bones in their lab. Be prepared to get dirty in their paleo lab (weather permitting).
Bubble Learning
15 E Main St., Babylon
631-587-0050
At their Dinosaur Safari party, kids will learn all sorts of great dino facts through hands-on activities, such as a fossil dig, erupting a volcano and more. The children will learn about the wonderful and interesting world of Paleontology. Guests will look and feel real fossil replicas, try to walk and jump in dinosaur feet and make our very own fossils to take home.
Kidville
6B Garet Place, Commack, 631-462-000
1960 Franklin Avenue, Garden City, 516-900-2462
250 South Service Road, Roslyn Heights, 516-626-3126
Willow Wood Shopping Center, 1183 Wantagh Ave., Wantagh, 516-409-4558
Future paleontologists, get ready for a Kidville dinosaur dig! From fossil finds to relay races, this party theme will allow your child to explore the prehistoric places of the world. All carnivores and herbivores are welcome.