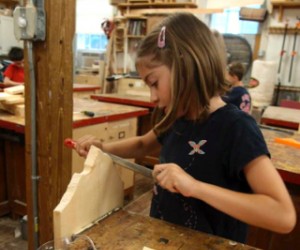 Cool and Unique Extracurricular Classes for Boston Homeschoolers
When you're homeschooling and don't have a built-in school community, it's always nice to connect with other homeschooling (or unschooling) families. It's also ideal for your kids to have opportunities for exploration and enrichment beyond the regular curriculum. Organizations like the MFA, Mass Audubon, and The Eliot School offer those extracurricular activities where homeschooled kids can connect at times that don't revolve around a traditional bricks and mortar school schedule. Here are some excellent extracurricular classes and programs for homeschoolers in clay work, nature exploration, fine arts, woodworking and juggling.
---
Mud Flat Studio
Mudflat Pottery Studio, 81 Broadway, Somerville, MA 02145
617-628-0589
 or info@mudflat.org
At Mud Flat Studio in Somerville, the homeschooler clay work classes for younger kids start with basic hand building. For the older age groups, wheelthrowing is added, then glazing as well. Homeschool classes are held weekday mornings.
---
Mass Audubon
Mass Audubon has a range of great science and nature classes for homeschoolers around the Boston area (type "homeschool" in the keyword search for current class listings):
Habitat Education Center and Wildlife Sanctuary
10 Juniper Road, Belmont, MA 02478
habitat@massaudubon.org or 617-489-5050
Ipswich River Wildlife Sanctuary
87 Perkins Row, Topsfield, MA 01983
ipswichriver@massaudubon.org
Joppa Flats Education Center
1 Plum Island Turnpike, Newburyport, MA 01950
978-462-9998
---
The Eliot School
24 Eliot Street, Jamaica Plain, MA 02130
617-524-3313 info@eliotschool.org
The Eliot School in Jamaica Plain offers homeschool classes in Visual Arts and Woodworking. The Woodworking classes are divided into age groups, and welcome all skill levels. Parents are also invited to enroll and make their own projects. (Sounds fun to me, but I wonder what the kids would think of it?)
---
Museum of Fine Arts

Avenue of the Arts,
 465 Huntington Avenue,
 Boston, Massachusetts 02115-5523

617-267-9300
The MFA's Artful Adventures program offers two specially designed home school classes for children ages 3 and older. Each class lasts an hour and a half, and combines gallery exploration with an art-making activity.The morning class meets the second and fourth Friday of each month from 10:30 am-12 pm (September through June), and the afternoon class meets most Friday afternoons from 1:30-3 pm (September through June). Children are divided into age groups of 3-5 years, 6-8 years, 9-11 years, and teens.
---
Parts & Crafts
577 Somerville Ave, Somerville, MA, 02143
617-207-8016 or contact@partsandcrafts.org
Parts & Crafts has started a whole center for homeschoolers and unschoolers called The Center for Semi-Conducted Learning (CSCL). In addition to academic workshops in math, science, language arts, history, and French, extracurricular-type workshops like breadmaking and juggling are built into the days as well. CSCL offers the space and time for kids to explore on their own, to structure their work and play in collaboration with Parts & Crafts. There's lots of free play, independent study, and experimentation.
---
Photo by Maggie Carberry, courtesy of The Eliot School
Post originally published January 2014; updated August 2014