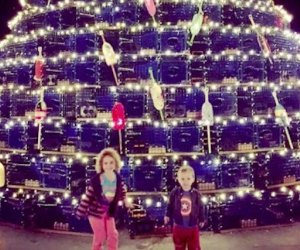 South Shore: A Destination for Unique Holiday Lights and Decor
It may seem like you've seen all there is to see this holiday season — decorated Christmas trees, holiday lights, gingerbread houses, and enchanting displays — but don't hang up your Santa hat just yet. Head on down to the South Shore with your kids and catch a glimpse of some really unique and beautiful Christmas decorations.
---
Main St.
Hingham, MA
When Eleanor Roosevelt visited Hingham during her time as First Lady, she called it "America's Most Beautiful Main Street." At Christmastime, it seems to be understood in an unwritten code that residents along this meticulous street will only use white lights in their windows. Code or no code, the street is absolutely gorgeous this time of year and one not to be missed if you find yourself on the South Shore.
---
1090 West Chestnut St
Brockton, MA 02031
From 6pm-9pm, head on down a spiral path of lights dancing to Christmas music and take in past and present holiday displays at The Wonder of Christmas. Don't miss the projection room, running an enormous Christmas video on a 60' movie screen. Santa is there, too. Best of all, it's free! A musical Christmas production appropriate for all ages runs every night at 6:30, 7:30, and 8:30pm ($).
---
Lobster Trap Christmas Tree
Border Street, Cohasset MA
Erected on the patio of the Old Salt House, this "tree" is made up of over 400 lobster traps, 1000 white lights, and a four-foot Nativity star. Residents are encouraged to bring lobster buoys as "ornaments" to help decorate the Christmas spectacle. This is the third year in a row the Lobster Trap Christmas Tree has gone up, and each year, traffic slows to a halt to check out this truly unique set-up.
---
Forest Street
Norwell, MA
As many as 15,000 colored lights and a plethora of air-filled Christmas figures decorate the house and lawn of this Norwell single-family home. Putting the Griswolds to shame, the lights are even synchronized to music over a low power FM transmitter. The 25-minute show, programmed by a computer, is on a continuous loop from 5-9pm every night.
---
AK McEachern Memorial Trail
The Driftway, Scituate, MA
Wind your way down an easy path by the ocean's edge for a daytime kid-friendly hike. You'll hit an open field and find a variety of short trees decorated for the holidays. Keep it a secret from your kids until you get there, and watch their eyes open wide in wonder as they discover a bit of Christmas magic!
---