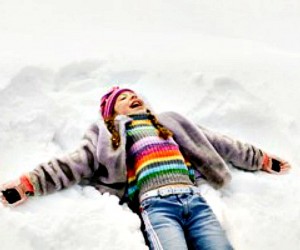 Bundle Up! Winter Classes at New Jersey Nature Centers
Now that the holiday season is behind us (and maybe the kids are already a wee bit bored with their presents), it might be time for adventure to keep everyone entertained in the chilly months ahead. And while it's fun to stay inside and build cozy forts, we all start to go a little stir crazy come January and February. How about an outing that promises fresh air, exercise and even some learning thrown in? Bundle up and check out these awesome winter classes at nearby outdoor centers and beat the January blues. And remember, you can find a full listing of New Jersey classes in our Enrichment Classes and Activities Guide.
Tenafly Nature Center (Tenafly, NJ)
This nature center in Bergen County aims to make the great outdoors accessible to both families and kids of all ages. The 400 acre preserve is teeming with wildlife and includes over 7 miles of trails, where you can hike under American Chestnut tress - some of the only left in North America. Tenafly Nature Center has some wonderful family classes, with many geared towards the toddler/preschool set and some for grade school-aged kids too: "There's no excuse to sit inside and be bored during the winter months. Get the family together and come to our nature center for some learning and fun," says Timothy Palla, Communications Assistant for the center. Popular winter classes include the 'Seasonal Scavenger Hunt,' where both adults and kids (ages 4 & up) will have a blast as they use clues to collect different natural objects along the outside trails and 'Little Naturalists' just for toddlers that's sure to keep the wee ones engaged through discovery stations, songs and short outside adventures. Outdoor experiences don't stop there: you can check out 'Afternoon Explorers,' 'Seasonal Volunteer Day' (great for teens) and even take part in Eagle watching along the Hudson. And of course, TNC's beautiful trails are open 365 days a year, so for some unstructured outdoor time, bundle up in your coat and boots for a winter stroll. For a complete listing of classes, prices and to register online, please visit the Tenafly Nature Center events calendar or call 201-568-6093.

Plainsboro Preserve (Cranbury Township, NJ)
Maintained by the New Jersey Audubon, Plainsboro Preserve boasts 1,000 acres of protected land and includes 5 miles of hiking trails and the stunning McCormack Lake. You can also explore the indoor center with rotating exhibits featuring live animals, a reference library and a nature store in case the weather gets just a tad too cold! For some hands-on cold weather adventure, check out the preserve's popular 'Owl Prowl' program - learn fun facts about owls (did you know some like to snack on fish and earthworms?) and join your nature guide on an evening hike to find these nocturnal hunters and hear them 'whoo whoo!' Can't make a nighttime class? No problem. The center has daytime family classes such as 'Winter Wonderland Hikes' or 'Is that an Igloo?' where kids will learn how to make a snow shelter. Please visit Plainsboro Preserve's website for a complete class listing and registration information or call 609-897-9400.
Great Swamp Outdoor Education Center (Chatham, NJ)
Morris County's Great Swamp Outdoor Center is housed in a cozy looking cabin situated on the edge of the Great Swamp National Wildlife Refuge. Jenny Gaus-Myers, Superintendent of Environmental Education, says the cold months are no excuse to sit around inside: "Our center is open year round and we believe every month of the year is a good time to be outdoors. In fact, there are so many things you can do in January and February that you just can't experience the rest of the year such as animal tracking and maple sugaring." Check out the center's hugely popular 'Maple Sugaring Demos' - they're great for all ages and offered almost every weekend January through March. Your group will hit the trails to find and tap Red Maples, then watch the evaporation process before tasting the sweet stuff. The season ends in late March with their annual Maple Sugaring Festival, complete with maple syrup snow cones - yum! Also check out the center's 'Toddler Treks,' 'Baby & Me Hikes' and 'Snowshoe Adventures' at their Pyramid Mountain outpost. Please visit Morris County Park's online calendar for more information and class pricing or call 973-635-6629.

Basking Ridge Environmental Education Center (Basking Ridge, NJ)
If you're itching to get outdoors this winter, the Environmental Education Center in Basking Ridge is overflowing with cool classes and experiences for every age group and interest. Keep it mellow and do a one hour 'Family Nature Walk' or take a class on 'Bird-feeder Basics.' Or sign up for something a bit more adventurous such as the 'Sleeping Snakes' program. And for the tomboys in the family, they've even got a class called 'The Scoop on Poop!' And you can always grab a trail map at the front desk and do a little exploring on your own - with over 8 miles of trails packed with winter wildlife, you'll definitely have plenty to point out to the kiddos. If you want to poke around the center after class, there's lots to explore between the Natural History Book and Gift Shop and the well-stocked environmental resource library, brimming with books and magazines for every age group. Please visit the Environmental Education Center's website for class schedules and pricing or call 908-766-2489.

Lakota Wolf Preserve (Colombia, NJ)
The Lakota Wolf Preserve received the NJ Governor's Environmental Tourism Award and it's easy to see why. Learn all about Tundra, Timber and Arctic wolves and then observe these beautiful creatures as they interact in their natural habitat - definitely a once in a lifetime experience! Winter wolf watch programs take place daily during the winter months. Your group will learn about the wolf pack social structures, eating habits and human interaction from their caretakers. During the observation portion of the program, you might even hear them howl! Dress warmly for the outdoor hike and call ahead if the weather is super cold or snow is in the forecast. Reservations are not required for weekend wolf watches, but please call ahead to book your family for a Tuesday through Friday session. Closed Mondays. Please visit the Wolf Preserve's website for more information on pricing and tours or call 877-733-9653.

For more information on classes and events at New Jersey parks and nature centers, please visit the State of New Jersey Department of Environmental Protection's website or download their free iPhone App.
Image: Tenafly Nature Center
Originally published 2012