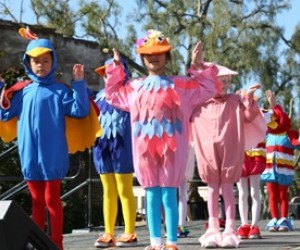 Best Things To Do with LA Kids This Weekend: CicLAvia Valley, Steampunk & Swallows Mar 21-22
Spring, sprang, sprung! Spring is here, though honestly it seems like it never left (and frankly we've been feeling more like the dead of summer this past week anyway). Those reliable harbingers of the season, the Capistrano swallows, come flying in, the grunion are wriggling their way up SoCal beaches, and the cherries are blossoming.

It's time for a little spring cleaning (Bonus: cleaning out your closet means you have room for new stuff!). It's time to get out and explore your neighborhood. (Who are the people in your neighborhood, anyway?)

And just to alert you, Easter is on the early side this year: April 5 to be exact. Which means you'll barely have finished cleaning up the leprechaun foot prints before it's time to make discover bunny tracks throughout your house. Better get hoppin'!

Keep reading for our most springy picks for this weekend...
Lifeboat - Beverly Hills
The powerful, thought-provoking tale of two girls surviving a WWII shipwreck closes out its run at the Wallis this weekend.

America's Teaching Zoo Spring Spectacular - Moorpark
Moorpark College Teaching Zoo presents its annual spring spectacular, with animal shows, up close encounters, and a kids zone (and a check mark for number 67 on your list of 100 things to do with LA kids).

Intergalactic Nemesis Live-Action Graphic Novel - Costa Mesa
The live action graphic novel continues at the Segerstrom, as Pulitzer Prize-winning reporter Molly must find her geneticist fiancé Ben with help from an alternate version of Ben (this one's a librarian).

LA Kids Consignment Sale - Woodland Hills
Reduce, reuse… re-wear! Oodles of gently used clothes and gear are at Westfield Promenade Mall just waiting to move into your closets .

Iron Horse - Family Steampunk Carnivale - Perris
It's cutting edge science fiction as seen through Victorian eyes: introduce your kiddos to all manner of steam-driven contraptions and imaginative gadgets at the Orange Empire Railway Museum.

Cherry Blossom Festival - La Cañada Flintridge
Descanso Gardens celebrates the arrival of spring in Japan with its annual Cherry Blossom Festival, with origami, walking tours, and June Kuramoto performing on the koto.

Bug Fair at Kidspace - Pasadena
Bugs, bugs, beautiful bugs! Kidspace celebrates the critters presentations and demos and a wormy composting workshop. While you're there, be sure to pick up your future butterfly at the Caterpillar Adoption Days Kick Off.

Sesame Street Live Weekend - Griffith Park
What are your favorite creatures at the LA Zoo? Mine are the monsters, especially the red furry ones.

SATURDAY MARCH 21

Swallows' Day Parade - San Juan Capistrano
The swallows are welcomed back to Capistrano with the nation's largest non-motorized parade.

Nothin' But Sand Beach Cleanup - Playa del Rey
Have you seen that beach at Playa del Rey? Somebody better clean it up. (I'm looking at you, kiddo!!)

Spring Equinox - Newbury Park
Visit the Satwiwa Native American Indian Culture Center to learn why the Chumash and other Natives celebrated the Spring Equinox, using storytelling and songs.

Family Adventures - Arcadia
In a pickle about pickles? Los Angeles County Arboretum & Botanic Garden explores this ancient art of pickling and preserving foods

Pelican Hill Afternoon Tea & Children's Story Time - Newport Beach
Cinderella arrives at Pelican Hills for story time, sing-alongs, and dancing. Think she'll make it to the ball too?

Watson Adventures' Wizard School Scavenger Hunt - West LA
Muggles search to find the magic in art at the Getty Center.

Star Party - Downey
Columbia Memorial Space Center points telescopes up to look at stars, the moon, and anything else that happens to be in the night sky.

Tillie's Punctured Romance - Hollywood
American Cinematheque screens the very first feature length comedy, starring Marie Dressler, Charlie Chaplin, and Mabel Normand.

Grunion Run - San Pedro
Make a night of it as the silvery fish come up on the beach to spawn at Cabrillo Marine Aquarium . Or, you could head to the Venice Oceanarium Grunion Party to watch the grunion spawning on Venice Beach. Either way, you get to knock number 100 off your list of 100 things to do with LA kids.

Workshop: You CAN Teach Preschool at Home - Torrance
Penny Ross, experienced homeschool mom and leader, helps parents learn more about teaching preschool skills and concepts at home.

Critter Club & Junior Scientist - Exposition Park
Wanting more after your Night at the Museum? Preschoolers can learn about animal babies and older kids can learn about plankton at the Natural History Museum's monthly programs.

SUNDAY MARCH 22

CicLAvia - The Valley - North Hollywood to Coldwater Canyon
Valley peeps can walk, skate, or ride their way along Lankershim and Ventura as the Valley gets its first CicLAvia. Hubs offer entertainment ranging from face painting and pony rides to an REI rock climbing wall to a sensorial soundscape installation (not sure what that is but it sounds impressive!).

Marzo's Variety Show for Kids - Hollywood
At Marzo's all the entertainment is kid-centric. This month's acts include magic by Jimmy H., music from duo Andrew & Polly, and puppetry by Jeff Speetjens.

Bunny Brunch - The Grove
Even the Easter Bunny likes to hang out at American Girl Place. (Do you think they'll serve carrots for breakfast?)

Faery Hunt Family Series - Redondo Beach
Faery Hunt's indoor series at the Sunset Theatre Company continues with "Sheriff Pickett's Stories of the West."

Huntington Beach Cherry Blossom Festival - Huntington Beach
Huntington Beach's sister city of Anjo, Japan is celebrated with Japanese dance, music, cultural demonstrations, arts & crafts, games for children, and Japanese cuisine.

19th Annual Celebration of the Whales Festival - Oxnard
The Pacific grey whales are migrating, and it's time to celebrate!

Autry Explorers: Build a LEGO Western Town - Griffith Park
Thars LEGO in them there hills! What kind of town will you build with your bricks?

Skirball Playdate: A World of Puppets - West LA
Little ones can make their own puppets to help them get ready for the Puppetry Festival.

Celebrate National Goof Off Day! - Irvine
Hey you! Stop doing what you're supposed to!

Nowruz Celebration - Mid-Wilshire
Nowruz, the Iranian New Year, celebrates the arrival of spring. The festivities at LACMA include dance and musical performances, children's activities, and a traditional Iranian costume parade.

World City – Musicantica & Studio Zanni - Downtown
This month's musical journey travels to Italy, for folk music of Southern Italy and physical comedy in the style of Commedia dell'Arte.

Kids in the Courtyard: Basket Making - Westwood
Oh, what a tangled basket we weave, when we use cardboard string, wire, and pipe cleaners to make a basket at the Fowler Museum.

Fairy Tales Unscripted - Santa Monica
Kids in the audience help twist the tales as Impro Theatre creates all-new, completely improvised fairy tales.

Garden Beats - Irvine
This hands-on, family friendly, entry-level percussion learning experience teaches participants how to connect and communicate through the universal language of rhythm and rhyme.

Stories in the Afternoon - Pasadena
Kids travel via crayon to create their own unique journeys at the Norton Simon Museum.

Earthworm Ensemble - Echo Park
Earthworm Ensemble continues its month-long residency at Stories Books & Café.

Zimmer Sunday Family Programs - Mid-Wilshire
Tortoise, Spiders, & Snakes, oh my: Discover creatures that are crawling, scurrying, and slithering by at the Zimmer Children's Museum.

Movie Under the Guns - San Pedro
Looking for a more exciting place to watch your movies? How about the deck of a battleship? A League of Their Own screens on the USS Iowa.
As always, there are many more activities listed on our daily events calendar, and if you didn't receive this info as a newsletter, you should sign up for our weekly events updates. Whatever you choose to do this weekend, we hope you have a terrific time!