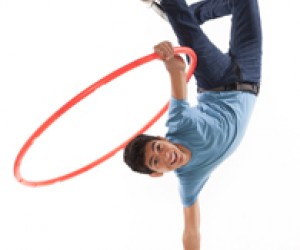 Best Things To Do with LA Kids This Weekend: Bubbles, Getty, & Bookfest, Mar 28 - 29
Okay, I finally figured it out. All these "bunny" events, cryptic references to "eggs" —what can all that be about? It's way too early in the year for any seasonal relevance; we're still a week away from April.
But then it hit me: we're a week away from April.

So, ha ha, very funny, April Fools' pranksters. You almost had me believing it's Easter next week. Getting all the malls, parks, and railways in on it, too, was very clever. Then you threw me off the scent with just enough rabbit-free events to make me think twice; oh, I bet you're feeling smart. Books aren't bunnies (true). Bubbles aren't bunnies (for sure). Jelly beans aren't bunnies... but they are the bunnies' favorite treat! You wascally wabbit!

Well, trick or not, let's get out there and enjoy this weekend; let's play and dance, and look at the stars. You can't fool me with a good time!

Keep reading for our favorite picks for this weekend... no foolin'!
ALL WEEKEND
Bubblefest XIX
-
Santa Ana
Bubbles! Bubbles! Laser Bubble show! At Discovery Science Center!
Marvel Universe Live
-
Anaheim
Sometimes you need a superhero to save the day. And sometimes you need a team of Avengers. And an X-men. Maybe a web crawler while you're at it….
America's Teaching Zoo Spring Spectacular
-
Moorpark
Moorpark College Teaching Zoo continues its annual festivities, with animal shows, face painting, a Kids Zone, and special animal guests.
Nano Days
-
Pasadena
This weekend, Kidspace Children's Museum does things in a small way. Super small. Microscopic, even.
Bunny Train
-
Perris
The Easter Bunny hops onboard at the Orange Empire Railway Museum, for meet and greets, photo ops, basket decorating, and egg hunting.
Easter on the Farm
-
Moorpark
The annual eggstravanza features wagon rides and animal shows at Underwood Family Farms.
Last Weekends of the Month at the Skirball
-
West LA
This month's Last Weekends event features the musical talents of two children's favorites: Aaron Nigel Smith and Jambo.
Jelly Belly Art Experience
-
Griffith Park
There's paint; there's crayon, but the medium the most talked about artists work in is Jelly Bellys. (Nibble nibble)
Easter Eggstravaganza
-
Irvine
The Easter Bunny is posing for pictures; the Easter Train is available for rides, and kids can hunt hunt hunt for eggs.
SATURDAY MARCH 28
Wake Up with the Waves
-
Santa Monica
The kids' concerts on the pier are back!
Lucky Diaz and the Family Jam Band
gets little bodies moving on Santa Monica Pier.
Getty Family Festival Celebrating In Focus: Play
-
West LA
The Getty Center's family festivals are always a good time. Now imagine a Getty Festival devoted to play! Hula hooping, giant games, interactive dance, jubilant juggling, and a Getty Arcade... it's like one big playground!
Earth Hour
-
Everywhere
You there. Shut off your lights. (Don't worry; it's just for an hour.)
Choo Choo Soul With Genevieve
-
Glendora
All aboard the choo choo train! Genevieve and DC perform songs from classic Disney films at the Haugh Performing Arts Center.
Toys R Us LEGO Ninjago Build
-
Multiple Locations
Kids can build a free LEGO Ninjago mask and participate in a scavenger hunt at Toys R Us.
Saturday Science: When Stars Explode
-
Downey
Columbia Memorial Space Center looks at the life of stars.
Grand Park's Downtown Bookfest
-
Downtown
Yay, books! Yay, local creative community! Yay, child-centric performance and readings!
Durant Library 10th Anniversary Celebration
-
Hollywood
Happy Birthday, Durant Library! Let's celebrate with facepainting, a kids' drum circle, storytelling, and crafts.
Conejo Spring Fest
-
Thousand Oaks
Hmm, where do you think the Bunny hid those eggs? Conejo Creek South Playfields, perhaps?
Egg Hunt Eggstravaganza
-
Rancho Palos Verdes
Or maybe the eggs can be found at Ladera Linda Community Center.
Junior Chef Classes
-
Multiple Locations
There must be some reason the Bunny likes them so much: junior chefs learn to prepare eggscellent egg dishes at Williams-Sonoma.
Norton Simon Family Day
-
Pasadena
Families tour the Norton Simon using the museum's children's book as a guide.
Earth - Power of the Planet: Atmosphere
-
Pasadena
Caltech screens the documentary that explores some of the extremes of our planet.
AMC Theatres Sensory Friendly Films
-
Multiple Locations
Home
screens in a sensory friendly environment at select AMC Theatres.
8th Annual Eggstravaganza and Safety & Health Fair
-
West Hills
You can have your (Easter) eggs and get healthy, too, at Shadow Ranch Park.
Public Star Party
-
Griffith Park
It's that time of the month again. The time when we look up at the skies over the Griffith Observatory.
Electric Dusk Drive-In
-
Downtown
Be a nice Mama and take your kids to see
Mean Girls
at the City Market of LA.
SUNDAY MARCH 29
Complete Whalewatch
-
San Pedro
There have been some great sea creatures swimming in our waters recently. Perhaps you can see a few during the two-hour cruise.
Bunny Brunch
-
The Grove
Here comes Peter Cottontail, hopping down the Bunny Trail, hippity hoppity to the American Girl Store…
Disney's Fantasia Live in Concert
-
Northridge
Scenes from Disney's
Fantasia
and
Disney's Fantasia 2000
are shown in high def on the big screen with live orchestral accompaniment.
Cultural Workshop
-
Newbury Park
Chumash/ Tataviam storyteller Alan Salazar shares cultural stories and history at the Satwiwa Native American Indian Culture Center.
Odyssey's Children's Program 2015
-
Anaheim
Kids with special needs and their families can enjoy a free afternoon of games, face painting, and sack races at Pioneer Park.
826LA@Hammer: Design Intervention
-
Westwood
Kids come up with design improvements for their neighborhoods. Like hospitals. Or unicorn sanctuaries.
Sundays in the Park
-
Simi Valley
The afternoon of fun includes a rock climbing wall, arts & crafts, an exciting ropes tower, games and sports, and archery.
Earthworm Ensemble
-
Echo Park
Eco Americana band Earthworm Ensemble continues its Sunday afternoon residency at Stories Books & Cafe.
Kyanna the Rad Scientist
-
Pasadena
Vroman's Hastings Ranch hosts a day of science exploration, with several experiments that parents and kids can do together
As always, there are many more activities listed on our
daily events calendar
, and if you didn't receive this info as a newsletter, you should
sign up for our weekly events updates
. Whatever you choose to do this weekend, we hope you have a terrific time!