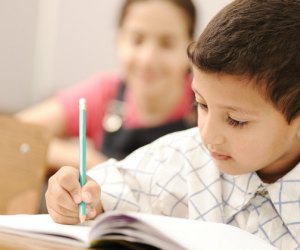 After-School Programs in New Jersey with an Academic Focus
Back to school means a return to classes, tests, homework, and book reports. It can be stressful when kids struggle with the curriculum, especially for full-time working parents. Students might be learning new concepts in math and language arts with which parents aren't familiar. If you are concerned about your kids falling behind academically, or just want to give them a leg up on the new school year, you are in luck. New Jersey is home to a bunch of great after-school academic programs. Check out some of our top picks below.
For some great tutoring options, read our post on New Jersey Tutoring Centers, or find more great enrichment programs in our Classes Directory.
AlphaMinds Academy – Hoboken and Jersey City
AlphaMinds Academy offers enrichment programs that give students of all ages the chance to explore academic interests, including STEM, art history, chess, and writing, in a creative and fun atmosphere. Classes are taught by enthusiastic instructors, most with advanced degrees in their field. Classes are offered for preschool through 8th grade.
JEI Learning Center – ​Various Locations
JEI Learning Center is a global educational learning organization that operates under the premise that all children have unlimited potential to become successful adults when they are nurtured in the best educational environment possible. The JEI Learning Method is a program designed to help students master concepts and skills supported by the leadership of highly qualified teachers. From one-on-one learning to small group classes, JEI offers a rich curriculum designed for students seeking advanced study or those who need extra help with current coursework. Programs are offered in math, English, reading, and writing.
Kumon – ​Various Locations
Kumon is the world's most popular after-school math and reading program. The Kumon Method teaches kids to develop self-learning skills. Each student progresses at their own pace through an individualized program. Students return to the center twice a week to reinforce their lessons, and review daily homework assignments.
L3 Academy – Montclair
L3 Academy was founded by two moms whose children wanted more learning options than what their school offered. Short for Lifelong Learning Academy, L3 is focused on offering fun, educational programs for children ages 3 and older. L3 offers enrichment programs in a variety of areas including early childhood enrichment, chess, and language immersion for Mandarin and Spanish. They also offer plenty of STEM classes, such as robotics, coding, and CSI. L3 Academy also offers summer camp and birthday party options.
Little Owl Enrichment – Cranbury
​With a focus on literacy and analytical thinking, this enrichment center offers workshops for babies and up and after-school programs for K-8th grade. The after-school program includes "Homework Haven," an opportunity for kids to complete their homework right after school with the aid of the instructors on hand. Kids can choose from after-school coding, mathematics, a Lego-STEM program, reading or writing workshops, and more.
Priddy Learning Academy – Millburn
Priddy Learning Academy's after school programs in math and reading are designed to unlock and develop a child's learning potential and turn that potential into performance in school. One-on-one instruction is available in an array of subjects tailored to fit a child's individual needs. From building remedial math and reading skills to providing enrichment at the highest levels of achievement, Priddy Learning Academy offers something for everyone. Test prep and foreign language courses are also offered. For more information, parents are encouraged to schedule an appointment to meet the staff and discuss their child's needs.
Rising Future – Edison
Rising Future is a learning center that was started by teachers with years of experience. Courses are offered for students in 1st through 12th grade. The center specializes in math and computer science, with a focus on developing students' logical reasoning and problem solving skills. Rising Future also offers SAT prep classes and private tutoring.
SchoolPlus – ​Various Locations in Central and Northern NJ
The Enrichment Program at SchoolPlus presents K-12th grade students with an alternative perspective on familiar subjects. Their program seeks to supplement the diet of the basic school curriculum, enhancing a student's performance in school and giving them the confidence and desire to explore beyond. Enrichment Mathematics for K-9th grade students is the core of the SchoolPlus curriculum. Additionally, some locations also offer English, Russian, physics, and art classes. Classes are held on Saturdays and Sundays.
Youth Programs at Raritan Valley Community College – Branchburg
Youth classes at RVCC are designed to enhance children's knowledge and personal growth. Classes are offered in computers, science, coding, creative writing, and the arts. These safe and positive programs offer each child the opportunity to develop their physical and mental abilities. Classes are available for kids ages 5 to 17.
Photo via Bigstock.
This article was first published 2014 but has since been updated.