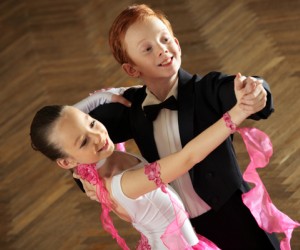 Ballroom Dance Classes for Kids on Long Island
Looking for a fun way for your child to get some exercise while learning a fun skill? Have your child cha-cha their way to a new interest with ballroom dancing. According to some dance enthusiasts, young dancers learn to develop body coordination, a sense of rhythm, and an understanding of how to learn. Dancing can be a fun, rewarding experience for children. Whether it's an amateur interest or studying for a professional competition, ballroom dancing can help with socialization, focus, expression and confidence.
So if your little one's endless stream of energy has them moving and grooving all over your house, steer those happy feet in the right direction with these ballroom dance classes offered throughout Long Island. And be sure to check out our After School Programs, Classes and Activities Guide.
Ballroom Palace Dance Studio
The Waterfront at Roslyn
55 Lumbar Road
516-801-1682
Whether your child has no prior experience with ballroom or they are interested in joining the competition circuit, Palace Ballroom Dance Studio offers several classes for kids ages 3 years and older to help them achieve their goal. In introductory and social classes, students will be exposed to balance, steps, musicality and posture. While in the competitive classes, children will be taught the technical aspects of ballroom dancing and will also be trained physically through strength and endurance exercises.
Dance Obsession
18 Hempstead Turnpike, Farmingdale
516-753-2121
At Dance Obsession, children can enroll in an eight-week ballroom/Latin course for $80 that will give them basic instruction. From there, students can continue on to more private and/or group lessons.
Silva Dance
47 North Village Ave. Rockville Centre
516-764-0701
At Silva, the newest dancers will learn starter steps in the Ballroom and Latin dances. Classes are broken down into age groups of 3-5 (Teddy Bear Ballroom), 5-8, 8-12, 13-15 and 16+. There is also monthly Kids' Socials for children ages 3 and up, where attendees will learn basics of dance: balance, posture, poise and steps.
Ballroom Factory
620 Waverly Ave., Suite H, Patchogue
631-868-3500
Ballroom Factory is currently registering children ages 6-12 years old for competitive dance sport training and show dance team classes. In the competition class, children learn International Style Standard Latin dancing. It's the Worldwide competitive sport dancing including 10 dances: 5 Standard: Waltz, Foxtrot, Tango, Quickstep, Viennese and 5 Latin: Cha Cha Cha, Samba, Rumba, Paso Doble and Jive. In the Show Team class, children will learn basic steps and technique of Latin dances such as Salsa, Merengue and Bachata.
Dance Magic Ballroom
655 Middle Country Road, St. James
631-584-7100
This St. James studio offers a weekly kids' ballroom, Latin and swing dance class, plus monthly dance socials.
Updated on 7/29/14