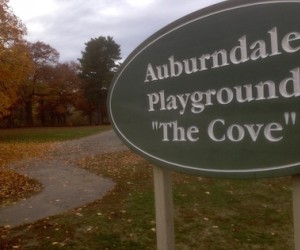 The Cove: A Hidden Gem for Fall Hiking & Winter Ice Skating with Boston Kids
On the outskirts of Newton in the Auburndale neighborhood is a public area where kids can run around, climb on a playground, hike and – if we're lucky this winter – ice skate on a frozen spoke of the Charles River.
Welcome to the Auburndale Playground, which most residents here simply call "The Cove."
The Cove is a thin, 30-acre enclave along the Charles River that roughly stretches north from Commonwealth Avenue, meets up with West Pine Street, and then continues on to a cul-de-sac at the end of Forest Grove Road. Compared to many parks in Newton – which generally comprise a sports field and some sort of play structure – The Cove is different, providing a shady, more woodsy feel than its counterparts in other sections of the city.
As colder weather approaches, The Cove will remain a great spot for a brisk hike along the bends, curves and hills bordering the Charles River. Kids old and young will enjoy the nooks in which they can briefly hide from parents, yet at the same time many moms and dads will appreciate the well-marked trails in the park.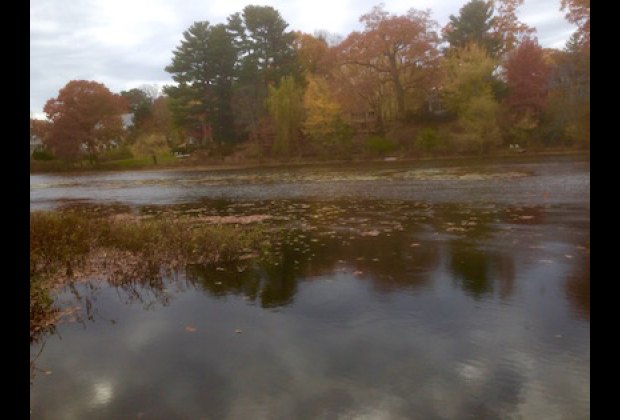 One cool spot younger kids like is near the Forest Grove cul-de-sac, as an automated drainage outlet occasionally opens up, releasing a small rush of water out of a buried pipe that empties into the river. The pipe passes underneath the trail from a marshland near the river.
The center of The Cove is at West Pine Street, where a large parking lot is rarely full and free to use. A playground featuring a typical selection of slides, monkey bars, and areas to climb on resides here. An unusual touch is the collection of sandbox trucks lying around, likely from neighbors donating toys no longer in favor at home.
During the winter, city trucks sometimes dump excess snow in an area near the playground, which – to the delight of young visitors – creates a large snow mound to roll, run, or sled down.
From the playground, you can hike south toward Commonwealth Avenue, passing a public bathroom that also serves as a headquarters for nearby camps in the summer.
In the winter, however, if snowfall is light and temperatures are cold enough, the actual cove of the Charles River freezes over, and the bathhouse serves as the entry point for ice skaters heading onto the frozen water. This free "rink" is maintained by the city, as municipal workers inspect the safety and thickness of the ice cover. Newton even puts up makeshift lighting for nighttime use. Kids who are accustomed to skating on smooth indoor rinks will find this outdoor excursion on the bumpier river to be invigorating.
Directions: From either direction on Commonwealth Ave. (Route 30), take Melrose Street in Auburndale about one-half mile north to West Pine Street, then take a left and follow the road to the parking lot. Admission: Free.
---