A Sweet Visit to PEZ Visitor Center in Orange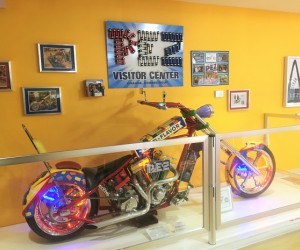 Strawberry candy-scented air tickled our noses as soon as we opened the car doors, and before we even stepped into the building, the kids knew that the PEZ Visitor Center would be a sugary dream come true (for another sweet experience in the New Haven area, venture out to Fascia's Chocolates in Waterbury). For adults who loved PEZ candy during childhood, it's a trip down nostalgia lane. For children, it's a colorful world filled with tempting flavors of candy. Though a visit here doesn't take long (we spent about an hour), you'll be glad you stopped by, and the kids will not want to leave.
Easily accessible from I-95 in Orange, the PEZ Visitor Center is open seven days a week. Inside awaits a large store filled with whimsical memorabilia and historical trivia. I had no idea that the candy, celebrating its 89th birthday, was invented as a breath mint in Austria, and more than 5 billion little pieces are consumed in the United States each year (I understood this part better as soon as my kids filled their own tin cans).
Large windows offer a view of the factory floor and visitors can observe the candy quickly bouncing between conveyer belts, workers' hands, and packing boxes. The factory is closed on weekends, so if you want this part of the experience, plan accordingly.
Once you witness some of the production process, you can take your time admiring hundreds of PEZ dispensers that have made candy-lovers happy for decades. I was quite excited to see Popeye, Bambi, and the many faces of Mickey and Minnie through the years. My girls were giddy to see many familiar cartoon characters and get their own dispensers (Disney princesses, of course). There are so many characters to choose from; whether you are an animal lover, a Star Wars fan, or a history buff in search of presidential dispensers, it's all here.
After you finish browsing the display cases (and be sure to complete the scavenger hunt for the opportunity to win a free dispenser), practice activating the largest PEZ dispenser in the world (it nearly reaches the ceiling of the second floor), admire a really cool motorcycle, and play I Spy with the display boxes built into the flooring.
There are plenty of interactive exhibits and buttons to push, so the kids will be happy. They can even win a certificate of achievement in candy trivia. What stole the show for my girls was the ability to fill PEZ tins with their favorite flavors: orange, lemon, sour pineapple, and generous amounts of strawberry. For $5.99 per container, we are now the proud owners of hundreds of tiny candy pieces, which will probably take months to savor.
In addition to the traditional candy, you can shop for PEZ heads, a new soft chew candy, t-shirts, and giant PEZ candy dispensers if the standard sized ones do not suffice. If you get 10 or more friends together, you can enjoy a hands-on candy demonstration and make a special batch of candy. Of course, this would also be a great place to host a party and PEZ offers special event packages.
The bottom line? For $5 per adult and $4 per child (ages 2 and younger are free), this is a really neat experience. Each admission ticket comes with a nifty lanyard and $2 in store credit (that translates into one standard dispenser accompanied by three candy packages).
What else can you expect? Clean restrooms, plenty of free parking, friendly staff, and a place to sit and enjoy your packed lunch (tables are located on the second floor, where soda and vending machines also await).
Once you've had your sugar fill, and especially if you come from a distance, maximize your time in the area with more fun activities. In about 15-20 minutes, you could be at Yale Peabody Museum of Natural History in New Haven, or the Beardsley Zoo in Bridgeport, both kid-favorite destinations.