Artificial Intelligence with Scratch Online Camp
Young Gates - Kids Online Personalized Classes

Online Robotics Camp
Young Gates - Kids Online Personalized Classes
Sign up for our free newsletters.
A Parent Review Of Disney On Ice: Passport to Adventure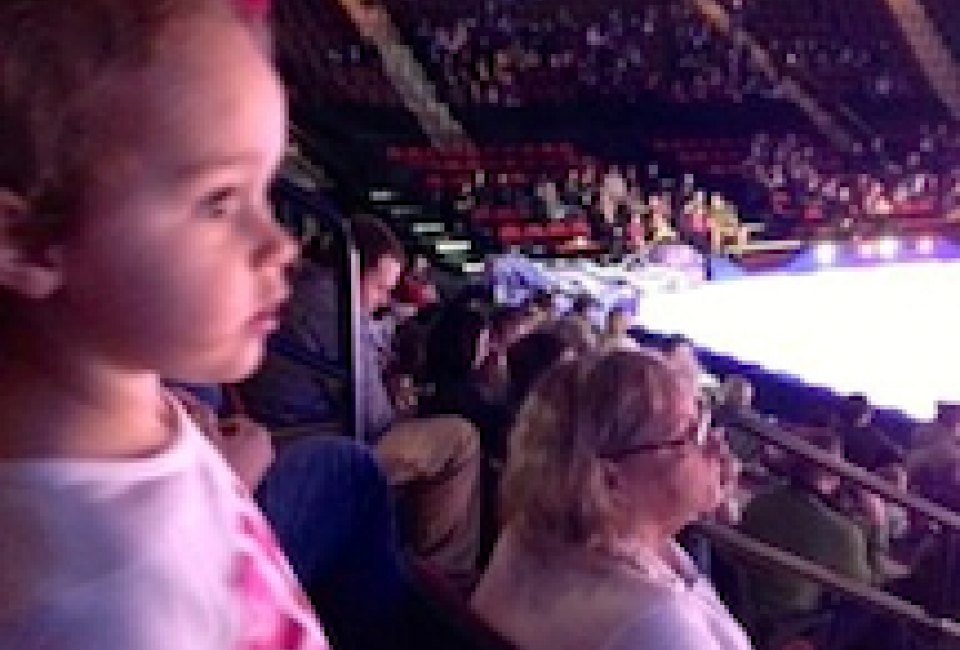 12/22/13
- By
Kristin Quinn
Finding places to bring both a toddler and an infant in the city (in this weather!) is never easy. So, we put our baby in the Bjorn, bundled up our toddler, and headed to Disney On Ice: Passport to Adventure this weekend at Agganis Arena. Boston University has certainly changed since my graduation day in 2001. The Arena is now a state-of-the-art venue, perfect for hosting extravaganzas like Disney on Ice. I found the added stage built over the rink a particularly wonderful surprise that made for a more robust show. Together (along with Mickey, Minnie and the gang), we traveled from the jungle to the sea, and along the way met The Lion King, The Little Mermaid, Lilo & Stitch, and Peter Pan & Tinkerbell. Overall, Disney On Ice is well worth the time, with a couple areas that could use some polishing.
The skating talent on display at the show was spectacular. Simba and Nala's debut was some of the best partnering I'd ever seen. Death-defying spins and breathtaking ice dancing left us in awe. The Little Mermaid act was next, and was clearly the fan favorite. Bubbles never disappoint among the toddler crowd, so when they started falling from the ceiling, the arena exploded with cheer. The jellyfish moved high up and down on sticks and was a visual treat for the eye. Next came Lilo & Stich, a movie we had not seen, so I found this section dragged a bit. We moved onto London, where the Darcy family of Peter Pan lore actually flies through the air to meet Peter Pan and Tinkerbell. Hook's enormous pirate boat was an incredible presence on the ice. There was no shortage of "ooh's and ah's" throughout the entire show - all around, and including us.
While the music, display, and skating was a delight and kept my toddler's interest, there are some parts I feel the show could do without. The monkeys in the first scene resembled some sort of Planet of the Apes nightmare and should be made to look more kid-friendly. Ursula the Sea Witch made all of us literally jump out of our seats, and the crocodile in Peter Pan actually eats Captain Hook in the end. These aren't ideal situations for the under 4 crowd. However, all in all we had a great time. When my daughter woke up the next morning, she shouted, "That was so much fun Mommy!". Music to my ears after spending my Saturday watching adults dressed as cartoon characters.
Tips:
Bring a sweatshirt and make sure you have a jacket, the arena is cold.

Splurge on the better seats, it will help keep your toddler engaged.

Take advantage of intermission to stretch your legs and grab something to eat.

There is a parking garage close by, but we were lucky enough to grab a metered spot right in front of the Arena. We went on a Saturday and was over the meter by 10 minutes; but didn't get a ticket. It might be worth the risk. Meters are free on Sundays.

You won't be able to avoid the overwhelming attempts the staff tries to get you to spend money. We left with a $15 plastic princess cup that probably cost 5 cents to make. But hey, at least she drinks her milk out of it!
---
Disney on Ice: Passport to Adventure showing at Agannis Arena, Boston, through December 29, 2013.