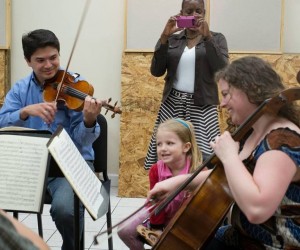 A Far Cry: A Fun Introduction to Classical Music for Boston Families
If you frequent Jamaica Plain, you already know about the many awesome places to make music with your kids. But you might not know that Jamaica Plain is also home to one of the most unique and critically acclaimed up-and-coming chamber music groups in the country, the conductor-less string orchestra, A Far Cry. This group -- they call themselves Criers -- invites a new generation of young people to embrace classical music by making their concerts participatory, varied, and inexpensive. And they have afternoon recitals, perfect for the younger, post-nap set.
Background
Founded in 2007 by seventeen progressive, young professional musicians, A Far Cry is an amazing ensemble of talented string performers. They are the orchestra in residence at the Isabella Stewart Gardner Museum, and collaborate with local elementary, middle, and high school students through a partnership with the New England Conservatory. Programs blend both canonical classical works and world-wide premieres of new composers, and there's a dreaminess and good humored whimsy to their curation. They practice in a store-front space in JP, but what makes them really unique is their genuine commitment to opening up the experience of concert-going to as many young people as possible and to making concert-going more interactive and engaging. You might find them performing pond-side as part of a summer concert series, or in pop-up spaces around the city. Their new mentoring partnership with ProjectSTEP seeks to expand opportunities for racial and ethnic minorities in classical music.

Afternoon Concerts at St. John's Church in Jamaica Plain
I discovered the concert series at St. John's Church when I was pregnant, and we took our daughter to her first concert there when she was about a year and a half old. While you might want to bring a seat cushion for the pews, the informal smaller setting and great acoustics make for a much more laid back experience than a large concert hall. (And, the church has a small play area outside, which was helpful when our daughter needed a break from the music). I loved the age diversity of the crowd, and the fact that A Far Cry encouraged audience participation, and sort of expected it, asking the audience to move to the music if inclined. I never felt like baby babbling or squawking was a problem. And, though we didn't stay long, there was something so satisfying in listening to masterful musicians at work, and in sharing that with our child. I'm looking forward to this season's new programs at St. John's Church and across this city:
Melting Pot
Charles Ives: Largo and Scherzo from "3 short pieces", George Gershwin: Lullaby, Erik Nielsen: New Work (world premiere), Ljova: Vjola Suite, and Antonín Dvořák: String Quintet #3, American, arr. AFC
Saturday, December 7, 2013 at 4pm
St. John's Church, 1 Roanoke Ave., Jamaica Plain, MA 02130
617-524-2999
Free tickets available by reservation
The Kings' Feast
Featuring: Helen Callus, Viola
Carl Philipp Emanuel Bach: Sinfonia in Bb, Wq. 182 No. 2
, Johann Sebastian Bach: Viola Concerto in E-flat
, Paul Hindemith: Trauermusik for Viola and Strings, 
Edward Elgar: Introduction and Allegro
, Henry Purcell: Suite from King Arthur
Saturday February 1, 2014 at 4pm

St. John's Church (see above)
Free tickets available by reservation. Reservations available beginning January 1, 2014.
Tips for attending the concerts in Jamaica Plain with kids
- arrive early; finding on-street parking in this neighborhood can be tricky.
- get tickets in advance
- keep expectations reasonable for you and your child
- Talk up the experience before; talk about the instruments and music afterwards
- Feel free to visit with the Criers afterwards. They are a friendly bunch.
---
Photo by A Far Cry, taken during a 'Happy Hour' open rehearsal in Jamaica Plain.