Online Robotics Camp
Young Gates - Kids Online Personalized Classes

Artificial Intelligence with Scratch Online Camp
Young Gates - Kids Online Personalized Classes
Sign up for our free newsletters.
25 Skills Boston Kids Have by Age 10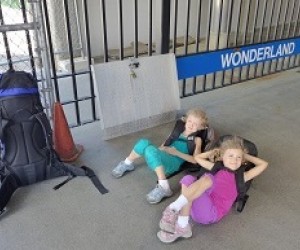 3/2/15
- By
Kip Wilson Rechea
As residents of the "hub of the universe," we Bostonians have a lot to be proud of, and Boston kids are just as proud of their city. At a young age, most Boston kids can recite important local historical events from the American Revolution to the Red Sox World Series wins, and have probably hit most of the items on our list of 100 Things to Do in Boston With Kids Before They Grow Up. They love our bustling harbor and sailboat-choked river, and have experienced their share of the arts, culture, and nature of the surrounding areas. Read on to find our fun list of the top 25 skills most of our local kids can claim by their tenth birthdays.
---
1. Name all the stops (in order) of the T line closest to home.
2. Can tell if someone on the street is a Bostonian or out-of-towner simply by the pronunciation of the word "garden."
3. Name when museums in town have discounted or free admission, though their tastes might have evolved from the Children's Museum to the Museum of Fine Arts by age 10.
4. Understand the scale of our solar system by having visited the stops on the Community Solar System Trail, starting with the "sun" in the Museum of Science.
5. Can classify local libraries by their kid-friendliness, from the cool reading table at the Brookline Library to the fantastic, colorful renovation at the Boston Public Library.
6. Know which playgrounds are closest to which T stop, including the Alexander Kemp Playground at Cambridge Common, steps away from the Harvard T stop, and the Esplanade Playspace, down the river from the Charles MGH T stop.
7. Huff it from on-street parking, no matter where Mom or Dad end up finding a spot. "What's a parking garage?" is a question a Boston child might ask.
8. Know the significance of the 1918, 1986, and 2004 World Series games.
9. Can dress for a really cold day. These kids can pile on layers upon layers upon layers!
10. Can navigate from the Swan Boats to the Frog Pond.