Ice Skating in NJ: Newport Skates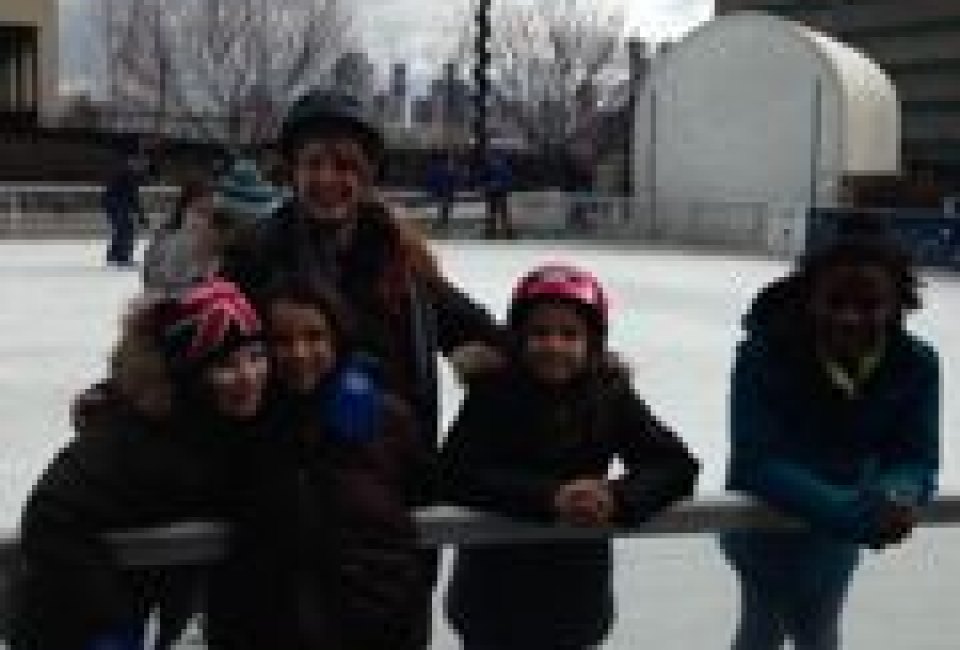 1/30/15
- By
Shari Simpson
Although I'm generally the only adult wearing a helmet (due to my intense clumsiness), I do love ice skating with my family. There are numerous indoor and outdoor skating rinks in NJ, and we're trying to work our way through every one! First up, Newport Skates, the only outdoor rink in Jersey City and a sweet way to enjoy some winter sporting with the smaller folks (also in helmets.)
We were recently invited to an afternoon of skating at Newport Skates, followed by a performance from the Ice Theatre of NY, and found this small outdoor rink to be charming and low-key, the sort of "neighborhood" venue that I remember from my own childhood. Nestled in the waterfront community of Newport with a lovely view of Manhattan and directly opposite a Morton Williams (hot chocolate! cookies! snacks!), it is easily accessible by driving and the PATH train. Reasonably priced, (though substantially cheaper if you're a resident or have your own skates) Newport Skates is the perfect size and atmosphere for an afterschool activity, particularly since the weekday hours are 4pm to 9pm. They give lessons, including a basics class on Saturday mornings, and the rink is available for one heck of a private birthday party.
After our skating time, we stuck around for a short performance of the Ice Theatre of NY, a delightful ice skating/modern dance/theatrical hybrid that has been around since 1984, but was not on our radar until Newport Skates hosted them. To inspire the young would-be skaters in the audience, we saw everything from an 8-year old boy who showed off some pretty impressive moves for having only been skating for two years, to some national champion adult skaters. It was the perfect way to end our afternoon on the ice. Helmet or not helmet.
For more information, check out the websites for Newport Skates and Ice Theatre of NY, and don't forget to check out our articles on The Best Outdoor Ice Skating Rinks in NJ and The Best Indoor Skating Rinks in NJ.


Places featured in this article:

Sign up for our free
newsletters.
Mommy Poppins is a family activity website that helps people find things to do with kids.
©
2023
MommyPoppins. All Rights Reserved.
mp-prod4-v4.32.99
Sign up for the Mommy Poppins Newsletter today!
i