What to Expect From Disney on Ice: Dare to Dream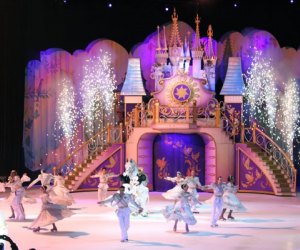 If you can't make it to Disney, then fear not - Disney comes to you. Every holiday season Disney on Ice makes a stop by Houston with one of its signature shows, and this year it's bringing "Dare to Dream" to the NRG Stadium.
Disney on Ice first opened in 1999 and features Mickey Mouse, Minnie Mouse, Goofy, Donald and other favorite characters trying to make a movie. The clips of the movie include some of your favorite Disney moments over the generations.
Before the show even begins, be prepared. The crowds are like game-day for the Houston Texans at NRG, except for the little people all around. Of course, there are plenty of girls dressed as princesses, and a fair amount as the big mouse himself, so don't shy away from attending in your family's favorite Disney garb.
There are plenty of Disney vendors walking about and placed strategically throughout the stadium selling all kinds of Disney food and goods. How about some Olaf lemonade? Princess flashing lights, anyone? The show is well worth the ticket prices as it runs for two hours. There is an intermission for a much-needed bathroom break for the little ones. Be mindful, the bathroom lines near the entrance will be rather long. A tip: walk around to the backside of the stadium for quicker lines.
Once the show starts, it's hard not to get caught up in the Disney magic. Most of your favorite characters from old to new make an appearance although the scenes from those moments might vary in length due of the popularity.
If anyone at your house has a thing for princesses, this year's ice show will literally have her jumping out of her seat. The show follows three story lines - the two newest members of the Disney princess society, Tiana and Rapunzel, plus a requisite Cinderella frenzy. Each story gets the skating, singing Cliff Note treatment on the plot, with breathtaking costumes (obviously), an impressive set, and opportunities for pair and solo skaters of each gender to shine.
And don't be afraid to sing along! The opening sequences is one of the best group numbers, courtesy of The Princess and the Frog; who can resist an ice rink full of Mardi Gras-clad characters twirling, kicking, and jumping to Oh When the Saints? It's a colorful, toe-tapping, grin-inducing romp. Be sure to arrive with plenty of time, because you don't want to miss any of the opening number.
If you have sons with you who start getting antsy watching ball gowns and step-sisters, encourage them to keep calm and carry on, because the most innovative part of the production by far is the Tangled sequence. Boys have some sword-fighting pirates and even a pantomime horse on blades to look forward to (thinking about that guy at the back just never gets old), plus a jewelry thief who flies in on wires from time to time. But it's Rapunzel's hyperbolic hair that steals the day. The famous hair is represented by - among other things - reams of golden silk suspended from the rafters, and this is more than just decoration. The pair skaters grab hold of the silks and use them to fly Cirque du Soleil style, alternating remarkable moves on the ice with unbelievable moves in the air. The effect takes Disney on Ice to a whole new level.
The show runs Nov. 9-13 and tickets are available starting at $20. Within those days, there are plenty of show times. It's time to polish off those Mickey Mouse ears!
Photo courtesy of Disney on Ice