10 Dual-Language and Immersion Preschools in Houston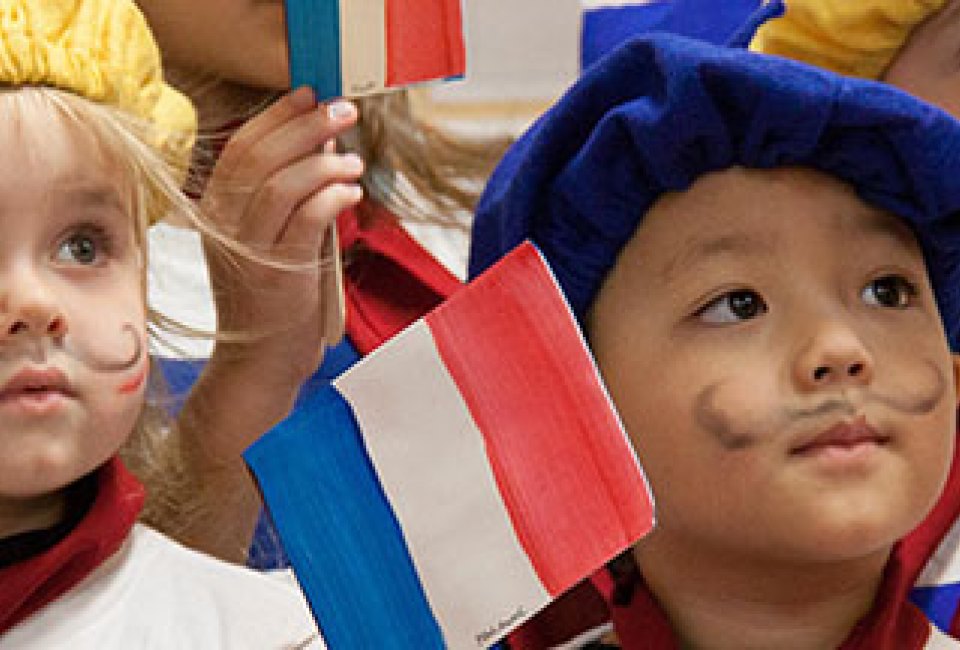 2/10/17
- By
Kate M
It is a known fact that the brains of young children are primed to learn languages and the earlier they are exposed to a language, the easier it is for them to learn it. Research has shown that there are many benefits to learning a second language, including higher self-esteem, better test scores, enhanced creativity, a higher level of complex problem solving, and an appreciation of other cultures. And that's not to mention increased employability as an adult in our increasingly globalized and diverse society.
The natural ability of young children to learn a second, or third, language makes a dual-language or language immersion preschool a great option for childcare and may even save you money in the long run when your kids test out of college language credits! Consider giving your child the gift of a second language and check out these 10 language immersion and dual language preschools located in and around Houston.
Spanish
Girasol Dual Language Preschool - Jersey Village
17100 West Road, Houston
832-930-7023
Ages: 3-5 years
Girasol is a Christian dual language preschool housed in the West Houston Church of Christ that offers Spanish immersion and continued English development. Students are taught in multi-age classrooms through fun and engaging games, activities, play, music, movement, and art.
De Colores! Spanish Immersion Preschool - Spring
1518 Weiland Manor Lane, Houston
281-982-5960
Ages: 2-5 years
The Spanish Immersion Program focuses on creating a positive, safe, fun, and nurturing environment for successful learning. Children are given the confidence to communicate and understand Spanish and an appreciation for Latin American culture through different activities, games, songs, and conversations.
Alianza ECO International School - Cypress
12603 Louetta Road, Ste. 112, Cypress
281-643-7800
Ages: 3 months to 6 years
This school utilizes the Reggio Emilia approach which focuses on early learning goals related to cognitive, physical, and creative development and communication, language, and literacy. The teachers help children learn in a variety of ways through fun and organized activities. From 3 months to 3 years old, children are immersed in Spanish, at 4 years old, Mandarin Chinese and French are introduced weekly. All teachers are native speakers.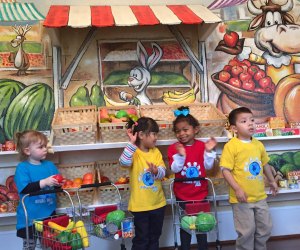 Photo courtesy of Spanish School 4 Kids
Spanish School 4 Kids - Heights
215 West 23rd, Houston
346-980-7230
Ages: 2 - 5 years
Spanish School 4 Kids offers instructional Immersion and Dual Language programs with the goal of helping children to become high achieving bilingual students. Children are taught reading, math, and public speaking skills through fun, hands-on activities in a safe and nurturing environment.
Atascocita Language School - Atascocita
8045 FM 1960 E., Atascocita
281-570-4474
Ages: Infant to 4 years
Atascocita Language School is a dual language preschool where children are instructed in English and in Spanish. Students are inspired to have a lifelong love of learning through research-based instructional strategies, a supportive, culturally rich environment, and caring teachers who account for a variety of learning styles in preparing lessons.
French
La Maternelle French Academy - Briarforest/Westchase
2301 S. Dairy Ashford Road, Houston
281-589-7400
Ages: 18 months-Kindergarten
Maternelle French Academy is a French Language immersion preschool inspired by French public preschools with all native French-speaking teachers. Teaching is exclusively in the French language with the exception of Pre-K and Kindergarten classes, in which English is also taught to facilitate the transition into elementary school.
German
Kinderspiel at the German-American Elementary School - Montrose
3516 Mt. Vernon, Houston
832-831-6843
Ages: 3-5 years
The Kinderspiel program is a dual language immersion program that offers a multi-age classroom with a small student to teacher ratio. The preschool utilizes interactive and hands-on activities that promote cognitive, physical, social-emotional and language development in small group settings.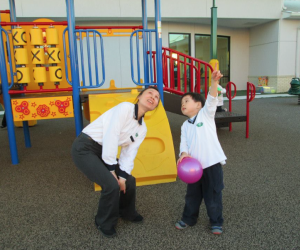 Photo courtesy of Tzu Chi Great Love Preschool
Mandarin
Tzu Chi Great Love Preschool And Kindergarten - Chinatown
6200 Corporate Drive, Houston
713-395-0303
Ages: 2 1/2 years-5 years and 11 months
This is a Buddhist preschool and kindergarten taught bilingually in English and Chinese. Children are provided with a rich and rewarding educational experience to motivate them to achieve academic learning and to develop self-confidence, kindness, and integrity. Meals and snacks included and uniform required.
Multiple Languages
French and Spanish
Language Immersion Private Preschool - Galleria
2605 Potomac Drive, Houston
713-785-1230
Ages: 18 months-5
LIPP school is a private immersion preschool offering immersion in either French or Spanish with native speaking teachers. They focus on the child's natural ability to acquire a second or third language through conversation, interactive classes, songs, dance, movement, creative play, hands-on activities, puppet shows, storytelling, games and activities.
French, Spanish, Mandarin
Crossing Borders Language Center - Rice Village
Ages: 18 months-5
This school offers language immersion programs in French, Spanish, Mandarin, and even English, for non-native speakers or as a traditional English preschool. Foreign languages can be combined with the English program to create a dual immersion preschool. The school utilizes an innovative language program that teaches children reading, writing, arithmetic, and science through age-appropriate games, music, and activities.
Top photo courtesy of La Maternelle French Academy