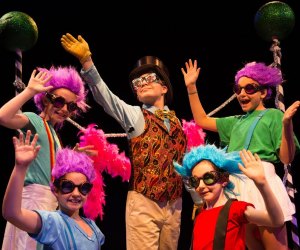 Houston Area Music and Theater Camps
Houston has an array of summer and vacation camps to fit every kid's passion which provides a break from the classroom and the perfect opportunity for kids to pursue their interests in a more singular fashion. Have an aspiring actor or actress on your hands? Use summertime to help them hone in on their musical and theatrical skills by enrolling your little Romeo or Juliet in one of Houston's many music or theater camps.
And for more summer and vacation camp ideas, check out our comprehensive camp guide and full directory of camp listings.
Alley Play Makers - Alley Theater
615 Texas Avenue
713-315-5424
Ages: Grades K-5 for the Fort Bend & Klein locations; Grades K-8 for the Houston location
When: Offered bi-weekly throughout June & July
The two-week camps offered by Alley Theater are designed to help instill confidence in children by teaching them the art of improvisation, dance and movement, visual storytelling, and character development. Before and after care is available for an additional fee.
Summer Music Camps - Bach to Rock
9079 Katy Fwy, Suite A
832-834-4882
Ages: 4+ (ages vary by type of music camp selected)
When: June through August
Help your mini musician fine-tune their skills by sending them to one of Bach to Rock's summer music camps. Bach to Rock offers camps for Glee Club, Rock Band, Rock City World Tour, Beat Refinery DJ Camp and Recording Arts: ProTools & Production, covering all aspects of the music industry. Weekly, partial week and day camps are all offered. Each camp has different age requirements and hours.
Elite University Summer Camp for Musical Theatre - Elite Music & Fine Arts
6221 Main Street
713-454-7989
Ages: 8-12
When: July 10 - July 28
Select children have the opportunity to showcase their theatrical talent after auditioning for a spot in Elite University's Musical Theatre summer camp. An end-of-camp performance of the play caps off the two weeks of practice.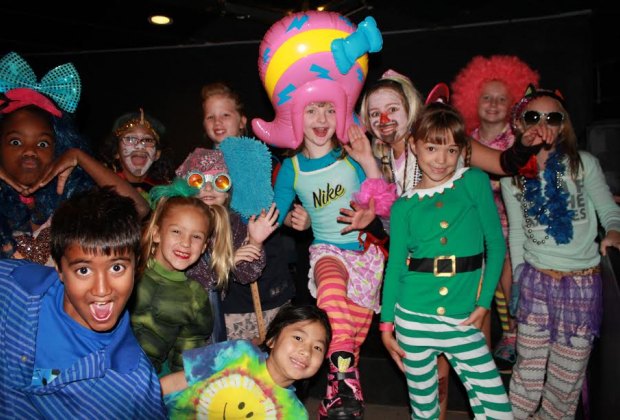 Photo courtesy of Main Street Theater
MST Summer Camp - Main Street Theater
Six locations across Houston; find your preferred location here
713-524-7998
Ages: 4-high school
When: June through August
MST Summer Camp focuses on sparking creativity and imagination in kids as they collaborate to create an original play and dance piece. Students take charge of all aspects of the performance while receiving guidance and support from the arts and educational professionals who serve as camp teachers.
Young Performers Summer Program - The Ensemble Theatre
3535 Main Street
713-807-4309
Ages: 4-12
When: June 5 - July 1 & July 5 - July 29
Young Performers summer sessions at The Ensemble Theatre touch on a multitude of theatrical pursuits, such as theater performance, theater theory, dance and music in an effort to expand and improve the performance abilities of aspiring young stars. There is an application and interview process to be admitted to the program. Extended care is available for an additional fee.
Summer Camp - Upstage Arts Youth Theater
100 East Nasa Rd. 1, Suite 78
832-797-4209
Ages: 6-18
When: June through August
Once the school year ends, camps begin at Upstage Arts Youth Theater. Throughout the summer break children can attend half day camps that are either one or two weeks in duration where they can hone in on their theatrical skills. A recital concludes camp and allows campers to show off their newfound talents.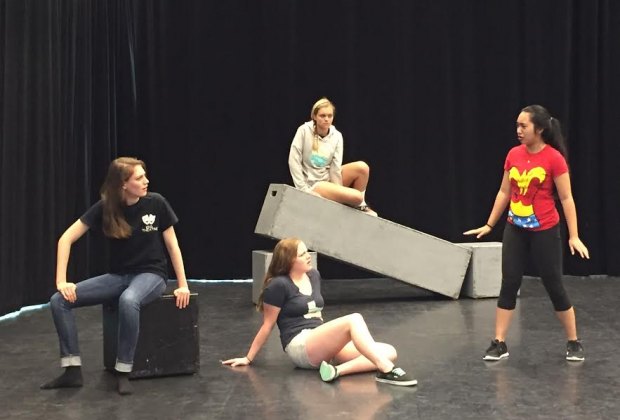 Photo courtesy of University of Houston HSF Conservatory
HSF Summer Conservatory - University of Houston
3351 Cullen Blvd.
713-743-0867
Ages: High school students
When: July 22 - August 6
After completing the application process, 16 students are selected to participate in an intensive two-week summer camp focused on teaching Shakespeare performance to aspiring actors and actresses. In addition to participating in two Houston Shakespeare Festival productions, students also have the opportunity to learn from professionals in workshops throughout the duration of camp, create and perform two green shows, and create and perform a showcase of Shakespearean monologues and scenes.
Drama Kids Summer Camp - Cy-Fair Music & Arts
Eight locations around Houston; find your preferred location here
281-855-8855
Ages: 7-12
When: Varies by location
Kids attending Drama Kids Summer Camp hosted by Cy-Fair Music & Arts get fully immersed in the theater world. From vocal exercises to skit creation to building props and sets, there isn't an aspect of the play that isn't touched on during camp. Campers put on a 30-minute show at the conclusion of camp.
Summer Camp - The River Performing and Visual Arts Center/TUTS
1475 W Gray St.
713-520-1220
Ages: 4-19
When: June through August
Children who come to summer camp at The River learn to enhance and improve their acting skills from all angles, covering everything from improv to musical theater, choreography and more. The week-long camps offer kids a creative outlet that also serves to refine every aspect of the acting process.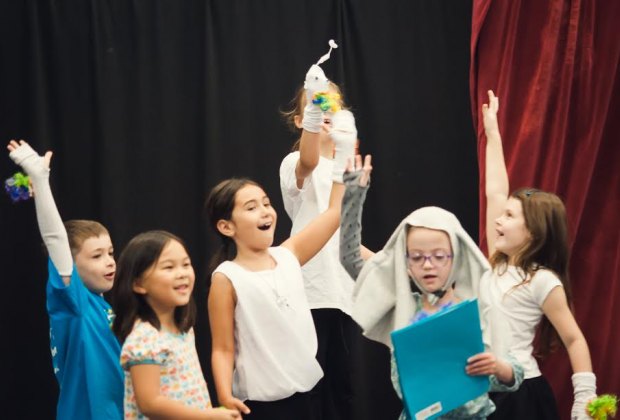 Photo courtesy of A.D. Players Theater
Theater Arts Academy Summer Camp - A.D. Players Theater
5420 Westheimer Road
713-526-2721
Ages: 5-18
When: June 5 - August 7
Each week-long camp put on by A.D. Players embodies their mission statement of "Nurturing the mind, body and spirit of the artist." Additionally, there are also showcase camps offered, which run for two weeks and end with a performance for family and friends. Every year the Academy adopts a new theme for their summer camps and have two-three camps for each age group.
Storybook Dance Theater Camps - Hunter Dance Center
747 N. Shepherd, Suite 100
832-962-8982
Ages: 5-8
When: June & July
Each one week session at Hunter Dance Center focuses on using dance, music, creative drama, circus arts and crafts to teach young dancers the art of storytelling through dance. Every week has a different theme, such as Alice in Wonderland or Peter Pan, and campers put on an informal performance at the end of camp.
Summer Camp - School of Rock
Multiple locations around Houston; find your preferred location here
866-695-5515
Ages: Pre-K and older
When: Varies based on camp and location
For all of the aspiring rock musicians out there who play guitar, bass, drums, keyboard and vocals, School of Rock is the place to be to learn everything you need to know about the industry and improve your musical skills. Kids attending learn through workshops, clinics and private instruction for a multifaceted, hands-on approach. Each franchise offers their own camps and caters to musicians of all skill levels.
Top image courtesy of Main Street Theater