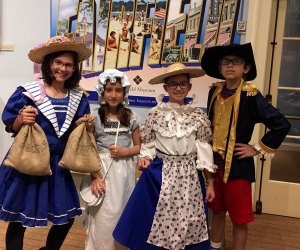 A Visit to the Fairfield Museum & History Center with Kids
This museum sits in the center of Fairfield's historic district, tucked away off Beach Road. It's relatively new, having only opened in 2007. For a rainy day, your main activity will be in the museums long-term exhibit: Creating Community: Exploring 375 Years of Our Past.
My kids love crawling through the makeshift wigwam, pretending to build a fire, and climbing up the reproduction fort to raise the flag.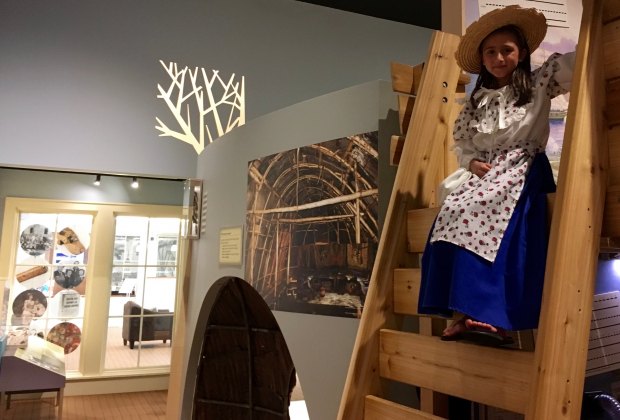 The museum keeps a chestful of themed dress-up hats, dresses, jackets and accessories that immediately get the kiddos into the part. The exhibit packs a lot in a small space, traveling in time from the early 1600s when Fairfield was settled, to modern day. There are heaps of placards to read about everyone from Harvard-educated native Wampas to Mary Silliman and Oliver Burr Jennings. As with any local history museum, the surprise is learning about the real people behind the many familiar names in the area: Unquowa, Pequot, Paugusset, Mohegan, Audubon, and Jennings to name a few. But the kids probably won't bother reading too much; they will be busy launching cannonballs, loading baskets with beans and onions, and swapping bonnets.
My kids can kill about an hour in the main exhibit. Then we take a peek at the two other gallery spaces, which have different exhibits regularly, usually more themed for grown ups. However, we always schedule a visit in December, to check out the museum's annual Holiday Express Train Show. The kids LOVE it.
Enjoying Museum Grounds & Beyond
On a nice day, plan to include a picnic outside on the museum's pretty green commons. There are just a few tables, so bring a blanket in case. Afterwards, you can take a short, self-guided walking tour of the historic area (map available at the information desk). The tour focuses on the town's original "four-square" plan, including the impressive Burr Homestead and Mansion, the Old Burying Ground, and the Sun Tavern. During the warmer months, you might get lucky and find some of the old buildings open for a visit.
The museum staff is welcoming and helpful, and there's even a little gift shop to visit for a souvenir. If the kids enjoy it, the museum offers summer camps for ages four to 13. While you are parked at the museum, keep walking to explore the area. For a local, fun bite of lunch (smoothie or coffee), kids are warmly welcomed at Las Vetas Lounge. Or add a second stop to your day with a trip to the children's department of the Fairfield Library. If you are in need of more outside time, take a 15 minute walk to Jennings Beach, via the Sandcastle Playground.
Whatever you plan, a trip to Fairfield's historic town center is well worth it!
370 Beach Road, Fairfield (203) 259‑1598
Photos courtesy of Elizabeth G. Howard