Paddle Away! Water sports with Kids in Fairfield County, CT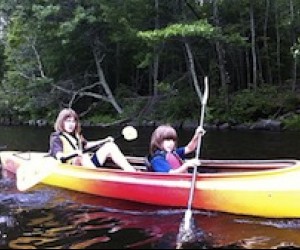 Do you know that a quarter of Fairfield County's area is covered in water? Getting out on the water in a kayak, a sailboat or on a stand-up paddle board can provide hours of summer fun.

Paddle on a neighborhood pond

Kayaking is an easy and safe water sport, especially on the calm surface of a protected pond. Nearly every town offers family-friendly and safe spots for kayaking. Most operate small boat rental places at municipality-owned lakes. The Town of Ridgefield's Parks and Recreation Center has a little boathouse on the Great Pond in Martin Beach Park with single and tandem kayaks and paddle boats that can accommodate the whole family.
Where there are no beaches, wooded hillsides hug the Great Pond's shores. You can race straight across the pond with the kids or leisurely paddle along the shoreline discovering its large boulders and the little coves sheltered by low tree branches. The Great Pond's water is usually very calm and flat, even small children can paddle around safely. After an hour of easy kayaking in the serene far-away corners of the pond, the family can return to the bustling beach for some splashing around or playtime on the playground and the sandy beach.

Tour in a kayak

For more serious kayak expeditions, many boating businesses offer guided tours for all skill levels. Some kayak shops, like Downunder Kayaking in Westport offer guided or self-guided tours that can take your family of novice paddlers to places that only boaters get to see. Downunder recommends a variety of boating trips.

The tour up the Saugatuck River into the heart of Westport and beyond into less populated sections on the river treats paddlers to 'backyard' views of Westport: the many small private and semi-private marinas, large, wooded areas on the right, gorgeous private houses and the many busy businesses on the left hand side.

Navigating in an extra safe, double, sit-on-top kayak, our two boys heroically paddled their way up to the Route 1 Bridge. The sight of the familiar Route 33 on the left was comforting, while the green, more natural wilder areas on the right hid beautiful birds and other wildlife. With virtually no wind and very smooth waters, the trip on the cool river was very enjoyable.
Balance on a paddleboard
For some extra excitement, we decided to choose a stand-up paddleboard or SUP for one of our boats. Connecticut's paddling community has just recently adopted SUPs, long popular in Hawaii and other Pacific locations, for a fresh exotic take on paddling. SUPs can go almost anywhere where kayaks and canoes can. Cruising around on the sleek surfboards in a standing position opens up a wider range of sights and sounds for paddlers to experience. All four of us took turns on the board. The younger generation's hopes to wave and signal to cars from up there were quickly dashed: paddling or even just standing on an SUP takes concentration and coordination to keep the board and boarder in balance.

Emboldened by the success of paddling around downtown Westport, we decided to take on the more open waters a week later and headed down river. Ducking under the enormous I95 Bridge and the imposing iron railway crossing into the wide mouth of the river, our kayaking party grew a little silent: we knew we were heading out toward Long Island Sound.

We never made it all the way, as we chose to follow the west shore closely and loop around Stony Point into Burritt Cove's tidal estuary. A real Pirate Cove we did not find, but the beautiful vistas of shoreline woods, grasslands and discretely hidden residential houses gave us plenty to marvel at. The boat traffic on the water was busy and we even met some experienced paddling pals who accompanied us for part of the route.

Oh, the possibilities

Fairfield County offers so many other options for paddling or boating. Along the beaches of Long Island Sound, many boating companies offer rentals, instructions, tours and special events, you can find a partial list below. Farther away from the shore, the huge man-made Candlewood Lake is a paradise for boating, water skiing and hobby fishing.

Water sports are great fun for the entire family. However, always remember: safety comes first. Please, make sure that you educate yourself about the safety tips and rules related to paddling and boating and always wear a life jacket when you are out on the water. Have fun and paddle away!

Additional safety tips:

Kayak Safety Tips
US Coast Guard Guide on Life Jackets
Boating Safety Tips

Kayak rentals and tours:

Downunder Kayaking:
Downunder is a fun kayak, SUP and surf company operating in two locations: 575 Riverside Avenue, Westport, CT (phone number: 203-956-6217) and 157 Rowayton Avenue, Rowayton, CT (phone number: 203-642-3660). They offer kayak, canoe and SUP rentals, instructions and guided tours around the Saugatuck and Rowayton rivers and surrounding coastal areas.
Hours of operation:
Monday-Wednesday: 9 am to 6 pm
Thursday-Friday: 9 am to 8 pm
Weekends and holidays: 8 am to 6 pm
Prices are available on their website.

Fairfield Kayak Company:
Fairfield Kayak Company (offers short- and medium-term kayak and canoe rentals. They deliver boats to clients (additional fees and restriction on delivery locations apply) and allow customers to pick up their boats.
Hours of operation:
Saturdays, Sundays and holidays: 9 am to 6 pm.
Weekday rentals can be arranged by phone (203-255-5315) or email (FairfieldKayak@yahoo.com)
Rates are posted on their website.

Longshore Sailing School:
This sailing and boating place at 260 Compo Road South, Westport (phone number: 203-226-4646) offers sailing and paddling instruction and rentals of all sorts of boats, including SUPs. It is one of the biggest schools in the area and focused on building a community of students and boaters.
Hours of operation:
Monday-Friday: 9 am to 6 pm
Weekends and holidays: 9 am to 6.30 pm
Details of programs and rates are available from their website.
Gerard's Water's Edge Marina on Candlewood Lake:
Gerard's marina and boat shop on beautiful Candlewood Lake (120 Old Town Park Road, New Milford, phone number: 860-350-BOAT (2628)) rents ski boats, pontoons, fishing boats, kayaks and a variety of 'water toys' such as skis and tubing equipment.
Hours of operation:
9 am to 6 pm all days during the summer season.

Additional resources:

Connecticut Water Trails Association:
A comprehensive resource, background information on all of Connecticut's lakes, rivers, marshlands and coastal areas complete with detailed historical, geographical and environmental information
Paddling in Connecticut::
A vast collection of reports and descriptions of popular or unique paddling destinations and trip recommendations, complete with practical information about boat ramps, parking options and available amenities at the various sites
By Monika Nica