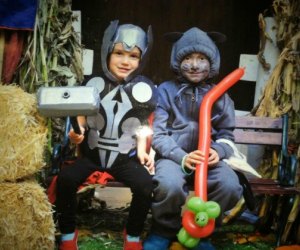 Halloween Costume Ideas for Babies and Kids
OK. Maybe your grade-schooler has already figured out 'The Costume' for this year's Halloween. But just in case they need a little help or you are looking for something cute or special for your baby's first Halloween or your toddler's first 'real' trick-or-treat, we did a little research. Read on to see what the newest, most popular, unique or 'old favorite' costumes are for this Halloween season.
Babies, Toddlers, and Preschoolers
Cute, cuddly, soft and colorful suit our littlest trick-and-treaters. Plush monkeys or puppies, sweet yellow-black bees, or dotted ladybugs are old-time favorites. But this year there is a new class of favorite creatures from beyond the farm and backyard: I'm talking Pokemon people. And let me tell you they are here in force. This year is also likely to bring a parade of movie favorites from this summers blockbusters, expect to see the cast of Zootopia wandering the neighborhood along with Dory and her gang.

Toddlers with their own favorite stories or TV shows can transforms themselves into their favorite characters for the magical Halloween night. Pirates, princesses, knights, characters from Dr Seuss – including the eternal favorite, Elmo or newer darlings such as Thing One and Thing Two- are always popular. The 'hot' shows of the time have also inspired many costumes for this year: Yo Gabba Gabba from Nick Junior, Thomas, the Tank Engine, Dora and Diego.

Preschoolers will have a few predictable favorites: Smurfs and Smurfettes, Woodies, Buzz Lightyears, Jessies and Angry Birds are certain to roam the jack-o-lantern lit streets this Halloween night.

Grade Schoolers and a Bit Older
The Marvel Universe will be strong this year. Ironman, Captain America, Thor, and the rest of the heroic elite will power their way through the night. Right alongside them, Star Wars, a perennial favorite boosted this year by the release of The Force Awakens in 2016.

Pirate costumes are becoming increasingly popular for girls but let's face it, princesses are still the superheroes of girl world. Today's princess is more than just a pretty dress though, these feisty females are worthy of Halloween worship. Speaking of feisty, Judy the plucky bunny from Disney's "Zootopia" will undoubtedly make her Halloween debut this year. Let's not forget Dory and her aquatic posse, and maybe a few emotions or Riley from "Inside Out."

The release of J.K. Rowling's "The Cursed Child" is sure to reinvigorate the ranks of Harrys and Hermiones, and it just wouldn't be Halloween without other literary classics like Thing 1 and Thing 2, Madeline, and Peter Pan.

Where To Get Your Costume
For maximum efficiency, you can order online. Some sites advertise special offers and sales and most costumes come in just a handful of sizes anyway, so you can't go that wrong with the fit. For the younger school-aged crowd though, costume shopping can be almost as much fun as trick-or-treating. Make it an afternoon, test the Halloween props, try on masks, just don't wait too late in the season because the stores get jammed with last minute shoppers.

Toys R Us, Target, and the otherr big-box retailers will have their Halloween aisles set up by now. Party Depot stores are also fully prepared with their entire floor is almost fully dedicated to costumes and other Halloween paraphernalia. If you are looking for something really unique and exquisite, you may want to visit a specialty costume boutique. Happy Daze in Norwalk and Sophia's in Greenwich have a huge selection of high-end, novelty, or vintage costumes that you will definitely not bump into on every block while trick-or-treating. Both stores also rent some of their costumes.

Make Your Own Costumes
If you want a truly one-of-a-kind and affordable costume for your little ones, or if you have an older kiddo growing weary of the limits of store-bought costumes, you may want to try to making your own.
Don't be daunted by the idea, whether your craft level is beginner or ninja there are a million ways you can cobble together something as unique and special as your little ones themselves. I can't sew a stitch, but give me poster board and duct tape and I'll hand you Thor's armor. Maybe a trip to Goodwill to piece together a hippie costume, or something as simple as a box and some sharpies to turn your techie kid into a robot. The bottom line when making your own, know your strength and you can't go wrong.