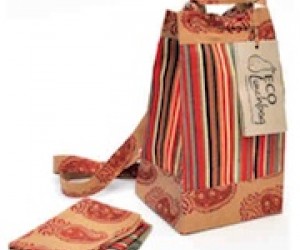 Eco-Friendly Back to School Supplies
[UPDATED: August 10, 2012]
Did you know that the typical American family generates 4,320 pieces of trash annually during lunchtime? Yikes! If we all do our part we can change that number significantly. Besides helping the environment, you can keep your children safe by choosing products that reduce their exposure to harmful chemicals such as BPA, phthalates and lead in lunch bags. Using plastic wrap and baggies, individually packaged food items and plastic water bottles are all no-no's. With a simple change you can eliminate these Earth killers and pass on an awareness for the environment to your kids. I love all of the cool choices out on the market now. You can even get pencils made from recycled blue jeans!

Since it's the beginning of the school year it's the perfect opportunity to start back-to-school off on the right foot. Here's a few resources to help you out when purchasing eco-friendly back to school supplies. There are tons out there and I'm not going to pretend to know them all but these few should help a bit.
This ECOlunchbox kit is 100% plastic-free, waste-free, lead-free, BPA-free, PVC-free and vinyl-free. Can't go wrong there. I especially love their three-in-one stainless steel bento box. It's dishwasher safe and contains no plastic.
Kids Konserve has a 12-ounce, 18/8 stainless steel, leak-proof, insulated food jar that keeps food hot or cold for hours! These get a lot of use in my household. Great for soups and pasta.
The Numbat - a waterproof macbook cover that is made of 100% recycled plastic bottles. Looks cool and provides extra protection for the kid's laptops. They also have nice looking backpacks to choose from. 40 bottles are used to make the interior and exterior fabrics.
When buying pencils and pens check out these recycled old money and blue jean pencils. I double love that they spread the message even further with the tag "Reduce Reuse Recycle" printed on them.
Some schools have less than ideal plumbing and you can taste it at the water fountain. I think these Water Bobbles are ingenious. They have a built-in, activated carbon filter that removes contaminants and reduces chlorine in regular tap water. They also look cool!
Another thought, if your school doesn't have an Earth or Green Team yet, start one! You'll be amazed by how many parents and kids share the same passion and how fun it can be. Pass down clothing to friends and family and recycle old shoes. Plan ahead and prepare healthy lunch foods in advance for the week so that you don't have to resort to using "convenient" snacks that are just over-processed blobs of sugar and fat. Recycle at home and start composting. All of these bits are quite easy to start up and can make a big difference in the grand scheme of things. Good luck and please feel free to add any other great resources you may have in the comments section after this post.