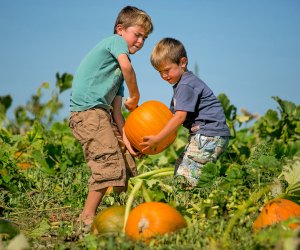 Pumpkin Picking Patches in the Fairfield Area
New England's beautiful fall foliage is here again, and that means pumpkins on the porch, in our pies and muffins, and even in our coffee. Picking a pumpkin is a fall ritual for many, and the perfect excuse to get outside on a crisp afternoon. Fairfield County has more than a few great spots to pick out your soon-to-be jack-o'-lantern, and most places offer activities like corn mazes and hayrides as well as mouth-watering cider donuts and other goodies. If you live in central Connecticut, look for your dream pumpkin at one of these patches near Hartford; and no matter where you live in the state, you'll find even more ideas to keep busy this season in our Fall Fun Guide.
Jones Family Farm—Shelton
The Jones family calls their patch Pumpkinseed Hill and it delivers on its name. Every year, they create a theme for their farm-based, fall amusement scene: handmade play-sets little children can scale, photo stands, farm animals, hayrides, and a corn maze on weekends (both the maze and hayrides are a couple dollars per person). They've even got a little stage set up for performances featuring...your children! Endless varieties of decorative gourds (and ones you can eat, too) as well as the pumpkins. Purchases are by the pound, but there's also a flat rate deal for whatever one person can carry. You can take a hay wagon ride or meander through the corn maze (fees may apply for some of the activities). During the weekend before Halloween, there's a UNICEF Family Festival to raise money for the charity. Pumpkin season starts at the end of September, but call "Farmer Jones" in the morning to check on crop conditions.
Silverman's Farm—Easton
Silverman's has pumpkins, cider, donuts, and decorative everything within just a few steps of the parking lot. Enjoy live music and fresh kettle corn on most weekends. Silverman's animal farm will amuse the kids before or after you've picked pumpkins. If you want to linger, but aren't feeling the petting zoo, go late in the season when they run scenic hayrides through the orchards on weekends (after apple picking is completed). After the hayride, you can grab lunch at one of the food trucks that arrive on site. Silverman's also gives away thousands of pumpkins each year — if you can guess your pick's weight within 2 ounces.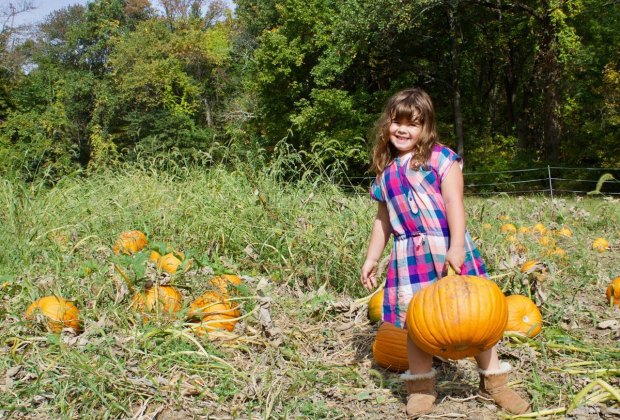 Warrups Farm features lots of pumpkins right from the field in Redding. Photo by Ally Noel
Warrup's Farm—Redding
Warrups is a great, small family-run farm located in the heart of Redding and celebrates the season without all the hoopla of the bigger farms. Here you can actually pick your pumpkin off the vine and go for a hayride, as well as enjoy some cider, seasonal squash, and Warrup's brand of maple syrup. It's open weekends only in October, plus Columbus Day.
Blue Jay Orchards—Bethel
Blue Jay offers a big pumpkin patch and wagon rides through the orchards on weekends. You can push your pumpkins around the patch in big, orange wheelbarrows. Afterward, get yourself into all sorts of trouble in Blue Jay's busy bakery, filled with homemade pies, cookies, loaf cakes and, of course, cider donuts and fresh apple cider. Check their website for the start date on the pumpkin patch.
Castle Hill Farm—Newtown
Castle Hill has a pumpkin patch, an impressive 7-acre corn maze, and offers close encounters with goats and cows late September through October. This third generation, former dairy farm is open for pumpkin picking on weekends and weekdays. Enjoy hayrides on weekends, pony rides, and, occasionally, live music. Fresh eggs and a variety of produce are available at the farm stand (cash and checks only). ​
Plasko's Farm—Trumbull
Established in 1925 by first generation immigrants from Czechoslovakia, Plasko's is small in size, but packs a lot of pumpkin-y punch into that plot. You'll find the (pre-picked) pumpkins you need, plus a corn /maze, mums, farm animals, antique tractors, and arguably the BEST apple cider donuts in the county. Kids can enjoy a 4.5-acre corn maze, too!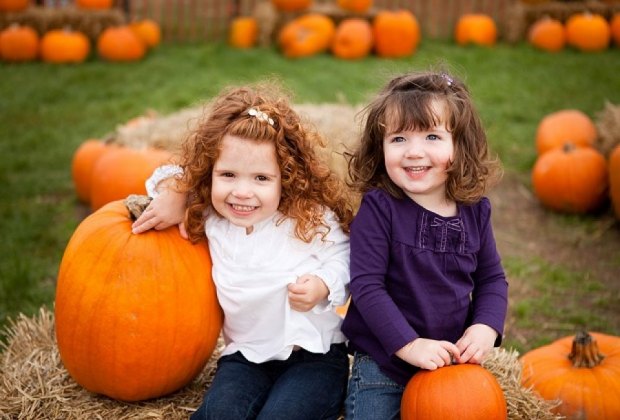 Picture perfect pumpkins are for the taking at Fairview Tree Farm. Image courtesy of Fairview Tree Farm.
Fairview Tree Farm—Shelton
Established in the mid 1800s, this farm celebrates fall in same way the big farms do, just on a more intimate scale. Everyday in October from 9-5, you can pick your own pumpkins, feed the goats and rabbits running around, and hop on for a 1-1/2 mile hayride. You can even plan a party at the farm with your own private picnic spot. On the weekends, you can check out the popular night time Haunted Hayride and Haunted Trail; just be sure to check the schedule for exact days and hours.
Sam Bridge Nurseries—Greenwich
Nestled in bucolic back country Greenwich, Sam Bridge Nursery offers free hay rides out to their pumpkin patch. But, it's not just any hayride, cruise past pumpkin displays based around literary themes and popular culture. Make sure to check their calendar for other awesome fall classics like pumpkin painting and scarecrow building.
Sherwood Farms—Easton
Established in 1713 (you read that right!) Sherwood Farms has been harvesting pumpkins for more than three decades. Open only on the weekends, this spot has a hayride available as well. Make sure you also leave some time to check out their market that is stocked with seasonal fruits and vegetables.
Jesse Lee Pumpkin Patch—Ridgefield
This autumnal Ridgefield tradition is more than a perfect place to pick your family pumpkin - when you purchase a pumpkin from Jesse Lee Pumpkin Patch, you are also directly supporting the Navajo community who grew your gourd! The Jesse Lee Pumpkin Patch sells pumpkins that have been grown on a Navajo reservation in New Mexico.
Originally published September, 2012