SPONSORED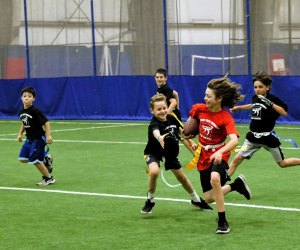 Flag Football and Parkour for Kids Come to Chelsea Piers Connecticut
Chelsea Piers Connecticut in Stamford is one of the best sports complexes in Fairfield County, and a family favorite for athletic classes for kids. This fall, the 465,000-square foot state-of-the-art facility is expanding its Ninja + Parkour program and adding Flag Football to its wide array of offerings, which already includes everything from dance classes, gymnastics for kids, and ice skating to youth basketball, soccer, swimming, and field hockey. The fall semester begins September 4, 2019, with programs available for children ages 3 months to 18 years.
Youth Flag Football at Chelsea Piers Connecticut
The new youth Flag Football program focuses on all the fun and fundamentals of the game in a non-contact league. Young athletes from grades 4 to 8 have the option to participate in games only, or to take part in an additional one-hour clinic. Games are led by highly-trained coaches, who are refereeing to make sure players adhere to proper rules and encouraging the seamless development of football skills, while clinics are all about skill development and technique.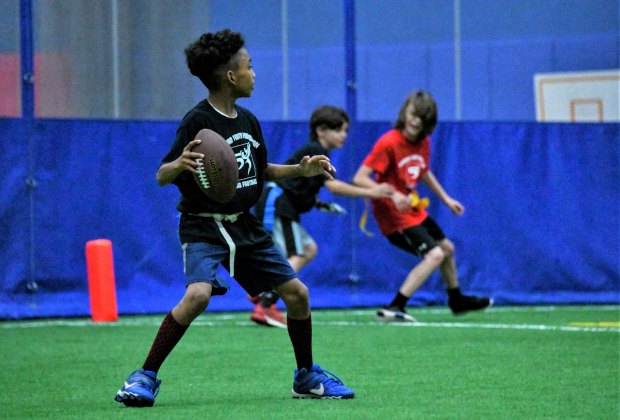 Chelsea Piers Connecticut brings youth Flag Football to Stamford kids.
Ninja + Parkour for Kids
The Ninja + Parkour program has an exciting new addition this fall. Kids ages 9 and up will be able to learn how to tackle the same obstacles they see on TV in Chelsea Piers' newly-built Ninja + Parkour Training Facility. (Uh, how cool is that?) Obstacles in the parkour gym include the salmon ladder, jumping spider, two warped walls, devil steps, flywheels, a rotating traverse box, sky hooks, cliffhangers, flying bars, and more.
Kids will love Chelsea Piers Connecticut's brand new parkour gym.
Of course, classics like soccer, tennis, and basketball will be available this coming season too, along with more specialized kids sports classes like Mini Swimmers and Tumbling Tots for little ones, and Elite Gymnastics and Squash for experienced athletes. No matter what age and what level your child is, there's pretty much something for everyone.
Visit the website to learn more about Chelsea Piers' kids' sports classes, and use the handy search tool to find the right fit for your young athlete. For even more guidance, call the registration office at 203.989.1100 and someone will gladly lend you a hand.
All photos provided by Chelsea Piers Connecticut