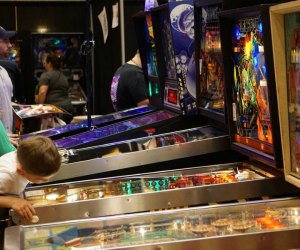 Best Old School Arcades in Connecticut
Confession: The day my kids and I walked into an arcade with a giant-sized Space Invaders game, I may or may not have raced them to the token machine. There's just something about the flash and buzz of a good arcade that throws me right back to when I was a kid with a fist full of quarters. These days I hand off all my skee ball tickets to my kids, but I still get a thrill out of watching them pour out of the machines. I get an even bigger thrill watching my kids dart around like...well, like kids in an arcade! With winter still very much upon us, the season is just right for some indoor fun. Read on for a roundup of some of the best spots to get your game on in Connecticut.
Fun 4 Kids
The name says it all, really. Your kiddos will love this place with over 75 arcade games and three new bowling alleys on site.
370 W Main Street, Stamford, CT 06902 203-326-5656
My Three Sons
Norwalk's answer to the indoor fun experience, My Three Sons features so many arcade games you'd have to try very hard to be bored here. There are of course other attractions too, fair warning.
62 Wall Street, Norwalk, CT 06850 203-838-301
Sports Center
The arcade here is a separate room in a much, much larger facility offering all sorts of activities. But the arcade totally stands alone and you can easily spend an afternoon here. Pretty much the only machines that don't give out tickets at this place are the pinball machines, though they do have some really great pinball so it's well worth skipping the tix for a couple rounds.
784 River Road, Shelton, CT 06484 203-929-6500
Bouncetown USA
Like a lot of places, the arcade here is situated inside a larger indoor adventure zone. Don't for one second think that means they skimp on the gaming fun, nothing could be further from the truth. Bouncetown is bright and cheerful and chock full of fast-paced, ticket happy fun.
1770 Boston Post Road, Milford, CT 06060 203-892-4541
With over 80 games in the arcade, you're sure to find something for everyone in your family to enjoy. Nomad's also has lots to choose from when it comes to a bite to eat - making this a perfect stop to spend a few hours indoors. There's even a food and game package, check the website for details.
100 Bidwell Road, South Windsor, CT 06074 860-290-1177
Shooters Billiards & Arcade
Don't be fooled into thinking that this isn't a place for kids. Shooters is an impressive billiard hall, but the arcade is for gamers of all ages. There are token deals available for purchases over $20 and as they say on their website, "The more you play the more you win!"
50 Spring Street, Southington, CT 06489 860-621-2073
Sonny's Place
7,000 square feet of arcade action? Sign me up! This place has everything from the classics (Pac Man, anyone?) to the slightly unusual (how about a game of giant Connect Four) and everything in between.
349 Main Street (Rt. 190), Somers, CT 06071 860-763-5454
Dave & Busters
While this place is aimed more directly at the kids at heart among us, you can absolutely take actual kids here, too. Some rules apply, all kiddos must be accompanied by a guardian and each guardian can oversee no more than six kids per visit. So maybe not the place for an arcade-themed birthday party, but if you want to have a family night out with games and maybe a beer for you, this might be the right choice.
100 Buckland Hills Drive, Manchester, CT 06042 860-327-0900
Photo credit: Flickr