Great Guided Spring Hikes in Fairfield County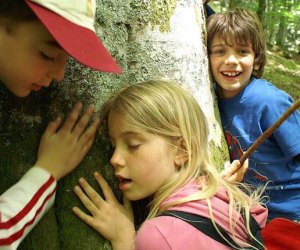 Now it's spring, and even though it's a delightful time to explore some of Fairfield County's fabulous parks and nature spaces, my kids seem to need a little convincing to leave the house.
But it turns out that a guided hike is just the ticket. It gives us an agenda and a goal, but someone besides me does all the planning. All we need to do is show up (and, in some cases, preregister). You can go for a stroll with the family pooch or look for amphibians in a vernal pool. We've rounded up some fun-filled family hikes in Fairfield County, many of which are FREE. For more ways to enjoy the springtime check out our CT Spring Fun Guide.
1. CT Trails Day Hike
Trumbull
Enjoy a family hike at Trumbull Nature and Art Center.
2. Sunday Explorers
Stamford
Drop by the Stamford Museum and Nature Center on Sunday afternoons for a hike on their well groomed tails, as well as self-guided crafts and other activities. Check website to confirm dates.
3. CancerCare Walk/Run for Hope
Greenwich
The picturesque Greenwich Point Park is the setting for this fundraising event celebrates survivors and supports those facing cancer. There is a kids' fun run in addition to the 5K Walk/Run.
4. Bird Watch at Greenwich Point Park
Greenwich
Bring binoculars and weather-appropriate gear to explore the birds of Greenwich Point Park with an educator from the Bruce Museum. Free until Memorial Day, when a residential parking pass is required.
5. Spring Peepers Night Hike
New Canaan
Explore the New Canaan Nature Center's vernal pools and ponds to listen for the peeps & croaks of frogs and other amphibians. Preregistration is required.
6. Earth Day at Woodcock Nature Center 2017
Wilton
The Woodcock Nature Center will celebrate Earth Day with a variety of hikes, including a birding hike, a woodland hike, and even a Sr. Seuss Stroll (that includes a story). Free, but preregistration is required.
7. Green Day at Earthplace
Westport
Explore the two miles of trails at Earthplace, where you celebrate Green Day with a series of science and nature themed stations throughout the sanctuary. There will be stations dedicated to amphibians, insects, reptiles, mammals, and more.
​Photo: Courtesy of Wikimedia
Originally published in 2015.