Top 25 Things To Do with Kids in Simsbury, CT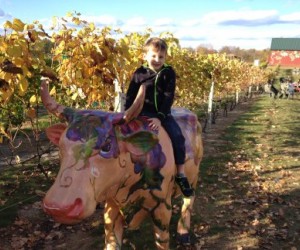 12/3/15
- By
Pam Hegner
The first time I visited Simsbury, I was enamored with the beauty and history of this charming New England town. Located 14.5 miles west of Hartford in the Farmington Valley, it is close to the state's capitol and the airport, but feels worlds away. The rural and rustic charm has just enough of a cosmopolitan edge to make it a very desirable place to live and visit.
Just ask Money Magazine, who has included Simsbury on their list of "Best Places to Live" in America several times. Outdoor enthusiasts flock here, as it was given the honor of the first "Bike Friendly Town" in Connecticut by the American League of Cyclists. The nearly 24,000 residents have a lot to be proud of with great schools, history, accessibility and scenic terrain. The town offers numerous activities for children, and here are some suggestions.
1. Arts and Crafts Festival
In the middle of September, the Simsbury Women's Club hosts the festival which raises scholarship money for local residents. Iron Horse Boulevard, just off the center, will showcase over 100 artists and vendors. Admission and parking are free.
2. Abigail's Grille
For almost 200 years, this tavern has been greeting guests and oozing ye old New England charm. It was built in 1780 as a stagecoach stop outside Hartford on the Boston to Albany Turnpike. The food is good - not great, but the bones of this restaurant and the several working fireplaces are worth a trip. There are also rumors that a ghost roams the tavern, so why not investigate?
3. Blue Fox Rock and Bowl and Mini Golf
This complex houses a beautiful mini golf course (open seasonally) and a bowling center on the north end of Hopmeadow Street. The golf course is a family favorite, thanks to the waterfalls throughout and many choices of ice cream at the end. Year round you can hit the bowling alley that features laser tag and Rock 'N Bowl nights, with neon lights and a DJ playing your favorite tunes.
4. Flamig Farm
This interactive farm offers entertainment for the entire family. From April through November, you can visit the petting zoo and feed several animals including pigs, donkeys, alpacas, bunnies and more. Pony rides and hayrides are popular, especially the Halloween haunted variety in October. Breakfast with Santa and birthday parties are also a huge draw.
5. Folly Farm
This scenic farm is a full-service horse riding, jumping and training facility. All levels of experience are welcome for lessons and camps. In late September they hold the Folly Farm Classic, where you can watch competitions and participate in games, hayrides, pumpkin painting and other family-friendly activities.
6. Great Pond State Forest
One of Simsbury's natural treasures includes several miles of well-marked hiking trails. There are nearly 300 acres of forest that many species of wild birds call home, and you just may see turkeys running around. The pond is Simsbury's largest body of water and conservationist James L. Goodwin is primarily to thank for preserving the woodlands' beauty. He purchased the land in 1930 with a vision and plan that he would be proud of today.
7. Gymnastics Training Center
For over 35 years, this center has been part of USA Gymnastics. From babies to teens, boys and girls, there are classes for every level including tumbling, trampoline, bars, vault and more. They have a fantastic reputation as the best in the area, and host family playtimes, vacation programs, parties and parents' night out.
8. Hopmeadow Cell Phone Walk
Stroll through Simsbury's historic village, using your cell phone and get a guided tour! You dial 860-323-9029 and you'll receive prompts describing eleven historic places, landmarks, foliage and more. There are several shops and restaurants to enjoy along your travels. Even if you don't have a phone, you can still walk and read signs.
9. International Skating Center
This world-class facility has trained National, World and Olympic Medalists. They have dual rinks, fitness room and a dance studio. But even if you don't aspire to be the next Michelle Kwan, they have lessons and open skate for all levels. If you prefer pucks, they hold hockey clinics, leagues and instruction.
10. Iron Horse 5K, 10K and Half Marathon
Thanks to a picturesque course, this event has turned into one of the area's most popular races. You'll start on Iron Horse Boulevard, and run past the Farmington River and many farms. The three distances and a kids' run make it appropriate for all levels and abilities. The post-race party includes a pancake breakfast, live music at the band shell, and a fitness expo. That combined with the access to the Rotary Park playground will make this a wonderful day for the entire family.
11. Memorial Day Parades
Simsbury holds two parades to honor veterans. One is in the Tariffville section of town, and the other is on Hopmeadow Street in the heart of Simsbury. They stagger the times, so you can hit both if you like and honor America and our veterans.
12. Pinchot Sycamore Tree Area
On the banks of the Farmington River at the Route 185 bridge, stands the giant sycamore tree which serves as the town symbol. It is the largest tree in CT, about 100 feet high. She's been around for almost 500 years, and has sustained damage in recent storms, but her strong foundation makes her a fighter. You can view it by driving by, or on foot where there is also a canoe launch or picnic area.
13. Rails to Trails
Town officials, volunteers and residents have worked extremely hard to make Simsbury one of the best bike-friendly towns in New England. Whether it is the East Coast Greenway, Farmington River Trail, Stratton Brook State Park Trail, or just riding around town, the commitment to accessibility and safety is a huge draw for families who like to be active.
14. Rosedale Farms
This fifth-generation family farm offers FarmFest weekends in the fall, where kids can take hayrides to the pumpkin patch, explore the grounds and a themed corn maze. Parents love the farm share options, market, farm-to-table dinners, store and wine tastings. The wine is actually pretty good for a small, local winery. It is a beautiful place and the views are fantastic.
15. Rotary Park Playground
On Iron Horse Boulevard next to the band shell, this is one of my favorite parks in the Farmington Valley area. It is completely fenced in, so it is easy to keep your children contained. They have two sets of appropriate playscapes and swing sets, a sand box and covered pavilion with picnic tables. Nearby bike and hiking trails, shops and restaurants make it a nice way to spend a day out.
16. Septemberfest
This three-day festival in early September is one of the area's best-kept secrets. As the primary fundraiser for the Simsbury Performing Arts Center, you'll find a ton of entertainment for all ages. The band shell will be rocking with live music, as kids enjoy bounce houses, train rides, games, story tellers, puppets, hot air balloon rides and more. There is an impressive selection of food and drink for sale, brought to you by local restaurants. Friday night fireworks and free parking/admission make this festival a hit.
17. Simsbury Celebrates
On the Saturday after Thanksgiving, downtown becomes a winter wonderland. Hopmeadow Street is closed for a huge block party featuring train rides, carolers, ice carving, skiing and snowboard demonstrations, pony rides, food and drink, and much more. The buildings lining the street all have different activities inside that you can check out. Visits with Santa, gingerbread house displays, live bands, cookie decorating, arts and crafts, and the night culminates with a fireworks show. This is one of the area's best free festivals, despite the often frigid weather.
18. Simsbury Farms
The town's largest venue for year-round recreation showcases an ice rink, golf course, swimming pools, tennis courts, hiking trails and more. Lessons and public sessions are available, and it covers 235 acres which used to be an apple orchard.
19. Simsbury Fly-In
Simsbury is a small town, but they have their own airport and flying club. In mid September they host the Fly-In and Car Show with proceeds going to keep the airport open. You can see vintage aircraft and automobiles up close and watch demonstrations. Balloon rides and a pancake breakfast make this an awesome day out.
20. Simsbury Historical Society
This two-acre site contains structures, gardens and grounds you can visit all year round. Kids will love dressing up in colonial costume, see early machinery, play games from the era, and learn about Martin Luther King Jr's time in Simsbury while he was a college student. The Historical Society owns 16 buildings including carriage house, school house and ice house.
21. Simsbury Public Library
Right in the heart of downtown you'll find this beautiful building with a large children's area to explore. Programs include several story times and classes ranging from infants to teens. Nook E-readers, audio books, puppets and toys, visiting grandparent kits are just a few of the resources. It is a great place to spend a few hours.
22. Stratton Brook State Park
In 1996, Stratton Brook became the first wheelchair accessible state park in CT. It has a lovely bike trail that travels over brooks. The finishing and swimming are extremely popular, thanks to a large pond with a beach. You can cook out on a grill and picnic next to the water, so it tends to get very busy on summer weekends.
23. Talcott Mountain Music Festival
From late June until the end of July, you'll find this outdoor concert series at the Performing Arts Center at Simsbury Meadows. You can either buy lawn seating or reserve tables and enjoy the sounds of various musical genres presented by the Hartford Symphony. The July 4th concert is the highlight, featuring patriotic tunes followed by fireworks. A night out with friends, a picnic and fantastic music make this event a Simsbury treasure.
24. Talcott Mountain State Park and Heublein Tower
This popular 1.25-mile hiking trail leads you to the top where you'll find the Heublein Tower, built by Hotelier/Restauranteur Gilbert Heublein in 1914 as a summer house. Many famous guests have vacationed there, including Ronald Reagan. The views from the 1,000 ft-high summit are stunning, especially during fall's splendor. At the end of October is the Tower Toot festival, where German music and food awaits you when you arrive at the tower. The hike is moderately difficult; many people carry babies in backpacks or infant carriers. We first did the hike with my son when he was three years old. There is a steady incline, so wear appropriate shoes.
25. Tulmeadow Farm
This farm has graced West Simsbury's landscape since 1768. They offer a large array of locally-grown produce but the real draw here for kids is the homemade ice cream. Right on the farm with cows and rolling hills, you can pick from an array of flavors. It is a little pricey, but you can tell the difference and quality. It is well worth a trip.
Originally published 1/11/14.