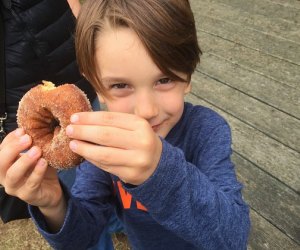 Where to Find Cider Donuts in Fairfield County
The humble cider donut. They are, without a doubt, not only an autumn tradition but a necessity here in the northeast. We in Fairfield County could not be luckier because we live in a major epicenter of cider donut greatness and just because apple picking season ends, this does not mean cider donuts go with it. Whether you prefer them moist or cakey, and whether you spell it donut or doughnut, here is a round-up of the very best places around to score one. Or a dozen.
Beardsley Cider Mill
The cider donuts at Beardsley Cider Mill in Shelton are basically perfection sprinkled with sugar. Every year my family counts down to opening day, and every year we find a zillion excuses to drive the winding roads out to the White Hills until the very last day of the season. It isn't uncommon to arrive as the donuts are still cooling, but even if they've already cooled they're out of this world. Beardsley also serves up pies and local honey, cider, and other seasonal treats. Go for the donuts, don't even bother making up excuses. The farm bakery is open daily from 10:00am-5:30pm until December 24.
Beardsley Cider Mill, 278 Leavenworth Road, Shelton, CT 06484 (203) 926-1098
Silverman's Farm
If you live in Fairfield County, it is nearly impossible not to know about Silverman's Farm. They are an autumn institution, known for their rolling hillside apple orchards, pumpkins, and live animal farm. Silverman's also boasts a top notch country farm store and within the walls of this place is where you will find their legendary apple cider donuts. Mr. Silverman himself assured me that these golden treats will be available in the farm market from 9:00am-5:00pm right up to December 31. During inclement weather, call ahead to find out whether the market is open.
Silverman's Farm 451 Sport Hill Road, Easton, CT 06612 (203) 261-3306
Plasko's Farm
Situated on Daniels Farm Road in Trumbull, Plasko's is one of the areas oldest working family farms. Their market offers a full range of baked delights including of course, the star of our show, apple cider donuts. The farm market also sells jams, honey, and pesto which make excellent stocking stuffers. The farm market is open daily from 9:00am-6:00pm until December 24.
Plasko's Farm, 670 Daniels Farm Road, Trumbull, CT 06611 (203) 268-2716
Blue Jay Orchards
After the fun of pick-your-own season has ended at Blue Jay Orchard in Bethel, you can still be sure they will save some cider donuts just for you. The farm market hours change as the season goes by. Until the end of October they are open daily 9:00am-6:00pm. From November 1-Thanksgiving they open daily from 11:00am-5:00pm, and from Thanksgiving to Christmas Eve the market is open Fridays, Saturdays, and Sundays 11:00am-5:00pm.
Blue Jay Orchards, 125 Plumtrees Road, Bethel, CT 06801 (203) 748-0119
Stew Leonard's
Stew Leonard's is more than just a grocery store, anyone who has ever walked through the doors can tell you that. What you may not know is that they are renowned for their superior apple cider donuts! What's great about Stew Leonard's too is that with two locations, one in Norwalk and one in Danbury, no matter where you are you probably aren't too far away.
Stew Leonard's of Norwalk, 100 Westport Avenue, Norwalk, CT 06851 (203) 847-7214
Stew Leonard's of Danbury, 99 Federal Road, Danbury, CT 06811 (203) 790-8030