12 Family-Friendly Summer Weekend Getaways near Chicago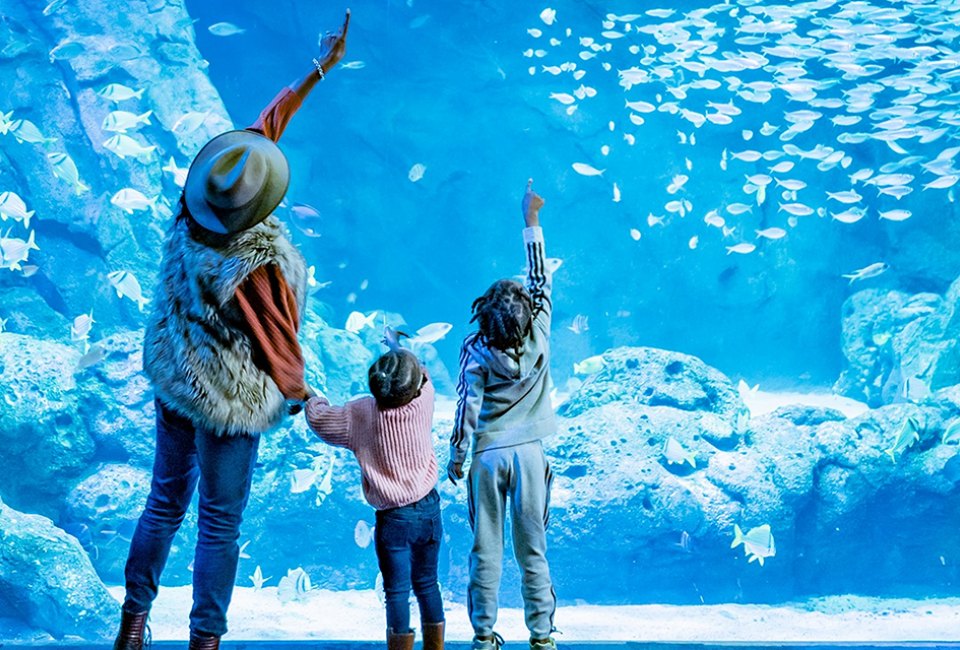 7/2/21
- By
Lauren LaRoche
Whether you need a beachside vacation or a cultural getaway in a (different) city, you don't have to travel too far from Chicago to find it! All of the weekend getaways below are places you can drive to from Chicago— yet they feel like a world away. The trips include a hike under a waterfall, a boat ride through a city, an aquarium in a train station, and the water park capital of the world. From zoos to children's museums to great nature escapes, we've highlighted several must-see attractions that make each getaway fun for the whole family.
Now, get the road trip snacks ready and enjoy the adventure. For more getaway ideas check out our Midwest Travel Guide and 20 Day Trips Near Chicago.

Life in a simpler time. Photo courtesy of visitgalena.org
1. Apple River, Illinois
Apple River is a hidden gem located in the hills of northwest Illinois. The Apple River State Park will make you think you've traveled a lot farther than a couple of hours from Chicago. Families could spend days exploring the limestone bluffs just hiking, fishing, and seeing a ton of natural wildlife. Apple Valley is also just a 20-minute drive from downtown Galena which features adorable shops and restaurants. In addition to golf, there are also wineries, zip lines, and canopy tours through the state park. Ride horses or rent canoes, kayaks, and boats on the river. Downtown Galena also offers trolley rides and horse-drawn carriages through town for when little legs get tired.
To stay in Apple River, there are Apple Canyon lake house rentals available through all the popular home rental sites. Some homes come with views or access to Apple Canyon Lake. There are also homes for rent near Apple River and Galena golf courses with pools and other water adventures. For a family-friendly dinner out, head to Sidetrack Inn for great burgers and desserts.

River kayaking at White Pines Lodge. Photo courtesy of White Pines Lodge
2. Mount Morris, Illinois
Mount Morris offers lots of small-town ambiance for a relaxing, low-key getaway. Located off the Rick and Mississippi Rivers, there are loads of outdoor adventures to be had. With multiple state parks and rolling terrain, there is something for every outdoor lover in the family. In addition to hiking, there are also natural fords where you can actually drive your family through a creek or stream. There are also enough sidewalks and banks on the stream to make it accessible for strollers or anyone with special needs. Kids can even go fishing right from these accessible banks.
When civilization calls, the town of Mount Morris also has small shops, restaurants, and places for cold treats (like the Sweet Tooth ice cream shop). For cultural activities, you can sign up for multiple guided tours, visit the history museum, and even see the boyhood home of President Ronald Reagan. White Pines Lodge offers stand-alone or "Quad" log cabin rentals big enough for the whole family. There is also a restaurant and theater on the property.

Visit a whole host of Lincoln landmarks. Photo courtesy of Visit Springfield
3. Springfield, Illinois
The state capital of Illinois offers historic sites, museums, and plenty of adventure. Once the home of Abraham Lincoln, Springfield has several historic sites dedicated to the past president. You can visit his home, see the Lincoln Monument, and visit the presidential library and museum.
In addition to the historic Lincoln landmarks, Springfield is home to the Illinois State Museum, the state capitol building (which is open for tours), the Henson Robinson Zoo, and the Lincoln Memorial Garden and Nature Center. There's a vibrant city center with plenty of history, dining, shopping, and nature. For a little water park adventure, there's Knights Action Park, which also has go-carts, mini golf, and a batting cage.

There is more than just beer in New Glarus. But, also, there's beer! Photo courtesy swisstown.com
4. New Glarus, Wisconsin
In New Glarus, there's a lot more than just the famous beer. This adorable Swiss town is fun for the entire family. New Glarus Brewery offers free guided and self-guided tours where parents can enjoy samples while the kids get to see the entire beer-making process from start to finish. Outside, the grounds feature a massive beer garden with play structures, picnic tables, and fun photo-ops.
In addition to the brewery, there's the Swiss Historical Village where kids can get a glimpse of what life was like for the original settlers. There are also two state parks complete with hiking and biking trails. The town is also littered with 16 different cow statues known as the cow parade—see if the kids can spot them all! Nearby, families can visit Linstroth's Valley View Farm, Munchkey Apple Orchard, and Bailey's Run Vineyard and Winery (which has local foods and live music). For an old-fashioned stay, kids adore Chalet Landhaus with adorable one-bedroom Swiss-themed units.

Escape to the Dells, the water park capital of the world! Photo courtesy Wilderness Hotel and Golf Resort
5. Wisconsin Dells, Wisconsin
Wisconsin Dells is known as the water park capital of the world. There are hotels, cabins, cottages, waterfront properties, and of course, over 20 different water park resorts. The water park resorts feature acres of tube slides, drop slides, lazy rivers, splash pads, indoor and outdoor pools, and more. In addition to the water parks, there are also some pretty great opportunities to get out in nature. Downtown Wisconsin Dells is right on the beautiful Wisconsin River. Ride the historic Dells Ducks and take a tour down the river through natural canyons, waterfalls, and rock formations. Depending on the tour, parts of the boats have a wet and wild ride great for cooling off.
Lake Delton also offers hotels, resorts, cabins, and lakeside camping for swimming, fishing, and water recreation. Families can head to a water park one day and retreat to the lake for a more relaxing swim the next day. The most popular water park resorts include the Kalahari, Mt. Olympus, Great Wolf Lodge, and Glacier Canyon at the Wilderness. There are also several resorts with vacation homes to rent on the property for extended family gatherings.

Welcome to Door County, cherry heaven! Photo courtesy of doorcounty.com
6. Door County, Wisconsin
Stretching the peninsula of Lake Michigan, Door County offers a wide variety of family fun with water sports, orchards, scenic attractions, golf, lighthouses, and quaint shopping and dining. Other adventures include scuba diving for a shipwreck, zip lining, canoeing or kayaking, taking a tour boat ride, or swimming and relaxing at one of the resorts or public beaches. Still need more activities? Take a tour of the iconic lighthouses, go on a hike, ride bikes, or take a charter to one of Door County's 35 islands.

Sister Bay offers several resorts and condominiums on the water. There are also bed and breakfasts, cottages, cabins, and camping sites available along the peninsula. Along the bays, visitors can explore historic churches, museums, and lookout points. For dining, there are great family-friendly options like PC Junction which is a train-themed restaurant located in Baileys Harbor. During summer and fall months, a must in Door County is a stop for the world-famous cherries. The cherry industry is a Door Country staple offering tours and cherry-picking from July through August. There are also apple orchards and vineyards offering tours and picking opportunities.

Budding paleontologists adore the Dinosaur Discovery Museum. Photo courtesy of the museum
7. Kenosha, Wisconsin
Along Lake Michigan, the city of Kenosha is less than 2-hours from Chicago. For art and museum lovers, there are several kid-friendly options including the Dinosaur Discovery Museum. There's also a classic cars museum and a seasonal maritime museum. Families can also check out the Kenosha Lighthouse Studio or catch a Kenosha Kingfish baseball game.
There's the beautiful public beach for swimming in Lake Michigan and plenty of nearby golf courses, parks, and trails. There are chain hotels available and some adorable boutique options including the Apis Hotel (even if you don't stay here, swing by to see the cool rooftop and have a drink or a snack).

Find, or be, a butterfly at the Green Bay Botanical Garden. Photo courtesy of the garden
8. Green Bay, Wisconsin
Green Bay has way more to offer than just football. Although a late summer Packers game is a must for football lovers, there is plenty to do both on and off the water. This vibrant, fun-loving Wisconsin city is located right on Lake Michigan. Green Bay boasts the sprawling New Zoo with a train and carousel that kids won't want to miss. There's also a 1,600-acre Reforestation Camp surrounding the zoo with activities for every age— here kids can climb, jump, take a zip line, and get on the ropes of the adventure course.
There are also trails for hiking, biking, and horseback riding. Adjacent to the zoo there's Bay Beach Amusement Park with a wooden roller coaster, slides, kid rides, and bumper cars. For a little relaxation, spend a full day at Bay Beach or head to the Green Bay Botanical Garden. There's also the Barkhausen Waterfowl Preserve with trails, ponds, forests, and waterfalls.

The Minnesota Zoo has animals from around the world. Photo courtesy of the zoo
9. Minneapolis, Minnesota
Located on the Mississippi River, Minneapolis is one of the Twin Cities and makes a great weekend getaway from Chicago. Because Minnesota is known as the land of 10,000 lakes, there is something for every water lover: from beaches to water sports to fishing, there is no shortage of fun on the water in this state.
A great thing to do first is take a water taxi ride along the river and view the entire city by boat. You'll get the lay of the land, and decide on an itinerary for the rest of your vacation. Just make sure the Minnesota Zoo and catching a Minnesota Twins game are on your list of things to do!
10. St. Louis, Missouri
St. Louis is less than a five-hour drive from Chicago, making it the perfect destination for those who long for a break from Chicago but love the excitement of a city. First, take a 630-foot ride on the world-famous Gateway Arch. Then catch a St. Louis Cardinals game or hop on a roller coaster at Six Flags St. Louis. Families can also take a guided cruise down the Mississippi. For train and animal lovers, the St. Louis Aquarium is located right in Union Station. Check out the trains, see over 13,000 animals, and then take a ride on the St. Louis Wheel. There's also an 18-hole mini-golf course located at the station. Dine or stay at the St. Louis Union Station Hotel.
Want to thrill the kids? The Magic House is a huge interactive experience for kids. (It's on our list of the best children's museums in the US!) Here, kids can sit in the Oval Office, change a tire, stock shelves at the grocery store, cook in a pretend kitchen and pizza shop, or climb a beanstalk. For outside fun, Forest Park features walking trails, pavilions, playgrounds, and kayak rentals. Lastly, don't miss the St. Louis Science Center, which features a planetarium, life-sized dinosaurs, and 700+ hands-on displays.

The striking Red Lighthouse in Holland. Photo courtesy holland.org
11. Holland, Michigan
The adorable coastal town of Holland feels like the ultimate summer getaway. Miles of sandy beaches and coastline along Lake Michigan, combined with shopping and restaurants, makes this the best of both worlds. Families can spend days at the beach and nights walking around town with a scoop (or three) from Captain Sundae.
There's hiking, swimming, golf, and plenty of water fun for weekends by the beach. Stay downtown at the City Flats Hotel or rent a cottage or cabin near the lake—there are some great private beaches with homes for rent for large family getaways or week-long stays. Make sure to grab some renowned Holland tulips and stroll down by the iconic Red Lighthouse before heading home.

When in Indianapolis, it's all about the need for speed! Photo courtesy visitindy.com
12. Indianapolis, Indiana
Indianapolis is a 3-hour drive from Chicago in central Indiana. For families, there's the Indianapolis Zoo, Aquarium, and Botanical Garden. The Conner Prairie is an interactive history museum that we really recommend visiting. For some green space, White River State Park features 250 acres to explore. To see the whole city, you can walk along the canal through the city center, or rent Segways, bikes, and even boats.
Sports fanatics of all ages will love a visit to the NCAA Hall of Champions and little racers will be in race car heaven at the Indianapolis Motor Speedway Museum. The Indiana State Museum and the Children's Museum of Indianapolis are great spots where kids can explore hands-on exhibits, culture, and local history. Kid-friendly restaurants not to miss include local favorite Hollyhock Hill.