Museum of Ice Cream Chicago: Unlimited Ice Cream for All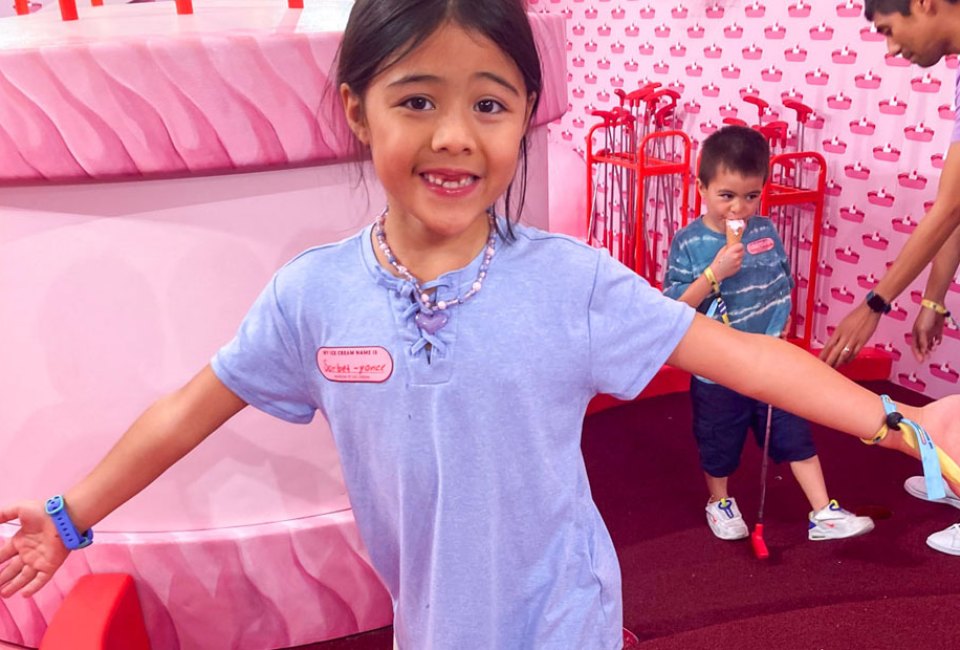 10/29/23
- By
Maureen Wilkey

Ride the train into Museum of Ice Cream Chicago.
Entering the Museum of Ice Cream: The Train and Lounge
The Museum of Ice Cream is located inside the Tribune Tower building at the south end of the Mag Mile. Enter through the pink door on Pioneer Plaza. You start off by making up your own ice cream name to print on your sprinkle name tag. Then, pick up a dark or milk chocolate Dove Bar (born in Chicago), and take it with you for your ride on the ice cream and sprinkle L train. Complete with pink seats and poles, the room gives the illusion that you're moving through a forest of sprinkles and popsicles before opening the door into a diner-style ice cream lounge.
In the lounge, there's lots of fun sundaes, ice creams, milk shakes, and adult beverages available for purchase. But we recommend taking a swing through the rooms of the museum first. Head to the left to enter the Pantone Jelly Belly-themed room. Here, you can pick up a cone of pink vanilla ice cream with or without sprinkles to enjoy while you peruse the jelly bean kaleidescope and jelly bean printed wall paper (which is also on the floor and ceiling), create a mix-and-match mosaic image with turning pink triangles on the wall, or play a game of jelly bean Connect Four. Most rooms also have a trivia screen with fun ice cream and sweet related questions for kids to answer.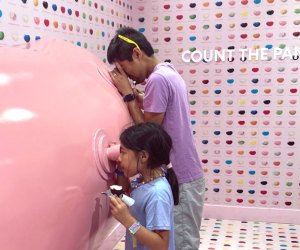 Figuring out their favorite flavors.
Enjoy Treats in Themed Rooms
The next room is the new Banana Room, which is pretty much a floor-to-ceiling maze of pink and yellow bananas hanging on strings like beaded curtains. The back wall features changing images of bananas. This is a fun tactile experience and selfie opportunity, and maybe a break from ice cream overload.
Beyond the Banana Room, there's a pink room with magnetic walls and hundreds of alphabet magnets so kids can answer questions about where they're from and what their favorite flavors are. You can also play magnetic tic-tac-toe on the walls, and pick up a flavor chart based on your zodiac sign (turns out my son identifies as a Sagittarius even though he's a Taurus). This is a cute, fun way to leave your hashtag for someone else and to take more selfies!
In the next room, take a load off by relaxing on pink clouds and enjoying a sherbet and soda treat. The citrusy orange is a good break from the vanilla cone, but by now you're on ice cream treat #3, so this is when we started taking only two of each treat to feed four people. Kids will also enjoy the photo opp in this room: take a picture of yourself holding onto a bunch of red and pink balloons while floating through pink clouds.
The most museum-like part of the experience is in the next room. Kids can learn about the history of the Dove Bar in Chicago, smell different flavorings for ice creams, pretend to churn real ice cream, and look at examples of unique ice creams from all over the world. There's even a history of the Museum of Ice Cream with scale models of its locations across the country. My kids are currently very interested in learning about all of their friends' different heritages, so they were excited to see how ice cream is different on each continent and talk about what kinds of ice cream they would or would not try.
An ice cream-themed mini golf course.
Time for Some Games
Turns out my kids would have a chance to decide what they want to try in the mini golf room. In addition to three fun holes of ice cream-themed mini golf, this room has the questionable hot dog-flavored ice cream. It's actually savory and served inside a pink poppy seed bun with real mustard and relish. As lifelong Chicago-area residents, my husband and I really wanted to like this one. I'm not sure whether we were too full of other ice creams or if the visual was just too weird for us, but no one was a fan. Our daughter also tried it and was completely disgusted. But, the mini golf was super fun! One hole is shaped like an ice cream sundae, another involves putting your ball through the length of a giant hot dog covered with chocolate sauce and whipped cream, and the third is navigating your way around a series of donuts and a birthday cake. Our kids also loved the alternative pineapple sorbet offered in this room.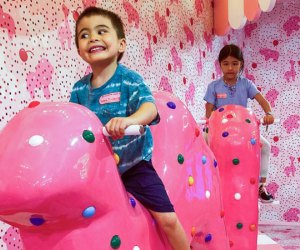 Riding the frosted animal crackers at Museum of Ice Cream Chicago.
The final room in the loop that leads back to the lounge is carnival-themed. Kids can ride giant pink frosted animal crackers and play games like whack-a-scoop and shoot the water at the target. The interactive games gave our kids a chance to burn off a little of the mass quantity of sugar they had already consumed. Step inside a smaller black-lit room to see any ice cream you're still eating in full glow. A full array of carnival themed ice creams are available in the carnival area, from funnel cake to kettle corn. We chose key lime pie, which may have been the overall favorite ice cream of the day.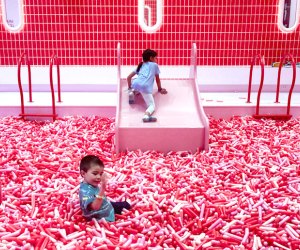 One of the highlights was the pool filled with sprinkles!
A Pool Filled With Sprinkles!
From the carnival we returned to the lounge, which was adjacent to our kids favorite part of the trip: The sprinkle pool. We had VIP tickets, which came with one token to spend on a treat in the lounge, but everyone was so stuffed that we decided to let the kids play in the sprinkle pool for a while before putting more ice cream into our bellies. The sprinkle pool looks like an old fashioned hotel pool, but instead of water it's filled with giant plastic sprinkles. Complete with two diving boards and a slide, it's the ultimate fantasy for kids. The sprinkles actually seemed easier to climb in and out of than regular ball-pit balls, and the pool was big enough that there wasn't a ton of worry about kids jumping on top of each other off of the diving boards. Aside from the germophobic fears many of us still get about ball pits and the like, this was a super fun experience. My kids easily could have spent another hour in the sprinkle pool, swimming and burying each other in red, pink, and white sprinkles.
We ended up deciding to try the treats available at the lounge. The kids got Cookie Monster and carnival-themed shakes, my husband chose the bubble gum flavored drink, and I got the prosecco with sparkling grenadine. My daughter loved the whipped cream and cookie bits on the shake, my son's favorite part was the ball of cotton candy on the top of his. The prosecco was great for cutting through all the sweetness of the day. There was quite a variety of fun treats (and cocktails for grown-ups) available, including the Sprinkle Pool Sundae, which looked more like a whole family affair, or you could just choose another interesting flavor of ice cream from the scooping station. But, all in all, we could have easily passed on the last treat. Next time, we will likely start off with just half a treat at each stop instead of trying to eat all of everything we were offered.
Overall, the Museum of Ice Cream was a tasty and fun experience, and we will definitely be back, possibly around a holiday when the museum offers different speciality items to try. This is not a learning-heavy museum experience, but more of a fun way to explore a favorite treat. The earliest time slots on weekends are usually offered at a discount, so if you think you could go for some ice cream at 10 a.m., the extra savings might be worth it. The Museum of Ice Cream is accessible from the Red Line (Grand) or many buses that stop around Wacker and Michigan. You can also reserve a Spot Hero in River North for a reasonable price on weekend days.
So that's the scoop on the Museum of Ice Cream Chicago! We hope you enjoy it as much as we did.
Disclosure: We may earn a small commission if you click through our link and make a purchase. This revenue helps us maintain this site, so thank you for supporting us.
All photos taken by author Maureen Wilkey
Places featured in this article:
---
Museum of Ice Cream Chicago
Click Here to Sign Up!